Scavenger hunt ride: Lacona, Bussey & Reasnor
A couple Sundays ago, Steve took a break from his Corvair project and we set off for a ride that included three of the towns on this year's HOG Chapter Scavenger Hunt: Lacona, Bussey and Reasnor – all tiny towns east of Des Moines in central Iowa.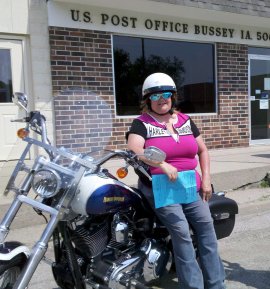 The day was hot standing still, but absolutely perfect when riding. We started with brunch at the Home Plate Diner on Des Moines' east side – we initially consisted of myself and Steve, Garry and Shirley, and Kristin on her new-this-year Road King. We took off to the southeast and stopped first in Carlisle to top off our gas. We lost Shirley at this point due to a stomach bug that was trying hard to get the best of her, and the four of us continued on to Lacona via S23. (This is where Shirley and I had ridden a couple weeks earlier and discovered the First Saturday Biker Lunch.)
The boys took their photos in front of the Lacona Post Office, and we proceeded east to Bussey, taking G76 to the tiny town of Attica at Highway 5. Turned south on 5 and just a short piece to the southeast was the turn-off to Bussey on G71. These county roads were interesting each in their own way – G76 had the feeling of being really isolated to me… very pretty, and not a lot of traffic. And G71 – wow! From Highway 5 you could see about three miles straight down the road to where it veered right into the tiny town of Bussey. Quite an amazing view, really.
We took our photos at Bussey, then a break at a convenience store where we plotted our route to Reasnor. The glitch in the planning was that we couldn't tell whether Highway T17 went all the way through to Pella – there were letters on the map covering part of the road. A silly little detail, but we figured out a Plan A and a Plan B and took off.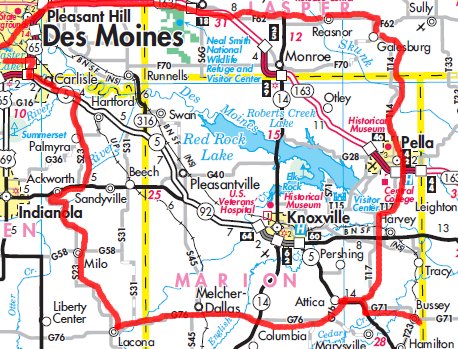 Back out G71 to Highway 5, right turn on Highway 5 just about a quarter-mile to T17, and then north on T17. The primary goal was to get through Pella, and shoot out the other end on T14 into Reasnor. Turns out T17 does indeed go all the way through, and it's really beautiful as well. We hit a detour going through Pella but found T14 (known as Main Street in town – original, right?) and proceeded to the north, where it eventually turned left and became F62 into Reasnor.
And Oh. My. Goodness!! I simply can't say enough about how pretty this ride was – rural homesteads, sweeping curves, greenery everywhere split by the asphalt ribbon (in decent condition, even!), and at either end of every leg of the trip, an Iowa town enjoying a slow-paced Sunday afternoon.
By the time we finished taking pictures at the Reasnor Fire Station, it was about 5 pm. We took F62 westward and picked up Highway 163, which is a four-lane that comes into Des Moines' east side. The whole trip was about 150 miles. I was really glad to get the chance to ride – this first part of the summer has been really rainy, and coupled with the fact that Steve is more focused on getting the Corvair ready for a July 4th weekend car show, my saddle time has been limited!
More soon I hope!