A windy ride to Freedom Rock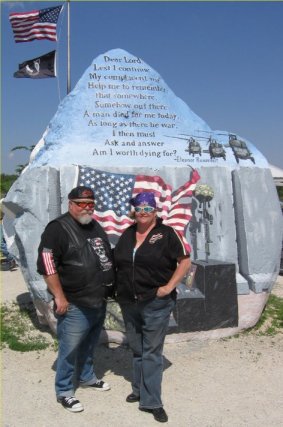 Friday night we traveled down to Indianola for the monthly Bike Down to I-Town event (can ANYONE take a guess as to how many bikes and people attend this thing? I wish I knew – but it's huge!), and decided that on Saturday we'd go up to Big Barn for the annual "Demo Days."
As it turned out, the weather on Saturday was a bit iffy – Accuweather was saying it wasn't going to rain, but the big dark clouds to the north said otherwise. Steve and I headed up to the Barn where we met up with Garry and Howard (the latter being accompanied by Einstein, the Wonder Biker Dog).
Plan A had been to hang out at the Barn for awhile, then head out for an afternoon ride to Gladbrook, Iowa, about 70 miles northeast of Des Moines. But, given the northerly direction of the moving storm clouds, I quickly conjured up a Plan B ride over to Freedom Rock near Greenfield, to the west and south.
Our route took us northwest from the Barn to Johnston, where we picked up Highway 44 heading west. Now I have tried very hard on this blog to get across the point that Iowa is not all flat and corny – it's often curvy and corny, even HILLY and corny, and dotted with lovely small towns and even the occasional larger city. But folks, Highway 44 from Johnston to Panora is flat. Straight, and flat.
Now make no mistake, things are lush and green right now so it's still beautiful – but it's a stretch of highway that looks like what folks who've never been here think our whole state looks like. And of course, along with straight and flat comes what?
That's right, wind. And on this day, probably worse wind than any day we've spent crossing South Dakota. The kind that blows your bike around to the point of pushing you into oncoming lanes, and gets under your helmet to the point of sucking your do-rag out from under it.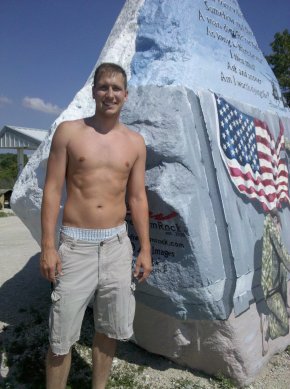 After about 40 miles of straight, flat and windy, we stopped for gas and beverages at the Casey's General Store in Panora, then pressed on a few more miles west to Guthrie Center. In Guthrie Center we picked up Highway 25 heading south, which took us through to The Freedom Rock just south of Interstate 80.
In 1999, a nineteen-year-old art and design student from Creston, Iowa named Ray Sorensen II saw the movie, "Saving Private Ryan." It gave him an idea: there was a large boulder near his hometown, situated at the entrance to a former quarry, that local kids had been defacing for many years with graffiti. Ray decided to paint the rock with words and images to say "Thank you" to America's veterans, past and present. The finished mural meant so much to those who saw it that Ray was asked to continue painting year after year.
Ray now paints The Freedom Rock each year with new words, new images, and an unwavering commitment to thanking and recognizing the gifts of liberty and freedom earned for each of us by our military. (Visit the Freedom Rock website for the full story and to see all the murals from years past.)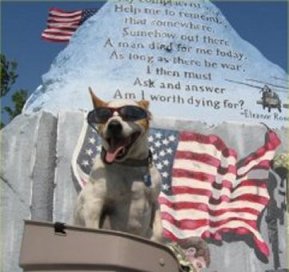 As we arrived at the Rock, I was delighted (and honored) to discover that we were there at a time when Ray was present, paint cans spread out at the foot of the boulder and working to complete this year's mural in time for Memorial Day. He is a talented young man, and his decade-plus commitment to this project is inspiring.
We took several pictures (including one of a Pattonesque Einstein, looking down from his biker dog perch), then decided to head a few more miles south to pick up Highway 92 at Greenfield for the ride home.
The wind, of course, was just as bad heading east as it was going west, but we soon reached Winterset and stopped again for a break at a Casey's. (I should start a new blog: "Casey's to Casey's Across Iowa.") The final leg of the trip took us east on 92, north on 28 at Martensdale, through Norwalk and on into the south side of Des Moines.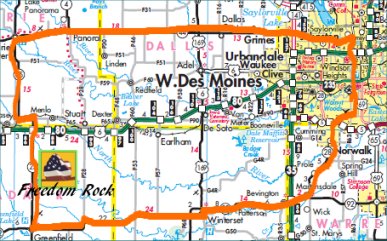 The total trip was about 140 miles. As for the rain? Well we did catch a few drops, but an actual shower never materialized. In fact, the storm clouds broke up over the first half-hour or so of the ride, giving way to a clear, bright blue sky – just right for taking pictures of a patriotic rock out in the middle of flat, straight, corny, curvey, hilly, beautiful Iowa.