Solo ride to Creston… er, Osceola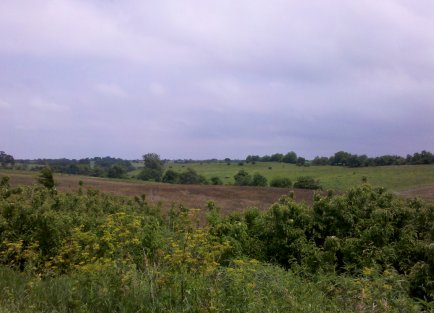 I'm not always "good" at riding by myself – it feels funny riding without a group of friends behind me, and after a fashion I can even start to feel a little guilty leaving Steve to his own devices. But, I know he's working hard to get the Corvair ready for the Good Guys Heartland Nationals next weekend and I felt like I'd been pretty helpful on Saturday by cleaning the car's interior, so I decided to take a ride on Sunday almost in spite of myself.
My plan was to ride to Creston about 80 miles southwest of Des Moines. Nothing there in particular I wanted to see, but I wanted to stretch my solo riding a bit and this was a little farther than I usually go.
I took off heading south down R63, but turned west before I got to the most scenic bits and took G14 through Norwalk and then G4R west to 169. This is a really scenic (if sometimes rough) route – we've ridden it heading east before, but I'm always amused/surprised at how different these roads can look going the other way.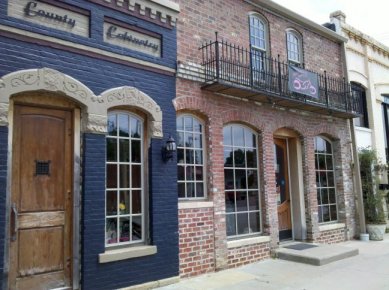 I turned south where G4R ended, and could have gone around the town of Winterset following 169, but in fact Winterset is one of my favorite Iowa towns – it's not only the birthplace and childhood home of actor John Wayne, it's also the birthplace and childhood home of my mother and her family, going back to the mid-1850's. So I'm familiar with a lot of the local landmarks, history, and even a couple of graveyards, and decided to ride through town and snap a couple photos.
I took a little detour around the Winterset square to see the work being done on the courthouse (well-deserved – she's a beauty!), spied Biker Diva Apparel as I was heading south (closed on Sundays – drat!) and stopped to snap a couple pictures of Kitten in front of this classic little storefront. (Whatever this building used to be, it's likely my great-grandfather once traded there!)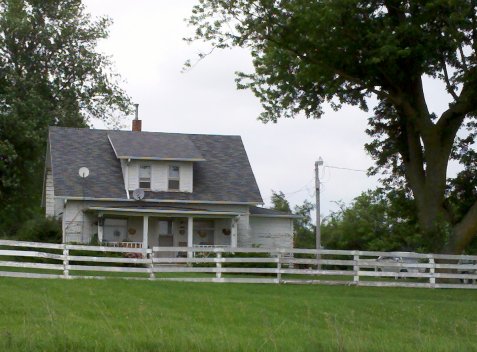 The road south becomes P71 as you leave Winterset, and I followed that til it met up again with Highway 169 ("Pavement Ends" – woops, backtrack to actually get to 169, then backtrack again to snap a photo of a really cute little homestead) then continued south to Highway 34.
It was in this area that I started to notice a few sprinkles of rain, and a look off to the west left no doubt that it was raining in Creston, just a few miles away from the junction I was approaching.
So to my right was Creston and certain rain… to my left was Osceola and a brighter sky, but I'd been there before. I took the left and headed toward Osceola (yeah, I'm chicken like that), and took a quick Casey's break to plot the route home.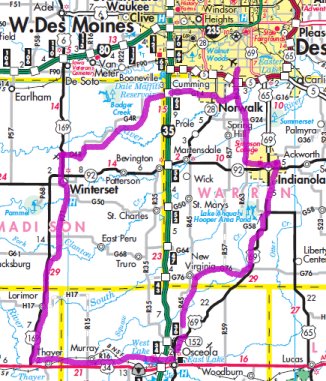 Left Osceola on Highway 69, veered off to travel the "missing link" of R45 from last year, and picked up the piece of G76 that junctions again with 69 at Medona.
I continued to catch sprinkles along the way, but I must've been on the leading edge of the actual rain. Anyway, from Medona it was an easy northeasterly shot into Indianola and then home via 92 and R63.
Guess I will have to try again to get to Creston, but I managed to totally enjoy all 120 miles even though I kinda missed having my merry band behind me!