Worst. Wind. EVER.
There's wind…
and then there's wind.
On Sunday, there was WIND.
Sunday's wind was more than the kind that pushes you around on the highway.
It was more than the kind that makes you feel like your helmet's being lifted off your head.
It was the kind that blows so hard it dries out the insides of your nostrils.
It was the kind that blows so hard it forces your lips to open and flap around, and then sucks the spit right out of your head. (Apologies to those riding behind me.)
Of course, this is the stuff you have to pretty much just endure if you want to ride in Iowa in Spring. Which we did, having forsaken the much nicer riding we could have had on Saturday in favor of doing yard and car work.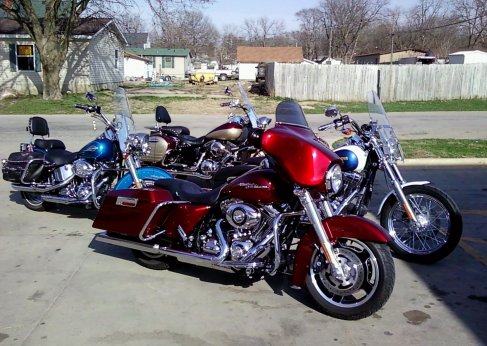 We took our first ride since the First Ride of the Season this past weekend, and put in a good 160 miles. We met for brunch on Sunday with Garry, Shirley, Howard and his new gal Jayka (great getting to know you, J – hope you will come out with us again!), and headed out at about 1 pm to meet up with Kristin and Teri Ann. Along the way we got an early taste of how bad the wind might be, and Shirley decided to head back home to Carlisle. (She has the "It's only going to get worse from here" gene, apparently, that most of us lack… or ignore…)
We collected Kristin & Teri Ann (riding on Kristin's new Road King – woot!!), and continued on to Madrid, where we made a potty stop and planned the rest of the day. From Madrid we headed north on Highway 17 (which was in terrible condition, by the way) to the junction of US Highway 30, and turned east. Highway 30 was also in terrible condition, with two sections under construction.
The wind was horrible going up 17 – we caught a nice blast of sand and road grit whipped up by a semi that was heading the other direction… and if we thought we were going to catch a tailwind along US 30, we were sadly mistaken. It was coming from the southwest, and was actually even worse going east. We took 30 all the way to Marshalltown (about 40 miles), but along the way Kristin and Teri said "screw it" and peeled off for home.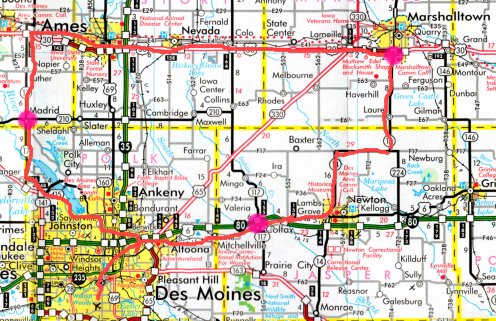 So by the time we arrived in Marshalltown it was just Steve, Garry, Howard, Jayka and myself. We took another break and topped off the gas – by now we were all feeling pretty beat up (aka "ready to be done"), but were still 60 miles from home. (Kind of the like the Suck It Up tour of 2009, but without the awesome destination as a reward for pressing on!)
From Marshalltown we headed south down the Washboard Highway (Iowa 14 – the road that keeps your dentist in business because it rattles your teeth so bad) into Newton, where we picked up Highway 6 going west. (Normally this stretch of 6, which becomes F48, is one of my favorite highways – I'm sure it was pretty in Spring, but to be honest I didn't notice – I was too busy hanging on for dear life as we hurtled toward home.)
Took another break along 6 at Colfax where we compared notes and wrote our "You know it's windy when…" one-liners, then continued on home from there along F48, through Mitchellville and Altoona. Garry split off for Carlisle just outside Altoona, and the rest of us cruised into Des Moines where we stopped off at Buddy's Corral for a cold beer – like the cowboys of the old west who'd stop into the saloon after a hot dusty cattle drive. (Though, how they settled for hot dusty whisky is beyond me – my ice cold Bud Light Lime was so-o-o-o good!!)
Steve and I rolled into the driveway sometime after 6 pm, beat to hell and happy to be home, but SO glad to have taken the ride – primarily because the weather gods are actually predicting snow for the end of this week, which is supposed to bring us the first Indianola Bike Night and Bike Blessing events – guess we'll see about that.
That's Spring in Iowa for ya!
PS – Thanks to Howard for remembering to snap a couple photos!