Road closed? What-EVER, still a great ride!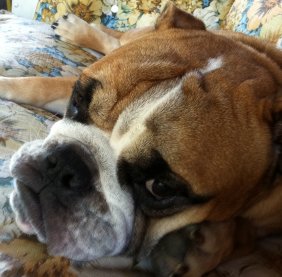 Wow, it's been a hectic summer, and it's almost over already! I guess once again I've been on a brief hiatus… oh yes I've been enjoying the bike as much as possible, plus we've gone to a couple car shows to enjoy the Corvair, and we've embarked on the adventure that is my daughter's senior year of high school. (If you are local to the Des Moines or central Iowa area, I highly recommend Randy Shebek for senior pictures – he's friendly, affordable, and best of all took ah-MAY-zing pictures of my beautiful daughter!)
Oh, and, we added a family member – Dexter, the English bulldog my hubby Steve has always wanted.(He – the dog, I mean – is just about the poor-babyest dog you'll ever meet!)
Aside from all that, I've been busy with a new bike-related endeavor that I hope to be able to mention soon – so, there's been no extra napping going on around here!
As far as bike rides, I've taken a couple shorty solo trips and done some zipping around here and there, but nothing major. Except… EXCEPT – a wonderful ride I took last weekend with "just us gals" – friends Janet & Shirley, and (finally!) Miss Iowa Harley Girl herself, Stephanie Maiers! (Seriously, we live – what, 10 miles from each other, and this is the first time we've ever ridden together!)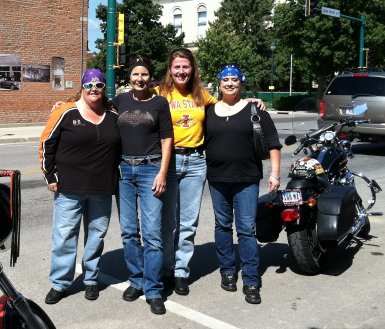 This ride was one big silly grin from beginning to end. (I swear there's something about an all-women's ride that just feels different!) We met up on Steph's home turf in Johnston, just south of Saylorville Lake, and took off to the west along Highway 44. At Highway 169, we turned South and cruised on through to Winterset. (Yes, I rode North to go South – that's how I roll!)
In Winterset we expected to visit Biker Diva Apparel, a women bikers' clothing shop just off the Square. Sadly, we discovered that the brick-and-mortar store is no longer there – BUT, fortunately you can still shop online for a variety of super-cute shirts and must-have accessories!
Headed over to Godfather's Pizza for lunch, then set off for a scenic loop around Madison County beginning with G50 heading east into St. Charles. Unfortunately, that too was derailed… "ROAD CLOSED" signs kept us just out of reach of the much-needed gas station in St. Charles. I mean, we could SEE IT from where we stood, like wishful little kids with our noses pressed against the department store window at Christmas! (It sort of looked like we miiigghtt be able to sneak through the blockade, but a friendly MadCo resident assured us that, indeed, the road was actually closed.) Not wanting to test our luck on the gravel detour, we instead headed back to the west along the road we'd just traveled and back into Winterset.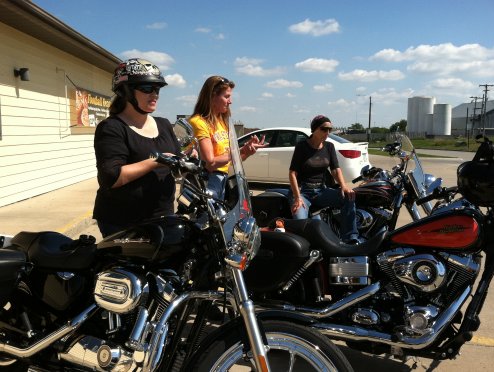 Still, G50 was a beautiful road (parts of it reminded me so much of the Lead and Deadwood area in South Dakota, with tree-covered bluffs rising up from either side of sweeping curves) and I'm certain that the loop we had planned (G50 east to St. Charles, R35 south to Truro, then west along G68 – the PEE-ru road!  – back to P71 into Winterset) is a stunning, curvy ride. I'm determined to go back and prove this point!
Anyway, back to Winterset for a break at (where else) Casey's General Store, then took the scenic G4R home.
Probably the run-on sentences of this post are a clue to how excited I was to take this ride with my "gal pals" – it was a gorgeous day spent in great company!