Bits and pieces heading into Fall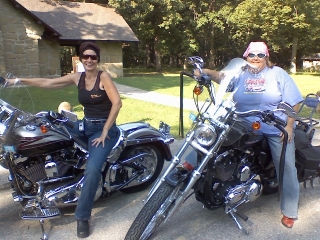 Wow, looks like we have slipped into Fall already – weather here is still beautiful but getting cooler for sure! Took two short rides with Garry & Shirley over Labor Day weekend but other than that have not been on the bike in far too long! I KNOW some of you local gals went on the Estrogen Ride… please send ride reports – if you dare – and I will be glad to publish them!
Speaking of ride reports, have you been enjoying the guest posts? My readers ROCK, don't they? I'm always glad to hear from you, whether sending in your own ride stories or just commenting on stuff you read – even when you disagree, or want to challenge something, it's invaluable to me that you take time to express yourself!
In personal news, I am job-hunting! My present position has been reduced to part-time hours, and I am a full-time kind of gal, so I've polished up the ol' resume and am officially in the market for a position as Marketing Director of something worthwhile: a growing small or stable large business, non-profit organization, or professional association, in the central Iowa area. If you hear of anything, please let me know! (Wish I could make a full-time income off my blogging – would THAT be a dream job or what?? – but, definitely looking for some stability right now.)
Final note for today, I think (THINK) the Abate District 4 Toy Run is coming up October 11… found that date earlier this year online but now cannot verify it. Will try a little harder and report back here : )
More soon!