How to properly fit a pair of chaps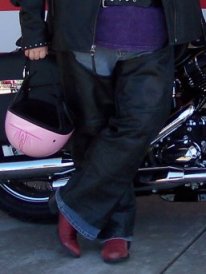 I love chaps. Actually I should amend that to say, I love chaps on other people. On normal people, chaps contribute to that long and lean, bad-ass biker look that kinda turns me on. Plus, of course, they have wonderful protective qualities that will quite literally save your skin if you go down. On me, however, because I am so short and round, they generally look like someone has put chaps on the Michelin Man. (I sure love them on me for warmth – and those protective qualities – regardless of how silly they look!)
A few years ago I did a short piece on the blog about the history of chaps. Then recently I connected via email with a biker leather shop in western Iowa called Leather & Hawgs, and thought that perhaps they would be good folks to offer up some tips on how to properly fit a pair of chaps.
Owner Greg "Leatherman" Crook was kind enough to provide me with the following tips for fitting and buying the "shotgun style" most commonly worn by bikers:
When you purchase your chaps the most important thing is to get a chap which fits very snug on your thighs, because over time they will stretch. Once you have the chaps on, you can put your hand between your jeans and the chaps; this is about how much the chaps will stretch once they are broken in.
If you have a larger waist, it's tempting to get bigger chaps; unfortunately, if you do this you may find that the legs are much too big even before they stretch out. Buy the chaps that fit snug around your thighs; expand the waist if need be by using an extender, and overlap the grommets on the back of the chaps if you are small-waisted and need to bring the waist in.
When measuring the length you should have on the boots you wear on your bike. To get the proper length, stand up straight and look ahead, and have someone measure the length to the bottom of your heel, plus half an inch to allow for the chaps to pull up when you are sitting on the bike.
Oh, and just in case it's not clear, the above represent POORLY-fitted chaps. They're mine, and I bought them, before I learned these tips, to fit my waist rather than my thighs. They're also too short, even for me.