Sonny Barger book review: Let's Ride
I've got two copies of Sonny Barger's new book, "Let's Ride," to give away! To be eligible to win, read my review below and leave a comment on this post that contains either one good tip for fun, safe and/or smart riding, or a quick take on why you'd like to win the book. Two winners will be randomly selected on Friday, June 25 from among those who comment! Thanks to  Harper Collins for the opportunity to review the book and for providing the give-away copies.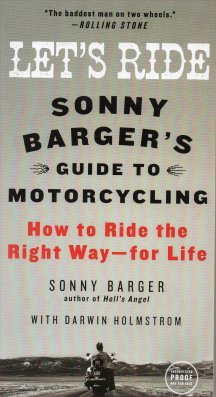 Here's the thing: many folks will not lend credence to this book because of the lifestyle led unapologetically by its author. That's the route I almost took when I was invited to read and review the book.
But, ultimately, I believe that having multiple perspectives on any given topic is always a good thing. People coming from different backgrounds, and with different life experiences, can often lend something quite valuable to the discussion.
If you think that Sonny Barger is going to advise you to "not worry" about riding while impaired, or to terrorize groups of upstanding citizens, or to be a scofflaw regarding helmet use, or anything else along those lines, you'll be just as surprised as I was at how mainstream ("square," if you will) his advice actually is.
And you may also be surprised at how much useful information is in the book regarding riding techniques, evaluating motorcycles, and valuing/looking out for your own safety.
Whatever else he's done in his long life, Ralph "Sonny" Barger has been riding motorcycles for something like 60-plus years. And while it's tempting to think of him in the one most obvious dimension (he's the founder and long-time President of the most visible chapter of the most visible motorcycle club in the world – the Oakland, California Hell's Angels), there's also at least one undeniable truth: the guy knows how to stay alive on a motorcycle.
With several books already under his belt (including an autobiography and a couple of novels), Barger now takes on the task of passing along some of his more practical wisdom about bikes and riding.
His new book, Let's Ride: Sonny Barger's Guide to Motorcycling
, co-authored with Darwin Holmstrom, covers everything from the types of motorcycles that are out there to the basic controls and how to operate them to how to change your bike's oil.
The section on how to evaluate a used bike isn't just useful when you're shopping, it could also be used as a checklist of things you should review to determine the condition of the bike you already own. And, the chapter on advanced riding strategies is filled with reminders every rider – experienced or beginner – can use to stay safe on the road.
What really struck me about the book, though, was how much the world's most infamous one-percenter and I seem to have in common.
For example, I've often said that motorcycling is relaxing not because it allows you to sit back and take it easy, but because when you are riding it leaves you singularly focused on your safety, the road, and the bike. At the end of the ride even though you've been working hard mentally, you're still relaxed.
Sonny says the same thing:
(Focusing on road hazards) helps me prepare for potential danger, but it does more than that: it focuses my complete attention on that moment in time, so that I'm not thinking about anything other than riding my motorcycle at that place in time. It might not be the same as spending a lifetime in some Buddhist monastery, but the concentration required while riding a motorcycle is a form of focused meditation that makes all the petty distractions of day-to-day life melt away. It might seem morbid to concentrate on potential danger with such intense focus, but it clears my head. When I'm finished riding, I feel relaxed and recharged, so morbid or not, I consider it a beneficial activity.
I'm also fond of saying, "Ride like no one sees you, and those who see you want to kill you."
Barger says the same thing, in a slightly more colorful way:
…I recommend adopting the attitude that every single person on the road is a sociopathic serial killer who has just escaped from an asylum for the criminally insane. This might seem a little pessimistic, but you'll live longer if you assume everyone else on the road is a homicidal moron whose sole purpose is to kill you.
A few other things Barger and I have in common: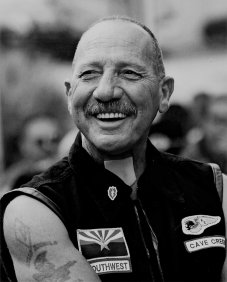 Bottom line: the book is a good primer, shows occasional flashes of Barger's salty humor, and offers up a lifetime of bike-riding wisdom you just can't argue with.
Don't forget, leave your comment with a riding tip or reason why you'd like to read the book, and you'll be eligible to win a copy!