Bits and pieces, June 16
There's still plenty of time to be eligible to win a copy of the Sonny Barger book, "Let's Ride." Just comment on the book review post by Friday, June 25, when I'll randomly pick two winners!
We've been having a lot of rain here lately, but thankfully we no longer have to worry about flooding – after 2008's disaster we relocated to higher ground (that's right, we're no longer the idiots you see on television who refuse to move!) so these days our biggest rain worry is the tiny bit that's seeping in through the basement walls. I think some strategically-splotched tar or blackjack out on the patio will take care of it.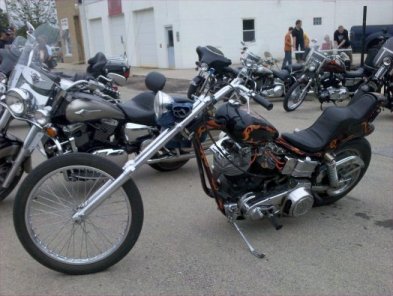 We did manage to eek out a trip in between rain showers down to Hartford, Iowa last Friday night for their monthly Bike Night event – this is a small one, usually a hundred bikes or so, but we had a very nice (if humid) evening – friendly folks (as are most in Iowa) in a tiny town, ever second Friday on West Elm Street.
Finally, Here are a few recent gems from around the Web related to bikes, bikers and riding – enjoy!
Motorcycle Cruiser magazine has a web-only feature of the Top 10 Scenic Cruises in the Rockies. (Just remember, I think you need a passport these days to travel into Canada. Sure would be worth getting one!)
With the 70th Sturgis Rally coming up quick, one of BCN's Facebook Fans, Aleta Gerard, shared a link to the write-up of her 2008 ride to the Rally – no shortage of travel adventures for her group, that's for sure, and the tale is well worth a read!
Liz Frazier, aka "Rippin Kitten," had a unique opportunity recently to travel to California to test-ride the new Honda VFR1200F, outfitted with dual clutch transmission. This hot little sport bike can be switched from the standard shifting transmission to an automatic mode. Liz notes that the most interesting part of the test ride was observing the difference between where the bike would shift itself, vs. where she would have shifted it manually. (Also on Liz's blog, if you're a "Sons of Anarchy" fan, be sure to read about her visit with Kurt Sutter, who gave her a personal tour of the series' sets!)