Here's a list of all the major Iowa motorcycle rallies I've been able to assemble so far. (Okay, I'll admit my own BCN Fifth Birthday Party is probably not going to be a "major rally." But, I do hope you'll add it to your calendar, and anyway, it's my website. <grin>)
May
Iowa Thunder Memorial Day Tribute Ride, Des Moines – May 17, 2009
www.abateiowa.org
June
Sturgis Mississippi River Motorcycle Rally (Little Sturgis, Sturgis on the River), Davenport – June 17-20, 2009.
http://sturgisontheriver.com/
J&P Cycles Open House, Anamosa – June 28, 2009
www.jpcycles.com

July
ABATE Iowa Freedom Rally, Algona – July 3-5, 2009.
http://www.abateiowafreedomrally.com/
East Village Bike Night, Des Moines – July 10, 2009, 7-11 p.m.
http://www.eastvillagedesmoines.com
Iowa State HOG Rally, Sioux City – July 17-18, 2009
http://www.iastatehogrally.com
August
Bikers Against Diabetes (BAD) Ride, Des Moines – August 15, 2009.
http://www.ripsbadride.com

Across the Border Raid & Bike Rally, Bedford – August 16, 2009.
http://acrosstheborderraid.com/

Hawgstock, Winterset – August 20-23, 2009
http://www.hawgstock.com
BikerChickNews.com Fifth Birthday Party and Ride-In, Des Moines – August 23, 2009
http://www.bikerchicknews.com

September
Davis Motorcycle Rally, New Hampton – September 11-13, 2009
http://www.davismotorcyclerally.com/


October
Ride for the Cure, Des Moines – October 2-4, 2009
http://rideforthecureiowa.com/
ABATE Iowa District 4 Toy Run, Des Moines – October 11, 2009
http://www.abateiowa.org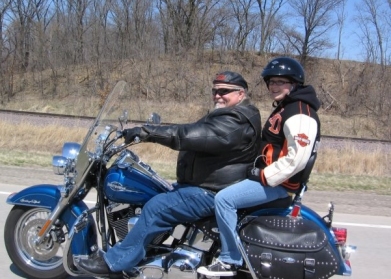 We had the most perfect day on Saturday, April 11 for a bike blessing. The day started with an indication from our teen-age daughter that she wanted to accompany us, which is a blessing in itself since she does a lot of her "own thing" these days. The weather was cool but beautiful – sunny and about 45 degrees when we left at 9:30, and near 60 by the time we came home.
We met up on the south side of town and ended up with a great group, many of whom we hadn't seen all winter. The group included myself, hubby Steve and daughter Stephanie, and friends Kristin, Austin, Nate,  Howard (toting his awesome biker-dog Einstein), Jenn with Amy's mom, and Amy with her daughter.
We took a very simple but pretty ride down to Route 65 Harley Davidson in Indianola, and while there met up with Garry & Shirley. We arrived with about half an hour before the scheduled activities, but at the appointed time gathered outside for a group prayer, and then dispersed to our bikes where we awaited a member of the Christian Motorcycle Association (CMA). The CMA members walked from group to group, inviting bikers to ask for specific prayers or just a general blessing. I always like the part of this annual ritual where they ask for help in keeping the road ahead clear – it feels a little selfish asking God to "bless my bike," but somehow asking Him to help me see and navigate obstacles, and to always be aware, feels more worthy.
After our small-group blessing, we enjoyed a lunch of chili and desserts courtesy of CMA, then decided to take a scenic route home.
We left Route 65 HD and headed to Carlisle so Garry & Shirley could give their dog Buddy a potty break; a couple of our group took off for home from here. Then we took a short ride down Highway 5 to the 316 turn-off to Runnells. This is a really interesting road – the road cuts through low-lying land surrounding the Des Moines River, and since last summer's flooding it had obviously spent most of the past 8 months under water. Train tracks and a very old bridge ran along our left side, and on the right we could really see how much land had been affected by the flood.
A left turn just outside of Runnells put us onto what would become SE Vandalia Road, so we took that on into Des Moines. Steve, Steph and I arrived home about 2:30 p.m. Here's the Webshots album with the photos I snapped.
It was a beautiful day and beautiful ride, marking the "official beginning" of the ride season here. As an extra special treat, Howard managed to snap several very nice pictures of Stephanie enjoying her day – including the one above showing her on the back of Dad's Heritage Softail Classic.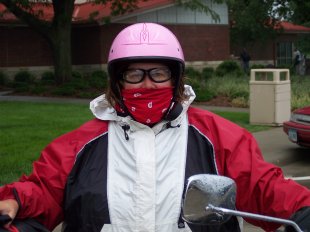 April is Helmet Awareness month, so this month I want you to take a moment to become aware of your helmet. You know, that piece of equipment that you sometimes leave at home? I'll actually do three separate posts regarding helmets.  Future topics will cover proper fitment and care, and the ubiquitous "helmet law" debate.
First, though, I want to take a moment to advocate – not for helmet laws, but simply for wearing a helmet voluntarily.
Look, I would love to ride without one. They look stupid. They prevent me from experiencing that "wind in my hair" feeling that so many bikers speak of. They make me look stupid even after wearing one (okay, especially after wearing one).
But here's the thing: I wear a helmet because I have direct personal experience with their benefits. In 1978 when I was allowed to buy a Honda Express on the parentally-imposed condition that I always wear a helmet, I dumped said Honda Express going around a curve in a pile of sand and whacked my head on the curb. I understood immediately the value of wearing the helmet, and I happily wore it forever-after.
Fast forward 30 years, and I've come to realize something: "the wind in my hair" only makes my hair a tangled, unbrushable rat's nest and makes me feel utterly unprotected. I don't kid myself: a helmet won't prevent the full-body trauma that is the true killer in 63 percent of fatal motorcycle accidents. But it just might absorb enough impact to keep my brain from sloshing around if something were to happen at a slower speed.
So I wear one. A distinctive one, in fact, which makes me more visible, more findable, more memorable. I encourage you to wear one too. At least we can look stupid together!
I just learned about an interesting motorcycling exhibit the other day and wanted to share the info before it's gone.
Black Chrome, a study of African-Americans in motorcycle culture, has been open at the California African American Museum since last fall, and closes April 12.
The museum website notes:
Through photos, interviews, objects and 16 tricked-out motorcycles that range from choppers to drag bikes, this California-focused exhibition spotlights the innovations and creativity of African Americans that significantly changed the landscape of American motorcycling since World War II.
Black Biker Magazine provided many of the photos for the exhibit.
One of the individuals featured is Marian "Miss Showtime" Peterson, a long-time LA-area biker who was recently appointed Road Captain of the Magnificent Seven, an all-male club in a heavily male-dominated bike club culture. That she achieved this rank is testimony to the level of respect she has achieved in that culture, writes Nadra Kareem in the L.A. Watts Times.
Do read Kareem's article – she also highlights Annette "Brown T. Sugar" Collins, founder of the LA area's first female riding club, the Hawg Divas.
Regrettably, I missed the opportunity to help promote Black Chrome during its long run. I'm working on obtaining some photos from the museum, as well as information on any of the other women featured in the exhibit.
(hat tip to LadyRayne at Talkin Stuff blog.)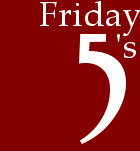 In celebration of Biker Chick News's fifth birthday, here's the first in the "Friday Fives" series of bike-related lists. This week: five cool places we've visited that make great day-rides:
1. Grotto of the Redemption, West Bend – Father Frank Dobberstein was so grateful to recover from pneumonia that he built a shrine to the Virgin Mary out of precious stones and Iowa rocks, and just kept building for the rest of his life! (Northern Iowa, northwest of Ft. Dodge)
2. DeSoto National Wildlife Refuge, Missouri Valley – Beautiful wildlife preserve frequented by thousands of migrating snow geese. Also features an amazing exhibition of items from the 1800's, found preserved by mud in the sunken Bertrand steamboat, razed from the Missouri River in 1968.  (Western Iowa, on the Missouri River just west of Missouri Valley)
3. Albert the Bull, Audubon – Giant concrete statue of a friendly-looking bull, erected to commemorate the contributions of the Iowa beef industry. Very pretty ride. (West central Iowa, west of Guthrie Center)
4. Pike's Peak State Park, McGregor – Stunning overlook offers a grand view of the Mississippi River, with Prairie du Chien, WI on the other side. (Northeastern Iowa, along the Mississippi.)
5. J&P Cycles, Anamosa – Can't live in Iowa without visiting Chrome Mecca, J & P Cycles. Biker heaven hosts an annual Open House event that draws thousands. New "Scooters" eatery is right down the road. (East central Iowa, northeast of Cedar Rapids)
And a few more I'm still anxious see:
1. America's River Museum, Dubuque
2. Arnold's Park Amusement Park, Lake Okoboji
3. Wilton Candy Kitchen, Wilton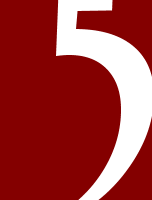 Biker Chick News turns five years old this year – its inauspicious beginning came on August 23, 2004 when I posted a short blurb about a local event called "Bikers in the City." That event has since evolved into the totally awesome East Village Bike Night, and BCN has evolved into a fully interactive blog that seeks to inform, entertain, celebrate and encourage women who ride.
So, any plans for your birthday?
I'm glad you asked, because the answer is YES! I'm still formulating much of the celebration, but do be on the lookout for the new "Friday Fives," a continuing series of bike-related lists beginning Friday, April 10.
Other than that, only two requests for now:
Save the date for Sunday, August 23. I'll be hosting some sort of local event.
Consider how you'd answer this two-part question: What made you decide to learn to ride, and how has your life changed since you began the journey?  
That's enough for now – if you want to keep up to date on birthday plans, be sure to subscribe to site updates in your favorite RSS feed reader or by email (links at right)!
Oh my gosh, I just HAD to post this link for you. Frank "Skootch" Pennucci shared this over on one of the motorcycle forums – pictures from a wonderful old photo album purchased at a swap meet, and originally posted/shared on Stretch's Nostalgia On Wheels blog.
Be sure to click through to the front page of the blog, too – there's some amazing stuff there!
Full Blog – Nostalgia On Wheels
Thanks to Skootch for sharing the link, and thanks to Stretch for preserving the photos for all to see.
This year, I'm finding it interesting that in addition to the usual articles in the media about the increase in female riders, there's also some backlash against the women riders' "movement" (if it can be called that).
It's not backlash against female riders, per se (though there is likely some of that too); it's backlash against companies that are beginning to cater to women riders, host all-womens' rides, make products for women riders, etc.
And I ask myself, why would this not be a good thing? Why does Lizzie at Rippen-Kitten so vehemently oppose the new WildKaT bike, engineered by women, for women? Why is BikerNewsOnline critical of International Female Ride Day?
The answer is, I think, that these folks reject the idea of being seen as a woman rider. They instead favor being seen as merely a rider.
Okay for them, but I say, screw that! Blending in with the guys is not why I chose to start riding. Co-ed events are great, and yes I have my favorites and do enjoy riding with my husband. But being part of a women's ride – that is something special. Why? Two reasons that come to mind immediately:
Women seek community. In all facets of life, women seek out those who share a common bond, so we can gather support, share experiences, and learn from each other. An all-women's ride feels like more of a community, which is a key reason I started riding.
Women don't always want to be wife and mom. Yes, we cherish those roles. But on a women's ride, we can leave those roles behind for a time and just enjoy each others' company – as women, as adults, as independent spirits. Good God, why would we NOT celebrate that?
Hey, I truly believe, "to each her own." If you don't like the idea of a bike built by women that takes our unique engineering challenges into account, then vote with your wallet and don't buy one. If you don't like the idea of a women's informational motorcycle event, or of an all-women's ride, then please don't participate. And feel free to express your opinion – I will be reading, voraciously, in my quest to understand more points of view than just my own.
But hear this: there ARE some things about being a woman that make me a different rider than my male counterparts, and I choose to celebrate them and to applaud those who try to encourage my celebration.