Many thanks to Holly N. for providing me with a wonderful multi-part series covering the 2009 Estrogen Ride, and to Vicki D. for taking such great photos!  Sounds like a wonderful time, I'm sorry I missed it this year! If you were there, be sure to add your stories in the comments!
by Holly N.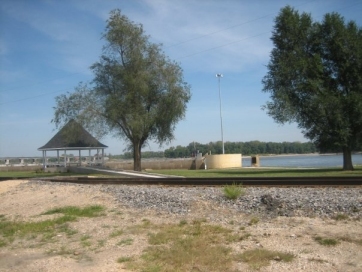 Sunday morning, Corky & Jeannie had to head home so after more hugs (we sure do that a lot!) they were on their way back north. The rest of us were heading south about 43 miles to Clarksville MO. This little town has some very cute art galleries and shops plus a lock-and-dam system on the river.
Getting out of Hannibal proved to be more of a challenge than we had expected.  After stopping for gas, we promptly got split into two group when we got seperated at a red light.  Lee's group headed north out of town (Clarksville is SOUTH) and the rest of us headed east toward the river looking for Lee's group.  Never did find them but more on that later!  My group (I wasn't leading this time!) ended up circling around town and back to the same gas station we had stopped at earlier!  Judy gets bold and asks a guy in his car at the gas station where Highway 79 is.  After trying to explain it and realizing that we just weren't getting it, he says "Just follow me".  So here are seven gals in pink hoodies following this guy's maroon Nova back to downtown Hannibal and he got us pointed in the right direction.  In our defense, I will say that Highway 79 is NOT marked in downtown Hannibal….but if you're ever looking for it, it is Third Street.
Once we found the road it proved to be a gorgeous ride through windy curves and gently rolling hills.  Lovely ride!  We still hadn't seen the other girls so when we got to Louisiana MO, we stopped at a gas station to try to get ahold of them.  Now, here's where our pink attire comes in handy.  I got to talking to another group of bikers at the gas station and asked them if they had seen another group of gals in pink hoodies.  Sure, they said, they were pulling out just as we pulled in!  So, Lee and her group had somehow gotten ahead of us (probably when we circled back in Hannibal!) and were already in Clarksville.  Such a relief to know where the whole group was again!  Louisiana to Clarksville is only about 7 miles so we were reunited in no time!
We spent some time shopping the stores in Clarksville and then road a little south out of town to Clarksville Station for lunch.  Again, a wonderful place with gorgeous gardens, a covered patio and chairs that reclined!  We enjoyed the breeze on the patio and, once again, wonderful food!  The owner (Natalie) came over and visited with us about the restaurant and her plants.  It was a great way to spend a beautiful afternoon!
Coming up next: The End, again!
Many thanks to Holly N. for providing me with a wonderful multi-part series covering the 2009 Estrogen Ride, and to Vicki D. for taking such great photos!  Sounds like a wonderful time, I'm sorry I missed it this year! If you were there, be sure to add your stories in the comments!

by Holly N.
Saturday morning the weather gods blessed us again with clear skies.  Unfortunately, Alicia had to say farewell and head back to Des Moines for a meeting…we were all sad to see her go but glad she got to enjoy a little of the trip!  L&M also has bins of towels to clean your bike off with so we all polished our chrome and gave the bikes a little sponge bath.  Lee had handed out our ride shirts before we left Des Moines and we donned them for our ride Saturday into Hannibal, MO.  Throughout the trip, our bright pink shirts and hoodies turned more than a few heads!  We loaded up our bikes, posed for group pictures (that, of course, included "Upstate"), got hugs from Lois and waved goodbye to the L&M.  We headed south on the Illinois side of the Mississippi following the Great River Road.
We made our first stop of the day in Port Byron, IL at a restaurant called "It's On the River".  As the name says, it is located right on the banks of the Mississippi with a wonderful deck we promptly took over.  Given that they really were not expecting such a large group, the proprietor and waitress did a fantastic job getting us all served.  The owner came out and visited with us and then gave us all tank tops with the restaurant's logo on them and just asked that we take a picture and send to him so he could put it up on the wall!  The food was wonderful and of course, we took this opportunity to get to know each other better, take more pictures and enjoy the lazy river.
Once again, we hit the Great River Road and even though I didn't plan to, we went straight through the middle of Moline IL.  When will I learn to read a map!  This was the first chance that we realized the hot pink shirts come in real handy when your group gets split up.  Very easy to spot!  Being the leader it is very heartstopping when you look in your mirror thinking you have 14 bikes behind you and you only see three!  We didn't actually lose anyone but we did get seperated a few times!  The road through Moline twists & turns and with stoplights, traffic, etc., it was hard to keep track of everyone.  At one point, some of us had turned around to go back and at the next stop light found the rest of the group on the other side of the road going the opposite way!  This was also when I pulled up beside an older man in his car, tapped on his window to ask directions and thought I was going to have to administer CPR!  I thought for sure he'd hear me pull up but guess my bike isn't as loud as I thought it was!
Just south of Moline is the tiny little town of New Boston IL.  Now, when you get to the junction of Hwy 92 and 17, if you turn west instead of east, you come to New Boston….and the highway ends in the river!  Not believing the sign, I had to check it out myself (by this time, the group is already manuvering their turn-around without me telling them to!)  But Illinoisians are friendly people and a couple riding around town in their golf cart were glad to give us directions to get us out of town and back on the road.  After circling through New Boston one last time (why not!) we got back on track and rode down to Nauvoo IL  where we made a stop at the historical center of the Church of Jesus Christ of Latter Day Saints. We got there about 20 minutes before closing time so didn't actually tour the facilities (although the bathrooms are nice!) but did stroll through the beautiful, peaceful gardens that are adjacent to the building.  These were lovely and we were all amazed at the variety of plants and shrubs and how well kept the garden was.
At this point, we had our first mechanical problem of the trip.  Judy B. noticed that her rear tire was low.  So Judy, Kris, Kathy, Jen & Lee headed to the convenience store in town to put some air in it.  We all meant them there and Judy's tire did have a slow leak so we decided to split into two groups.  That way, they could stop frequently to check the tire pressure and the rest of us would haul ass to Hannibal.  It was after 5:00 in the evening when we left Nauvoo and we still had some miles to cover that day.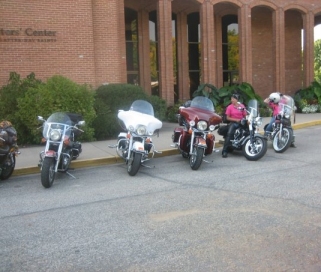 We crossed back over to the Iowa side of the river at Keokuk and promptly crossed the Missouri border.  Missouri is a helmet state so we had to do an emergency stop by the side of the road and get our helmets on before we got busted by The Man! The main group of us made it into Hannibal without further incident and, once again, I hadn't gotten directions to the hotel (minor detail!) and had to call for directions.  We stayed at the Super 8 on Hwy 61.  Your typical chain motel but Karen working the desk that night was very nice and accommodating.
When Judy and her four "road angels" arrived, boy did they have a story to share!  During one of their tire check stops, Lee noticed that Jen's headlight wasn't working.  They found an Auto Zone and bought a replacement bulb. Headlight still didn't work. Being mechanically minded, they realized that there must be a bad fuse. Out come the leatherman tools, allen wrenches, Jen unloads her bike, they pop the seat off and start testing fuses.  About this time, a man walks out of Auto Zone, takes one look at them and says "I think I'm in love!  You girls know more than I do!"  By this time, the two Auto Zone workers are basically being errand boys for our intrepid girls, running back into the store to get a fuse, electrical tape and whatever else they might have needed!  Jen likened it to a NASCAR pit crew at work!  Yes, they are bad-ass biker bitches!
Saturday night was pretty low key with a "parking lot" party on the patio at the Super 8 with everyone turning in rather early after our long road trip that day.
Day three coming up next!
Many thanks to Holly N. for providing me with a wonderful multi-part series covering the 2009 Estrogen Ride, and to Vicki D. for taking such great photos!  Sounds like a wonderful time, I'm sorry I missed it this year! If you were there, be sure to add your stories in the comments!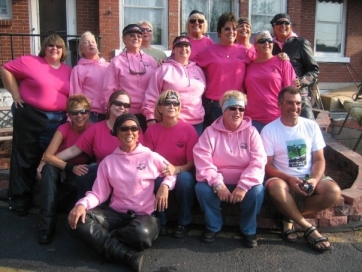 by Holly N.
What could  be better than hitting the open road with a group of gals for a four day wind-in-your-face weekend on your motorcycle?  That's exactly what happened one weekend in early September as 15 of us hit the open road "looking for adventure"!  For some of us, this was our fourth Estrogen Ride…for some, the first (but definitely not their last!)  For the entire weekend, we couldn't have ask for better weather!  Four gorgeous days of sunshine and light breezes.
We met at Big Barn Harley Davidson in Des Moines on Friday morning and after hugs, kisses and pictures, took off for our evening's destination – Savannah IL – home of Poopy's.  Before leaving DM, we decided to have our lunch break at Scooter's in Anamosa.  So off we go heading northeastish on Hwy 330.  I was leading the group again this year (my 2nd year of planning the trip) and even though I had the route marked on the map, we had a few wrong turns and turn arounds!  The worst being a 40 mile round trip "scenic detour" that landed us in LaPorte City, IA.  Nice little town…not exactly on our route but now we can at least say we've been there!  We also discovered it would be nice if they put the "Pavement Ends" signs right as you turn onto that road…instead of several miles down the road!
After several gas, potty and "what the heck" stops, we finally made it to Anamosa at about 3 that afternoon (normally, this is a two hour trip!) and enjoyed a wonderful late lunch/early dinner at Scooter's.  Great food & wonderful service for roa- weary women!  We also found out at lunch that Vicki D had never ridden farther than Marshalltown, IA!  Boy, was she going to be broken in by the end of the trip!
After lunch we continued east and pretty much a straight shot to the Iowa border, crossing the Mississippi River at Sabula, IA (the only Iowa town that is actually an island) and then south a few miles to Savanna IL.  We had reservations at the L&M Motel in Savanna and as we pulled into town, I realized I had forgotten one small detail – directions to the motel!  Well, I figured since it was kind of an older motel, it must be right on the main road through town and for once that day, I guessed correctly!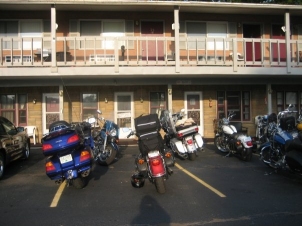 It's a unanimous consensus among the group that we would highly recommend the L&M Motel to anyone!  We were greeted by Lois & Gary and coolers of refreshing beverages and wine from local wineries. We were able to take a break and visit among ourselves and with other guests while we were checking in.  Another cool thing about the L&M is they have "theme" rooms.  My roomie, Lee, and I got the Harley room!  You need to check out their website at www.l-mmotel.com for the full effect.
After freshening up in our rooms a bit, we decided to head to Poopy's.  Now, here's another perk of the L&M – they offer free shuttle service to Poopy's or Iron Horse Saloon!  So we piled in the van & pickup truck (along with the two dogs, Goldie & Max) and hit Poopy's for more refreshing beverages, some appetizers, good band and, of course, a little shopping!  When we were all ready to go home, Gary & Lois (and the dogs!) came and got us and even made a stop at a convenience store for a few "I forgot to bring" items that were needed.
When we got back to the hotel, there was a campfire in the firepit and several of us hung out there visiting with some other guests and relaxing.  We met one gentleman that was bicycling from his home in Albany, NY (upstate NY) to Minneapolis.  We didn't get his name that night but he will forever be known by our group as "Upstate"!  There were also three other bikers from the Carlisle and Newton area and it was a blast listening to their banter.  They evidently have ridden together a lot and had many funny anecdotes to share with us.
Day Two, coming up next!
This guest post is by author and photographer Christina Shook, who has just released a photographic essay book called "Chicks on Bikes." The book captures the stories and pictures of women riders from all walks of life, but the essay excerpted here captures the essence of what we all have in common – a sense of sisterhood.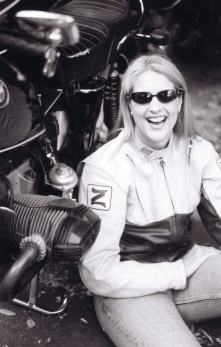 Sisterhood. A community. Of women. Not a sewing circle, not a women's auxiliary club, not a mom's club. There is a community of women bikers. Today women have formed organizations for every interest under the sun, no longer limited to domestic, nurturing or supportive activities. These women have taken up a lifestyle that is still a largely male domain and claimed their space and culture within it.
Few groups have the high-impact visibility of a pack of women riding up on their bikes. Few events have the singular sense of power that wells deep within as dozens of women roar their engines at the beginning of a group girl ride. It is a screamingly , throbbingly, wonderful feeling. It's awe inspiring and fascinating to behold.
There is a sense of non-competition in a group of women, an unspoken sisterhood without the need to prove you're daring. Women ride a little safer, a little smarter, a little kinder. To be on the road simultaneously alone and part of the pack is to have a firm sense of self and belonging. Every decision on the road must consider both self and group. Riding down the road with a mother, a sister or girlfriends combines the sense of the feminine with a sense of power. It spells out strength, pride, power and independence.
There are millions of women on motorcycles, and numbers count. There is strength in numbers. There is a kinship all motorcyclists share born of hardship and joy. Women motorcyclists have existed since the days when women wore dresses and rode side saddle. There are women motorcycle clubs that drink beer, swagger and ogle men. Some ride for causes such as breast cancer or children's health issues. Some are Christian groups that go riding after church on Sundays. there are countless groups that represent every lifestyle imaginable.
They will all tell you it's different from riding with the guys. there is a sense of pride and sisterhood, and this is why they ride with the girls.
To learn more about Christina and her book, visit www.ChicksOnBikes.us. Get your copy by clicking the "Order" tab on her website. You can also read her blog, http://cshook.wordpress.com/ – she just got back from the Women and Motorcycling Conference in Keystone, Colorado – and follow her on Twitter (www.twitter.com/cshookup) for tweets related to photography and motorcycles.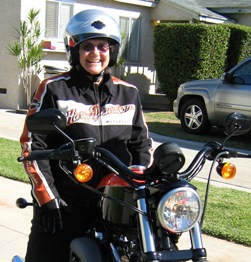 This guest-post about a July 4 solo ride was sent to me by Susan Yelle. Susan is from southern California and rides a 2009 Harley Nightster. It's great to hear from other women riders, so if you have a story to share please feel free to send it to me and I will do my best to publish it here. Thanks, Susan!
It was going to be a beautiful day, and I really wanted to go riding, but couldn't find anybody to ride with. So I went alone on what turned out to be a 5 hour adventure!
I started out going to the OC Harley dealer for their free 4th of July BBQ at 11am. Took Jamboree down, I knew there wouldn't be much traffic, and the roads were pretty much empty. I got gas (darn small tank!) then decided to ride with my jacket open, just to keep cool. I pulled out of the gas station, and accelerated to 50, thinking "boy this IS nice and cool," then I got even cooler, too cool, and realized that a gust of wind had blown my t-shirt up under my chin, and my bra and stomach were hanging out in space! I frantically grabbed it down with my left hand, then zipped up my jacket. So much for that. A new lesson learned.
The BBQ was nice, chatted and got some advice from the service guy, then went to Cook's Corner, but on the way turned into the little side road called Silverado Canyon Road. It's a quaint little town – VERY small, and that day they were having a big (little) 4th of July parade.
The townspeople decorated their cars and carts, horses and kids. There was a lot of screaming, and as I rode by, people kept jumping out in front of me with cameras yelling at their kids as they clicked away. I rode slowly, and stared at this one lane parade, and they stared back. Soon I reached the end of the road at the Cleveland National Forest. Usually the big gate is down, but today it was open, and I asked the ranger if I could go in. She looked at my bike and said yes, but drive slowly and be careful of the gravel, potholes and algae-filled water. So I went in cautiously, and it was uphill for 3 miles, all in first gear. It was a very wild, deep canyon, very isolated, I only passed 2 hikers, 2 bikers and 1 other motorcycle. It smelled like hot weeds and brush, I loved it.
At the end I turned around and coming back I realized that it was all downhill, so I put it in neutral and coasted down the entire way! It was just like the dirt-biking I used to do, zooming down and missing the dangers. It was exhilerating!
I drove back to Cook's, then got a Diet Coke and walked around. They had a set-up to photograph your bike against a big American flag for $65 (for a big print). I saw a guy with a purple custom chopper move it over to get its picture taken. The lady told him how and where to position it. I turned away, then heard her scream. I turned around quickly and saw that expensive bike fall over. Gas was spilling out of the tank, the rear view mirror broke off, people were running like hell to it. Lots of moaning and inspecting started by all, as they surveyed the damage. But they ended up photographing it anyway, that guy had a souvenir of the damage to his $35,000+ bike!
So then I rode up Trabuco Canyon and back, then home.
It was a very tiring, interesting day, I will always have those memories.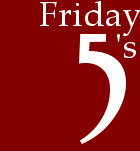 This week on Friday Fives, I offer five reasons why I love to ride my own motorcycle.
Accomplishment – I've been riding seven years, and still today every single time I'm on the bike I feel so good about myself for having persevered and learned this new skill. The fact that I'm still in the minority of women makes it extra-special.
Independence – I'm very lucky: my husband Steve is a safe, smart rider with (overall) good habits. Still, I like being in charge of (or at least responsible for) my own destiny.
Freedom – Sure you love the house, the husband, the kids… and all you do every day to keep them all comfortable and functioning. But wouldn't you love to be able to say something like, "Hey family, I'm headed off on the all-women's bike trip. I love you, and I'll see you next week." And mean it?
Rebellion – Similar to freedom, but taking into account that lingering bit bad-ass the general public attaches to riding a motorcycle. Trust me: it feels good to be different, to buck the status quo.

Community, support, and encouragement – Okay, that's three things, but they're all related. I believe that women, moreso than men, seek community, support and encouragement throughout all of life's challenges. Riding is no different, and the woman-centered communities that exist around riding are as strong as – or stronger than – any you'll find anywhere. If you want to rebel, but belong, ride your own.
What about you – what got you started riding your own, and what keeps you in the driver's seat
Coming next week, IowaHarleyGirl Stephanie will guest-blog with "Five Reasons to Ride Pillion."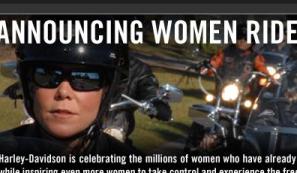 Diane over at Road Captain USA has a wonderful post rounding up a variety of thoughts on International Female Ride Day (May 1) and the designation by Harley Davidson of May as Women Riders Month.
In the comments, the debate continues about the value of women 'celebrating' their growing market share in some kind of official or organized way. In particular, Chessie makes some excellent points and questions whether Harley Davidson was the appropriate entity to designate Women Rider's Month. (She notes that a group such as Motor Maids would likely have taken an approach that was less about profit and more about education or safety.)
I personally don't have a problem with HD taking the lead and proclaiming a month for women riders. For one thing, they're only proclaiming it on behalf of themselves: it's their opportunity to showcase women who ride HD motorcycles, offer specials on gear, host some rides, and generally promote the ideas they've developed around the female market.
Perhaps more telling, though, is that in all their long history, groups like Motor Maids have not done this – and now I'm curious as to why.
Why, if their focus all along has been women riders, did they never put the power of their nationwide chapter network behind the task of creating Women Riders Month, perhaps with an awareness or safety focus?  Apparently, such a thing never occurred to them or was not important to them. That's fine, but that doesn't make them more deserving now of the attention or the money that may come out of it.
Finally, on the notion that HD is "just trying to make money": of course they are, and I say let them! This is still a capitalist society (at least for the moment), and they are a business hoping to stay afloat. I have long wished for companies like HD to PLEASE market to women with quality, appropriately-sized clothing, bikes built for my shorter stature, more style choices in accessories, etc. So, personally I welcome them attempting to make money off of me because I have needs and they have something to offer.
While each ride we take is indeed an affirmation regardless of what the calendar or "the MoCo" says, I see nothing wrong with setting aside a day to reflect and celebrate being women who ride. (After all, we love our mothers all year-round, but we still have Mother's Day!) And, if HD wants to pick a month to focus on me, who am I to argue?
More to the point, if Motor Maids or anyone else wishes to put their own spin on Women Riders Month, or pick a different month altogether, I'm all for that too. As far as I'm concerned, HD may have named it but they've only taken the approach that meets their own needs. Other groups, with other needs, should step up and do likewise.
This year, I'm finding it interesting that in addition to the usual articles in the media about the increase in female riders, there's also some backlash against the women riders' "movement" (if it can be called that).
It's not backlash against female riders, per se (though there is likely some of that too); it's backlash against companies that are beginning to cater to women riders, host all-womens' rides, make products for women riders, etc.
And I ask myself, why would this not be a good thing? Why does Lizzie at Rippen-Kitten so vehemently oppose the new WildKaT bike, engineered by women, for women? Why is BikerNewsOnline critical of International Female Ride Day?
The answer is, I think, that these folks reject the idea of being seen as a woman rider. They instead favor being seen as merely a rider.
Okay for them, but I say, screw that! Blending in with the guys is not why I chose to start riding. Co-ed events are great, and yes I have my favorites and do enjoy riding with my husband. But being part of a women's ride – that is something special. Why? Two reasons that come to mind immediately:
Women seek community. In all facets of life, women seek out those who share a common bond, so we can gather support, share experiences, and learn from each other. An all-women's ride feels like more of a community, which is a key reason I started riding.
Women don't always want to be wife and mom. Yes, we cherish those roles. But on a women's ride, we can leave those roles behind for a time and just enjoy each others' company – as women, as adults, as independent spirits. Good God, why would we NOT celebrate that?
Hey, I truly believe, "to each her own." If you don't like the idea of a bike built by women that takes our unique engineering challenges into account, then vote with your wallet and don't buy one. If you don't like the idea of a women's informational motorcycle event, or of an all-women's ride, then please don't participate. And feel free to express your opinion – I will be reading, voraciously, in my quest to understand more points of view than just my own.
But hear this: there ARE some things about being a woman that make me a different rider than my male counterparts, and I choose to celebrate them and to applaud those who try to encourage my celebration.