As a follow-up to this week's post about good bikes for beginners, I wanted to point out that I had read recently where someone recommended the automatic-shifting Ridley as a "great first bike."
I respectfully disagree, for the simple reasons that it's expensive and doesn't teach you all the necessary skills.
Sure you don't have to learn to manage the clutch, but what if you decide someday that you want a different bike? You certainly couldn't test-ride anything if you haven't mastered shifting.  And, if you were in a situation where you were needed to ride someone else's bike, you'd be useless. Learning to shift is part of the challenge of learning to ride, and you should tackle the challenge. Besides, I can't imagine shelling out that kind of money, or taking on that kind of loan, for a "first bike."  
Same for custom choppers – choppers are engineered quite differently from, other bikes, including the learner bikes they use in the MSF courses. For one thing, the turning radius is drastically different. Why put unnecessary obstacles in your way when you are still learning how to manage operating the bike, riding defensively, moving through traffic, etc.?  Plus, again, the cost is extraordinary compared to a basic small-cc bike, especially if you don't know whether riding is "for you" just yet.
Of course, once you are riding comfortably you can have any bike you want, and can adjust your riding skills accordingly.
With women now comprising just over 12 percent of the new-bike market, it means that more gals are thinking about learning to ride. (After all, who doesn't dream of being a free-spirited biker chick?) If that's you, or your wife or girlfriend, one of the first questions to come up is most certainly going to be: "What kind of bike is best for learners?" (See my "No B.S. Guide to Learning to Ride" for more common questions.)
While it's true that some women will be comfortable managing a bigger bike right from the start, it's more likely they're facing quite a bit of uncertainty or even fear.
For that reason, I recommend learning to ride on a smaller bike, i.e. a Honda Rebel or Yamaha Virago (125 and 250cc, respectively), preferably used so you don't shell out a lot of money only to find you don't enjoy riding. 
A woman who might be able to readily maneuver more bike at slow speeds, or one who's more confident going into the task of learning, might start out on a 600 Honda VLX or the Yamaha 650 V-Star. These are a little more powerful and you might keep them a few more seasons than the smaller Rebel or Virago. 
All of these are readily available in the used market.
Once you feel comfortable riding, you'll notice that highway speeds feel like "work" on a small (250cc) bike. At that point, you're probably ready to move up to something a little bigger. You can easily sell the learner bike and move up to the Honda Shadows, Yamaha V-Stars, Harley Sportsters, etc. in the 650-883 range. Suzuki also makes comparable bikes in its Boulevard line – I'm not as familiar with them, but the older Suzuki 800 Intruder is also a great "move-up" bike. Eventually you may move up yet again into the largest classes, but I know many women who have ridden comfortably for years on these mid-range machines.
The advantages of this graduated method are several: 
You get used to the manual operation of the bike without feeling like you can't maneuver it easily (such as into and out of parking spaces or through large crowds).
It's easier to pick up a smaller bike via the proper method if you drop it.
And speakng of drops, it's less heart-breaking to drop a small used learner bike (likely to happen when you're a new rider) than it is to drop your ultimate dream bike.
It's much easier to pass the licensing test on a smaller-cc bike.
You probably won't have a financed bike to "get out from under" if you decide you don't want to continue riding.
I've said it often: women learn differently from men – they are more studious and often more cautious. If you want to learn to ride and want to make it as un-intimidating as possible, start small and work your way up to the larger bikes.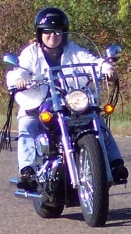 April is Helmet Awareness Month so I think it's only fitting to end this series of posts by sharing my view of the helmet law debate.  If we get out of the first 100 days of the Obama Administration without a federal mandate, I'll be amazed. (Hell if we get out of the 2009 runaway Iowa Legislature without a mandate, I'll be amazed.)
Proponents of helmet mandates state that helmets "work" – meaning, they save lives. Let's look at that statement:
Helmets might save lives, but only in those cases where head trauma would have been the cause of death. About 37 percent of all accidents involving riders not wearing helmets, according to the National Highway Traffic Safety Administration. (Note: that's not 37 percent of all accidents. It's 37 percent of all accidents where riders were NOT wearing a helmet and where head trauma was the cause of death. You can further dilute this by noting that the helmet would only have saved the life if it prevented a sufficient degree of the trauma.)
Understanding that even a very small percentage still represents actual human beings with families and friends who love them, it's important to note that every life is worthwhile. But, it's equally important to note that helmets only prevent head injuries. The vast majority of motorcyclists who die in accidents do so as a result of body trauma – blunt-force injury to vital organs other than the brain. Helmets, therefore, do nothing to prevent the vast majority of motorcycle fatalities.
When you couple this with the fact that about half of all motorcycle accidents involve another vehicle, it seems more logical to argue that accident prevention should be of greater importance than taking away personal liberty from all riders because a small percentage die from one type of injury.
As I said in my first Helmet Awareness Month post, I wear a helmet and I'd love it if you did, too. But, I don't think our government should step in and force everyone to wear them.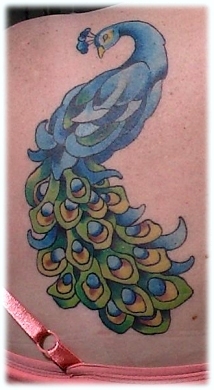 Decided that BCN deserved a new outfit for her fifth birthday, so I gave the whole blog a lean, clean update with a beautiful peacock-themed logo and coordinating color scheme – hope you like it! (The neat thing is, that peacock is actually the finished tattoo on my left shoulder, which I've had since last fall.)
A few changes to the layout of the site will make it even more interactive than before. Most notably, it's much easier to find the "Comments" link to either read existing comments or post your own comment about everything you read!
Also, I added easily-found links to some of the most popular "sharing" websites at the end of each article, so you can stumble, digg, or tweet anything you wish! (Note: I'm working on a better solution for Twitter, because the code I'm currently using doesn't automatically shorten the URL of the article you're sharing. With Twitter's 140-character-per-message limit, you could easily use up all your characters just with the URL – not good!)
Finally, you can now see "tags" at the end of each article. If you click on a tag, it will show you a list of other articles from elsewhere on the site that relate to that same tag. Right now, the list is a little skimpy – I've only tagged a few of the most recent posts, so I'll have to revisit the older stuff and tag articles individually.
Still to come, I'm planning to clean up the category list so there aren't so many. It will make the whole page look a lot cleaner, but it will be time-consuming – I'll have to review every post and re-assign some to other categories. I've also got plans for adding occasional guest-posts from other authors, so be on the lookout for some new "biker chick voices" in the months to come!
Thanks as always for reading and participating in this blog – I'm so thankful to have you here!
P.S. – If you're a WordPress blogger, the theme I'm using here is by Eric Hamm and it's called Frugal. I love its simplicity and easy customization. Plus, Eric's the first theme author I've ever encountered who a). has created a user's manual for editing the code in his theme and b). makes me want to stand up and cheer whenever I read his blog.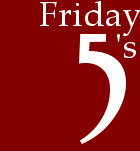 In addition to setting up my bike with accessories that improve my riding experience, I also accessorize myself with some must-haves for the road. Today's Friday Fives is all about the five personal accessories I can't do without:
Leather jacket, chaps and lined gloves – By the time winter ends, I'm so ready to ride that I've been known to get the bike out if temperatures get to 45. (That feels SO warm when you've been in the months-long deep freeze, but when moving through the wind it's really quite chilly!) There are some who go by the mantra, "All the gear, all the time." This means they wear full leathers (or armored textiles) on every ride. I can't claim to be that protective, but I wear my leather jacket, chaps and lined gloves for anything under 55 degrees; and, the jacket and gloves for anything under 65.
Helmet – Although in truth a helmet only provides limited protection, I wear one every time nonetheless. It's gotten to the point where I feel naked without it. My current lid is a pink-and-pin-striped Fulmer half-helmet; it has the added bonus of being distinctive and memorable. (I swear: someone recently said to me, "I remember you – don't you ride with a pink helmet?")
Solid-gripping, ankle-protecting footwear – I used to wear a really nice pair of HD boots that were comfy even for all-day wear. Their only disadvantage was that they were lace-up and a pain to put on. Then I acquired a pair of red Ariat cowboy boots with good rubber soles, which I adore. And recently, I acquired another pair of HD boots also with rubber sole, but this time they lace AND side-zip for easy-on/off. A side benefit of all these boots – for me, anyway – is that they all have some degree of higher heel, which puts me flat-footed on the bike when I might otherwise not be.
Cell phone – do I even have to mention why this is important? Side benefit: mine has a built-in camera, in case I forget #5:
Digital Camera – Okay, sometimes I forget the camera. But I always kick myself when that happens. It's important to me to document as many of our rides as possible, so that when I'm 90 and in a nursing home I can point to my pictures and tell the nurses, "You see? I used to be interesting too! And look – this hummingbird tattoo on my cleavage wasn't always as close to my navel as it is now!"
What are the personal accessories you can't live without?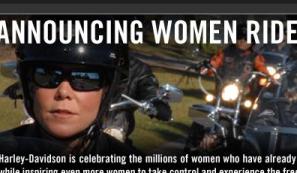 Diane over at Road Captain USA has a wonderful post rounding up a variety of thoughts on International Female Ride Day (May 1) and the designation by Harley Davidson of May as Women Riders Month.
In the comments, the debate continues about the value of women 'celebrating' their growing market share in some kind of official or organized way. In particular, Chessie makes some excellent points and questions whether Harley Davidson was the appropriate entity to designate Women Rider's Month. (She notes that a group such as Motor Maids would likely have taken an approach that was less about profit and more about education or safety.)
I personally don't have a problem with HD taking the lead and proclaiming a month for women riders. For one thing, they're only proclaiming it on behalf of themselves: it's their opportunity to showcase women who ride HD motorcycles, offer specials on gear, host some rides, and generally promote the ideas they've developed around the female market.
Perhaps more telling, though, is that in all their long history, groups like Motor Maids have not done this – and now I'm curious as to why.
Why, if their focus all along has been women riders, did they never put the power of their nationwide chapter network behind the task of creating Women Riders Month, perhaps with an awareness or safety focus?  Apparently, such a thing never occurred to them or was not important to them. That's fine, but that doesn't make them more deserving now of the attention or the money that may come out of it.
Finally, on the notion that HD is "just trying to make money": of course they are, and I say let them! This is still a capitalist society (at least for the moment), and they are a business hoping to stay afloat. I have long wished for companies like HD to PLEASE market to women with quality, appropriately-sized clothing, bikes built for my shorter stature, more style choices in accessories, etc. So, personally I welcome them attempting to make money off of me because I have needs and they have something to offer.
While each ride we take is indeed an affirmation regardless of what the calendar or "the MoCo" says, I see nothing wrong with setting aside a day to reflect and celebrate being women who ride. (After all, we love our mothers all year-round, but we still have Mother's Day!) And, if HD wants to pick a month to focus on me, who am I to argue?
More to the point, if Motor Maids or anyone else wishes to put their own spin on Women Riders Month, or pick a different month altogether, I'm all for that too. As far as I'm concerned, HD may have named it but they've only taken the approach that meets their own needs. Other groups, with other needs, should step up and do likewise.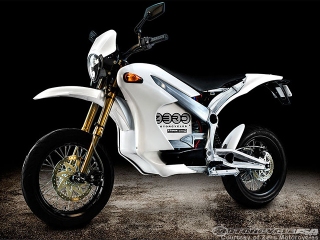 Zero Motorcycles of Santa Cruz, California unveiled its new street-legal electric bike, the Zero S, on April 7. The Zero S will begin shipping to pre-order customers within the next 30 days.
A news release about the bike stated:
The Zero S uses a completely non-toxic lithium ion array (proprietary power pack), and the majority of the motorcycle is fully recyclable. The landfill approved power pack recharges in less than four hours while plugged into a standard 110V or 220V outlet. Eco-friendly with zero emissions, the Zero S is also economy-friendly with an operating cost of less than one cent per mile or kilometer.
The release also states that the bike's maximum range is 60 miles, and top speed is 60 mph.
I think it's fair to say this is strictly an urban commuter bike – you won't be taking any long road trips with it. But, there's certainly nothing wrong with that. I learned to ride on a Yamaha 250 Exciter, a commuter bike if ever there was one, and understood that the bike wasn't designed to take me any great distance. Same thing here – the Zero's look is decidedly urban, and it should make for a nice alternative commute option for those who want green features and a (motorized) two-wheel commute.
Understanding the bike's purpose and limitations, then, my only real criticism is the seat height. At 35.5 inches, this seems like it would be out of range for a large number of riders.
By the way, I did follow the links to contact the PR person for Zero, but they have not responded yet to my inquiry. Here are the questions I asked – I'll follow up with the answers if/when I hear from them:
1. What about the bike makes it "high performance"? Is it the power-to-weight ratio? What else?
2. When you mention "recyclable" components, I think plastic. How "solid" does the bike feel given its light weight?
3. The seat height, at 35.5 inches, will exclude many riders. Why did the company launch a product for the mass market that isn't accessible for a large chunk of the riding population, especially if the goal is to have a real, widespread environmental impact?
4. I assume the bike is very quiet? Do you have any thoughts on whether this reduces awareness of its presence on the road?
Update: here's an interesting link provided by Skadamo in the comments below that gives a ride-test report on the Zero S:
http://hellforleathermagazine.com/2009/04/2009-zero-s-initial-report.html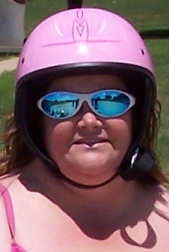 April is Helmet Awareness month, so in the interest of making you more aware of your helmet I thought I would share some tips on fitting and maintaining this oft-debated piece of safety equipment.
Proper fit is vital to a helmet's effectiveness. Your helmet should fit snug; when you shake your head from side to side, the helmet should move with you – not stay in one place while your head moves inside of it. (This is also a function of proper fastening.) Your helmet should not slide back over your head at an angle. When seated on your bike, your helmet should not obstruct your forward or lateral vision.
Prior damage renders a helmet useless. When your helmet hits the pavement, the energy of the impact is absorbed and dissipated through the… uhm, impact absorption material. This weakens the material. A helmet that has absorbed a significant impact, or whose shell is cracked in any way, should be replaced as soon as possible.
The Motorcycle Safety Foundation (MSF) also recommends replacing your helmet every few years regardless of whether it's been damaged. They state that it's possible the helmet's protective qualities could deteriorate over time, and/or that helmet manufacturing technology will likely improve – making your next helmet lighter and more comfortable, and possibly less expensive, than an older one (though no less stupid-looking).
Ignore if you wish the MSF's cleverly-hidden agenda of helmet mandates, but do read this very informative PDF file on helmet construction and fitment.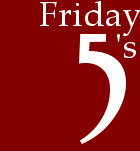 Whenever I get a new computer, I always "load it up" with my favorite add-on tools: FTP program, graphics program, alternative browser, etc. And I'm the same with bikes, so today's edition of Friday Fives presents my must-have motorcycle accessories. Each of these makes riding (especially highway riding) so much more comfortable – I couldn't do without them!
Windshield – If you plan to do much highway riding (and believe me, most of those "open roads" you've heard about are indeed highways <grin>) you're going to be amazed at the difference having a windshield makes. Not only does it catch the bugs that would otherwise end up in your teeth (you ARE smiling when you ride aren't you??), it also lessens the wind force hitting your head and chest, making for a much more comfortable ride.
Saddlebags – you don't give up the need to carry stuff just because you start riding a motorcycle. And I tend to carry a lot of stuff, including my rainsuit, a light-weight jacket, some tools, road map, makeup bag, bike paperwork, etc. If you're a minimalist, I suppose you could get away with just a fork bag.
Wrist rest product – Again, if you're going to be on the highway for any length of time, you'll want one of those wrist thingies that lets you loosen your grip on the throttle while still keeping it wide open. Kuryakyn makes the Throttle Boss that coordinates with its ISO grips; other companies have similar non-proprietary products that work, too. I prefer these to the "cruise control" feature on some bikes – somehow locking the throttle open doesn't feel safe to me.
Rider backrest – Does it strike you as odd that so many stock two-up seats come with backrests only for the passenger? If your bike's stock seat makes your lower back or tailbone ache, you'll want to check out after-market seats that offer rider backrests. The one I bought is made by Mustang. It did raise me up an inch or so, but the increased comfort is well worth it.
Voice-activated protective wrap-around bubble – This device deploys much like an airbag in a car, except it is voice-activated. If the rider shouts "Oh SHIT!" in a panicky voice, the bubble deploys and encases the bike and rider in a large see-through "hamster ball" made of indestructible space-age material. See also: Guardian Angel.
What are your must-have motorcycle accessories?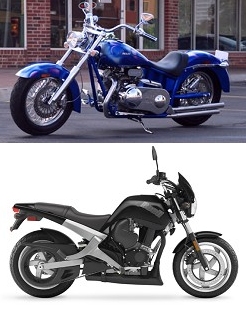 You might remember a couple of years ago I compiled a spreadsheet showing the seat-heights of the lower major-manufacturer cruisers. This was an effort to help identify good bikes for short riders, and it had the added benefit of suggesting some lower-cc bikes for beginning riders.
I've recently come across a couple of sites that provide some excellent, more current information, so thought I'd share the links with you so you can investigate further. Important to note that the bikes on my original list are likely well-represented in the used bike market these days. So if you're looking for a good first bike, or a good used machine, this list will still help you narrow your choices!
Carla King at Motorcycling Misadventures offers her thoughts on the question of "What's a Beginner Bike?" and states in no uncertain terms, "flat-footed, no more than 250 cc's." (My article, "Start Small or Go Ultimate" offers the pluses of starting on a smaller bike vs. larger. I'll be offering something a little more definitive – meaning: opinionated! LOL – next week.)
Being able to "flat-foot" the bike is one of the most important aspects of safe handling. Why? Well for one thing, you want to be able to 'walk' the bike into or out of a parking spot if need be. You can't do that easily if you're on tippy-toes, because you can't get a good footing. And for another, when you roll up to a stop you want to be sure your footing will be solid as you take your feet off the pegs to support the stopped bike.
Women Riders Now has a fairly complete list of (mostly) cruisers with low seat heights, but there are two points of discussion that are missing from the article (mentioned in the comments):
1. There are some beautiful choppers, and many other bikes with forward controls shown that shorter women can easily straddle, but we'd have no hope of ever reaching the foot controls. (Perhaps the Roar WildKaT, with its modular control-positioning, solves this problem?)
2. The seat width often makes these "low" bikes impossible to straddle flat-footed, because your shorter legs have to stretch out and over a wider area.
Finally, Raven at Ravenbladerider covers the sportbike angle with some great sportbikes for shorter women.