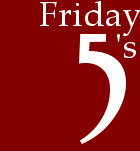 Whenever I get a new computer, I always "load it up" with my favorite add-on tools: FTP program, graphics program, alternative browser, etc. And I'm the same with bikes, so today's edition of Friday Fives presents my must-have motorcycle accessories. Each of these makes riding (especially highway riding) so much more comfortable – I couldn't do without them!
Windshield – If you plan to do much highway riding (and believe me, most of those "open roads" you've heard about are indeed highways <grin>) you're going to be amazed at the difference having a windshield makes. Not only does it catch the bugs that would otherwise end up in your teeth (you ARE smiling when you ride aren't you??), it also lessens the wind force hitting your head and chest, making for a much more comfortable ride.
Saddlebags – you don't give up the need to carry stuff just because you start riding a motorcycle. And I tend to carry a lot of stuff, including my rainsuit, a light-weight jacket, some tools, road map, makeup bag, bike paperwork, etc. If you're a minimalist, I suppose you could get away with just a fork bag.
Wrist rest product – Again, if you're going to be on the highway for any length of time, you'll want one of those wrist thingies that lets you loosen your grip on the throttle while still keeping it wide open. Kuryakyn makes the Throttle Boss that coordinates with its ISO grips; other companies have similar non-proprietary products that work, too. I prefer these to the "cruise control" feature on some bikes – somehow locking the throttle open doesn't feel safe to me.
Rider backrest – Does it strike you as odd that so many stock two-up seats come with backrests only for the passenger? If your bike's stock seat makes your lower back or tailbone ache, you'll want to check out after-market seats that offer rider backrests. The one I bought is made by Mustang. It did raise me up an inch or so, but the increased comfort is well worth it.
Voice-activated protective wrap-around bubble – This device deploys much like an airbag in a car, except it is voice-activated. If the rider shouts "Oh SHIT!" in a panicky voice, the bubble deploys and encases the bike and rider in a large see-through "hamster ball" made of indestructible space-age material. See also: Guardian Angel.
What are your must-have motorcycle accessories?