My 4th of July Ride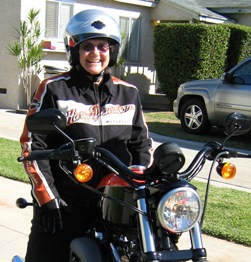 This guest-post about a July 4 solo ride was sent to me by Susan Yelle. Susan is from southern California and rides a 2009 Harley Nightster. It's great to hear from other women riders, so if you have a story to share please feel free to send it to me and I will do my best to publish it here. Thanks, Susan!
It was going to be a beautiful day, and I really wanted to go riding, but couldn't find anybody to ride with. So I went alone on what turned out to be a 5 hour adventure!
I started out going to the OC Harley dealer for their free 4th of July BBQ at 11am. Took Jamboree down, I knew there wouldn't be much traffic, and the roads were pretty much empty. I got gas (darn small tank!) then decided to ride with my jacket open, just to keep cool. I pulled out of the gas station, and accelerated to 50, thinking "boy this IS nice and cool," then I got even cooler, too cool, and realized that a gust of wind had blown my t-shirt up under my chin, and my bra and stomach were hanging out in space! I frantically grabbed it down with my left hand, then zipped up my jacket. So much for that. A new lesson learned.
The BBQ was nice, chatted and got some advice from the service guy, then went to Cook's Corner, but on the way turned into the little side road called Silverado Canyon Road. It's a quaint little town – VERY small, and that day they were having a big (little) 4th of July parade.
The townspeople decorated their cars and carts, horses and kids. There was a lot of screaming, and as I rode by, people kept jumping out in front of me with cameras yelling at their kids as they clicked away. I rode slowly, and stared at this one lane parade, and they stared back. Soon I reached the end of the road at the Cleveland National Forest. Usually the big gate is down, but today it was open, and I asked the ranger if I could go in. She looked at my bike and said yes, but drive slowly and be careful of the gravel, potholes and algae-filled water. So I went in cautiously, and it was uphill for 3 miles, all in first gear. It was a very wild, deep canyon, very isolated, I only passed 2 hikers, 2 bikers and 1 other motorcycle. It smelled like hot weeds and brush, I loved it.
At the end I turned around and coming back I realized that it was all downhill, so I put it in neutral and coasted down the entire way! It was just like the dirt-biking I used to do, zooming down and missing the dangers. It was exhilerating!
I drove back to Cook's, then got a Diet Coke and walked around. They had a set-up to photograph your bike against a big American flag for $65 (for a big print). I saw a guy with a purple custom chopper move it over to get its picture taken. The lady told him how and where to position it. I turned away, then heard her scream. I turned around quickly and saw that expensive bike fall over. Gas was spilling out of the tank, the rear view mirror broke off, people were running like hell to it. Lots of moaning and inspecting started by all, as they surveyed the damage. But they ended up photographing it anyway, that guy had a souvenir of the damage to his $35,000+ bike!
So then I rode up Trabuco Canyon and back, then home.
It was a very tiring, interesting day, I will always have those memories.