Estrogen Ride 2009, Day One
Many thanks to Holly N. for providing me with a wonderful multi-part series covering the 2009 Estrogen Ride, and to Vicki D. for taking such great photos!  Sounds like a wonderful time, I'm sorry I missed it this year! If you were there, be sure to add your stories in the comments!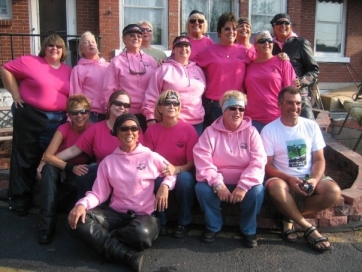 by Holly N.
What could  be better than hitting the open road with a group of gals for a four day wind-in-your-face weekend on your motorcycle?  That's exactly what happened one weekend in early September as 15 of us hit the open road "looking for adventure"!  For some of us, this was our fourth Estrogen Ride…for some, the first (but definitely not their last!)  For the entire weekend, we couldn't have ask for better weather!  Four gorgeous days of sunshine and light breezes.
We met at Big Barn Harley Davidson in Des Moines on Friday morning and after hugs, kisses and pictures, took off for our evening's destination – Savannah IL – home of Poopy's.  Before leaving DM, we decided to have our lunch break at Scooter's in Anamosa.  So off we go heading northeastish on Hwy 330.  I was leading the group again this year (my 2nd year of planning the trip) and even though I had the route marked on the map, we had a few wrong turns and turn arounds!  The worst being a 40 mile round trip "scenic detour" that landed us in LaPorte City, IA.  Nice little town…not exactly on our route but now we can at least say we've been there!  We also discovered it would be nice if they put the "Pavement Ends" signs right as you turn onto that road…instead of several miles down the road!
After several gas, potty and "what the heck" stops, we finally made it to Anamosa at about 3 that afternoon (normally, this is a two hour trip!) and enjoyed a wonderful late lunch/early dinner at Scooter's.  Great food & wonderful service for roa- weary women!  We also found out at lunch that Vicki D had never ridden farther than Marshalltown, IA!  Boy, was she going to be broken in by the end of the trip!
After lunch we continued east and pretty much a straight shot to the Iowa border, crossing the Mississippi River at Sabula, IA (the only Iowa town that is actually an island) and then south a few miles to Savanna IL.  We had reservations at the L&M Motel in Savanna and as we pulled into town, I realized I had forgotten one small detail – directions to the motel!  Well, I figured since it was kind of an older motel, it must be right on the main road through town and for once that day, I guessed correctly!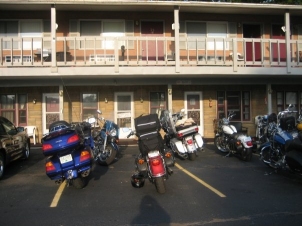 It's a unanimous consensus among the group that we would highly recommend the L&M Motel to anyone!  We were greeted by Lois & Gary and coolers of refreshing beverages and wine from local wineries. We were able to take a break and visit among ourselves and with other guests while we were checking in.  Another cool thing about the L&M is they have "theme" rooms.  My roomie, Lee, and I got the Harley room!  You need to check out their website at www.l-mmotel.com for the full effect.
After freshening up in our rooms a bit, we decided to head to Poopy's.  Now, here's another perk of the L&M – they offer free shuttle service to Poopy's or Iron Horse Saloon!  So we piled in the van & pickup truck (along with the two dogs, Goldie & Max) and hit Poopy's for more refreshing beverages, some appetizers, good band and, of course, a little shopping!  When we were all ready to go home, Gary & Lois (and the dogs!) came and got us and even made a stop at a convenience store for a few "I forgot to bring" items that were needed.
When we got back to the hotel, there was a campfire in the firepit and several of us hung out there visiting with some other guests and relaxing.  We met one gentleman that was bicycling from his home in Albany, NY (upstate NY) to Minneapolis.  We didn't get his name that night but he will forever be known by our group as "Upstate"!  There were also three other bikers from the Carlisle and Newton area and it was a blast listening to their banter.  They evidently have ridden together a lot and had many funny anecdotes to share with us.
Day Two, coming up next!