Estrogen Ride 2009, Day Three
Many thanks to Holly N. for providing me with a wonderful multi-part series covering the 2009 Estrogen Ride, and to Vicki D. for taking such great photos!  Sounds like a wonderful time, I'm sorry I missed it this year! If you were there, be sure to add your stories in the comments!
by Holly N.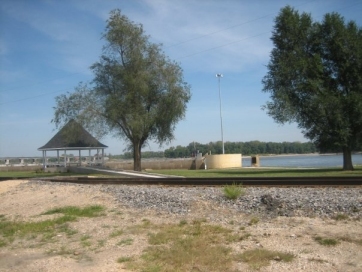 Sunday morning, Corky & Jeannie had to head home so after more hugs (we sure do that a lot!) they were on their way back north. The rest of us were heading south about 43 miles to Clarksville MO. This little town has some very cute art galleries and shops plus a lock-and-dam system on the river.
Getting out of Hannibal proved to be more of a challenge than we had expected.  After stopping for gas, we promptly got split into two group when we got seperated at a red light.  Lee's group headed north out of town (Clarksville is SOUTH) and the rest of us headed east toward the river looking for Lee's group.  Never did find them but more on that later!  My group (I wasn't leading this time!) ended up circling around town and back to the same gas station we had stopped at earlier!  Judy gets bold and asks a guy in his car at the gas station where Highway 79 is.  After trying to explain it and realizing that we just weren't getting it, he says "Just follow me".  So here are seven gals in pink hoodies following this guy's maroon Nova back to downtown Hannibal and he got us pointed in the right direction.  In our defense, I will say that Highway 79 is NOT marked in downtown Hannibal….but if you're ever looking for it, it is Third Street.
Once we found the road it proved to be a gorgeous ride through windy curves and gently rolling hills.  Lovely ride!  We still hadn't seen the other girls so when we got to Louisiana MO, we stopped at a gas station to try to get ahold of them.  Now, here's where our pink attire comes in handy.  I got to talking to another group of bikers at the gas station and asked them if they had seen another group of gals in pink hoodies.  Sure, they said, they were pulling out just as we pulled in!  So, Lee and her group had somehow gotten ahead of us (probably when we circled back in Hannibal!) and were already in Clarksville.  Such a relief to know where the whole group was again!  Louisiana to Clarksville is only about 7 miles so we were reunited in no time!
We spent some time shopping the stores in Clarksville and then road a little south out of town to Clarksville Station for lunch.  Again, a wonderful place with gorgeous gardens, a covered patio and chairs that reclined!  We enjoyed the breeze on the patio and, once again, wonderful food!  The owner (Natalie) came over and visited with us about the restaurant and her plants.  It was a great way to spend a beautiful afternoon!
Coming up next: The End, again!