Friday Fives: 5 reasons to ride your own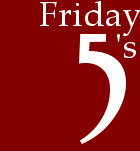 This week on Friday Fives, I offer five reasons why I love to ride my own motorcycle.
Accomplishment – I've been riding seven years, and still today every single time I'm on the bike I feel so good about myself for having persevered and learned this new skill. The fact that I'm still in the minority of women makes it extra-special.
Independence – I'm very lucky: my husband Steve is a safe, smart rider with (overall) good habits. Still, I like being in charge of (or at least responsible for) my own destiny.
Freedom – Sure you love the house, the husband, the kids… and all you do every day to keep them all comfortable and functioning. But wouldn't you love to be able to say something like, "Hey family, I'm headed off on the all-women's bike trip. I love you, and I'll see you next week." And mean it?
Rebellion – Similar to freedom, but taking into account that lingering bit bad-ass the general public attaches to riding a motorcycle. Trust me: it feels good to be different, to buck the status quo.

Community, support, and encouragement – Okay, that's three things, but they're all related. I believe that women, moreso than men, seek community, support and encouragement throughout all of life's challenges. Riding is no different, and the woman-centered communities that exist around riding are as strong as – or stronger than – any you'll find anywhere. If you want to rebel, but belong, ride your own.
What about you – what got you started riding your own, and what keeps you in the driver's seat
Coming next week, IowaHarleyGirl Stephanie will guest-blog with "Five Reasons to Ride Pillion."