Somehow in all the pre-launch book excitement, I managed to miss the fact that Honda celebrated its 65th Anniversary this year. I recently came across their 2-minute ad which brilliantly avoids the "names and dates on a timeline" cliche and instead celebrates the importance of imagination and their contributions to innovation.
What do YOU think?
The link to my official author website is now live and online! For a brief excerpt from GET ON as well as my virtual "media kit" (just in case you want to help promote the book… for which I'd be eternally grateful!)… please visit:
Why an author website and not a "Get On" website? Well, because I'm definitely planning more than one book, and I want to have a place to gather them all together.
Please feel free to pay a visit and stroll around the author site… more to come, very soon!
Haven't been on any rides since mid-September, but only because I've been spending every free waking moment not only fine-tuning the e-book, but also learning the ins and outs of e-publishing.
I believe I have the Kindle version completely done and ready to go. Here's a screen shot of what it looks like on the Kindle Reader on my computer. See that gray area on the left? That's a clickable table of contents and it cost me a day of my life and a bit of hairpulling to get that to work!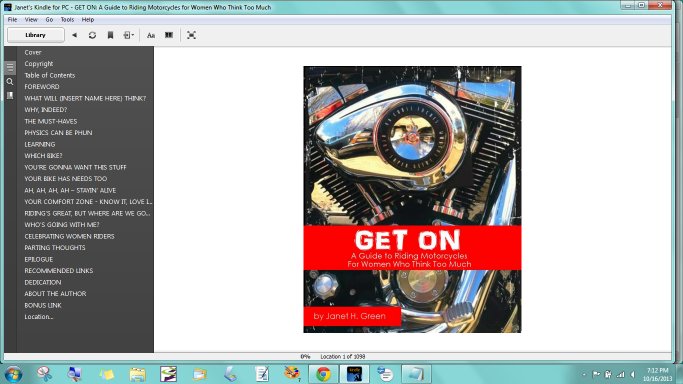 And, here's what it looks like on my Android Phone: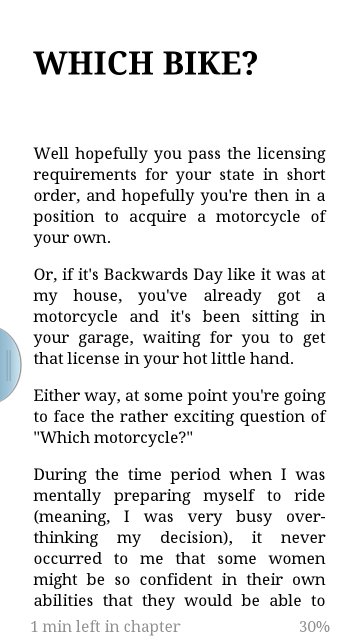 I'll of course be linking out to the Amazon page soon (still on target to launch October 25!), and I'll be adding a direct-download link here on the website to handle sales of the PDF and, possibly, the EPUB file used by the Nook devices and other readers such as Calibri. That involves learning the ins and outs of a plug-in or two for my blogging software (which is WordPress – thankfully a platform with literally hundreds of plugins to choose from). I'm kind of a nerd about these things… I love learning the technicalities of publishing as well as the writing!'
By the way, THANK YOU for sticking with me while I blog about the e-book! Once I launch, I'll have an author website for those posts and we'll be back to regular programming here.
And speaking of bike-related stuff… did you catch the news story about Pope Francis? He has decided to sell the Harley-Davidson motorcycle he was given this past summer, and to donate the proceeds to a Rome-based homeless shelter and care organization. I think it is a lovely decision and completely in keeping with his desire to present himself humbly and sincerely. I kind of wonder how that CraigsList ad would read, don't you?? :)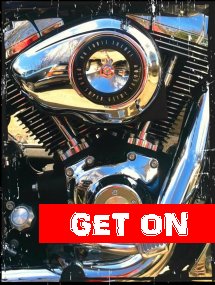 Friends, I've got a HUGE announcement to make:
I am publishing an e-book!
GET ON: A Guide to Riding Motorcycles for Women Who Think Too Much is a funny, informative, inspiring and affordable e-book for women who want to ride but are holding out because… well, probably for some of the same reasons I was holding out all those years ago.
But my new book will answer their lingering questions and give them the shove they need to twist that throttle on their own motorcycle!
Questions such as:
What do I need to get started riding? 
What's the best way to learn to ride? 
Which motorcycle should be my first? 
How am I going to stay safe on my bike?
How do I find people to ride with me?
GET ON will be available beginning Friday, October 25 for Amazon Kindle and as a direct-download PDF document. A Nook edition is also planned, as well as a direct-download EPUB file for e-readers such as Calibre.
I can't wait to hear what you think of it!
Just a quick note to put y'all on high alert… BIG announcement coming up Thursday, October 10! See you back here!
It's the biker video that has stunned America: a group of riders in New York surround a family in their SUV, begin beating on the vehicle, and apparently pull the driver from the car and beat him in front of his wife and small child to the point where he requires hospitalization.
The story, as it has emerged over the course of the last couple of days, is that apparently there was an incident that provoked the riders to take this action. If you watch the whole 6-1/2 minute video, it clearly shows the bikes coming up on and surrounding the SUV, and one of the riders pulling in front of it and then slowing drastically. The rider shooting the video looks away just at the moment when the SUV most assuredly must have hit the slower rider.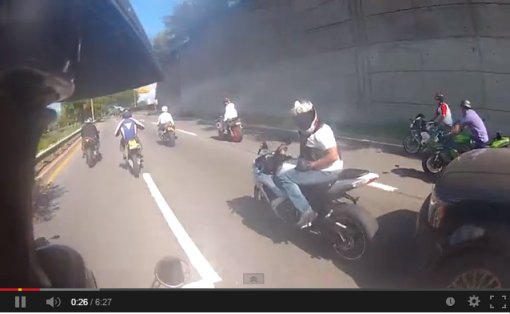 Here is the link to the full helmet-cam video on YouTube, for which the "embed" feature has been turned off.
The video then clearly shows the SUV actually running over one or more of the riders, after they came to  a stop around him following the collision. Then the SUV speeds away, pursued by the group of riders. It's at the end of that pursuit that they begin attacking the vehicle. The camera shuts off apparently moments before they pulled the driver from the car and beat him.
I suppose that eventually we will learn the full story – what really set the whole sorry chain of events in motion. Regardless, the tragedy of this situation is two-fold: first we have a father beaten and brutalized in front of his family, and his family traumatized watching all of this take place. Then we have one of the bikers, also apparently a father, possibly paralyzed from being run down by the SUV.
I've said it before: I just don't get the rage. If you engage in dangerous behavior on the bike, you are going to hurt someone or get hurt yourself. Does injury to you, or to one of your friends, justify this kind of vigilanteism?
In my opinion, no. Regardless of the injury to their friend, the riders had a responsibility to avoid further confrontation. And they certainly have no claim of self-defense, having pursued the driver for several miles.
Just stupidity, all the way around.
Agree? Disagree? Feel free to share your thoughts in the comments.
Editor's note: I love hearing from other riders who are passionate about their favorite ride routes, especially when they're in a completely different part of the country than me! This article was sent to me by Kathy Wilkinson, co-owner of Eco Tours of South Mississippi in Gautier, MS. Kathy's company will lead you on a guided kayak or motorboat tour of the cypress swamps and salt marshes of her beautiful state. My thanks to Kathy for sharing her little piece of the USA with all of us! 
Article & photos by Kathy Wilkinson
As the operator of a tourist attraction, I try to make the most of what little free time I get. Some weekends between tours, my husband and I get the opportunity to ride–he on his Yamaha Road Star, and I on my Suzuki Boulevard M50. One of our favorite short trips is a little loop that starts in our tiny town of Gautier on the Mississippi Gulf Coast and winds through the Pascagoula River swamp.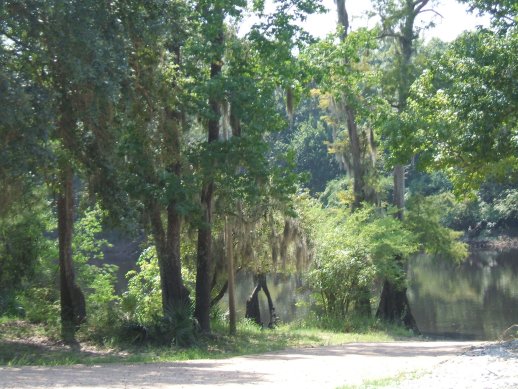 Heading east on U.S. Highway 90, we cross the Alabama state line, and pick up Route 188 (Alabama Grand Bay-Wilmer Road/Newman Road) in Grand Bay. This is designated as a National Scenic By-way. We head north through the farms, horse ranches and pecan orchards of Grand Bay and west Mobile, until we reach Airport Boulevard. As we cruise west to Mississippi, where the road turns into Highway 614, we cross the Escatawpa River at Brown's Bridge, and make our way past Hurley and over to the Wade-Vancleave Road.
We meander through the beautiful cypress bottom lands of the Pascagoula River. If the river happens to be flooding, there will be high water up to, and sometimes over the roadway in places–it's really cool seeing the swamp in a flood. Bridges cross Parker's Lake, Black Lake, and finally the unique and pristine Pascagoula River. This river is the last large (by volume) unimpeded river in the lower 48 states–that is, no dams, levees or flood controls.
It's only about 80 miles long from where it starts at the confluence of the Leaf and Chickasawhay Rivers to where it meets the Mississippi Sound, but its watershed is about a third of the state of Mississippi.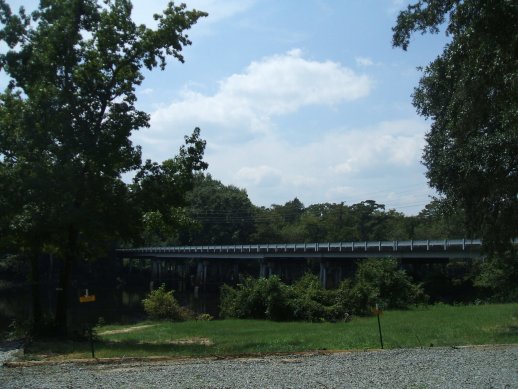 Not long after crossing the Wade-Vancleave Bridge, we turn south onto Old River Road until we reach Mississippi Highway 57. Old River Road is shaded by ancient live oaks. It's a little twisty in places and has great scenery/local color, but is an easy ride.
Old River Road eventually merges into Poticaw Bayou Road which runs into Highway 57. We head south on 57 through the unincorporated area of Vancleave. (Vancleave has seen tremendous growth since Hurricane Katrina, and even has a couple of traffic lights. Since the area is unincorporated, the sheriff's department has jurisdiction, and in Mississippi, the sheriff cannot use radar.)
Depending on our time constraints and the time of day, after passing through "downtown" Vancleave, we have the choice of returning home via Gautier-Vancleave Road or continuing our adventure with a meal at The Shed. The Shed, located on Highway 57 just north of I-10, has gained some national exposure having been featured on Food Network shows Up in Smoke; Diners, Drive-ins and Dives; and, most recently, its own reality show, The Shed.
It's an eclectic place on the bayou that is dedicated to good barbecue and great blues. (As one would expect from a barbeque joint, The Shed's menu is for carnivores. If you're a vegetarian like me, the menu options are very limited, but it's still a fun place to visit with lots of character and tons of local color!)
Leaving The Shed, we head south on 57 to U.S. Highway 90, hang a left and it's a straight shot back into the little City of Gautier. The ride is about 80 miles and passes through some of the most beautiful countryside that south Mississippi has to offer.
After our ride, I usually park the bike, stow my biker gear, don my boating gear, and then it's back to the Pascagoula River swamp with a motorboat load of folks from Anywhere, USA!
And here's a special insider tip for those hoping to enjoy the roads in southern Mississippi: If you come here to ride in late spring and late summer/early fall, beware the "love bug." They're harmless in terms of biting/stinging, but, because they swarm when they mate, they will end up spattered in pairs all over your windshield, your pants, your gloves and your helmet. Removing them as soon as possible is crucial, as their bodies are acidic and they can damage your equipment if left too long. White vinegar and water, mixed 1:1, works well to remove the residue!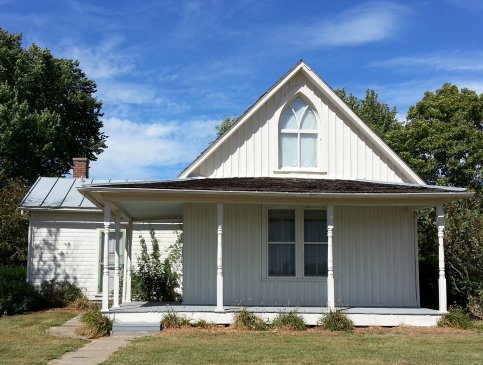 This weekend our Chrome Divas chapter celebrated its third season with a ride to the world's second-most recognized house: the "American Gothic" house, depicted in the background of the iconic painting of that name by Iowa artist Grant Wood.
A lot of people probably don't realize that the house in the painting was (and is) a real structure, located in the southeast corner of Wapello County about 110 miles from Des Moines. It's been on my "must-ride" list for several years, ever since Holly mentioned that her Estrogen Ride group stopped there!
Our day began with a meet-up at Sambetti's in Des Moines (official home of the Chrome Divas)! We departed around 9 am with sunny skies but a temperature that had not yet reached 60 degrees. It was cool, but very comfortable – and not unseasonable, like our last barely-60 ride back in August!
Our fearless ride leader, Janet (aka SevenOver), took us on a very pretty ride down through Runnells, Pleasantville, and the Lake Red Rock area, and across the Mile Bridge over Lake Red Rock where we saw a large flock of pelicans! They were above us in a large group, soaring and swooping overhead, and when we rode past one part of the lake we could see many more of them gathered on a sandbar that had extended out into the lake. We rolled into Pella around 10:30, a small Iowa town famous for its Dutch heritage, dueling bakeries, and of course the annual Tulip Time festival held each May.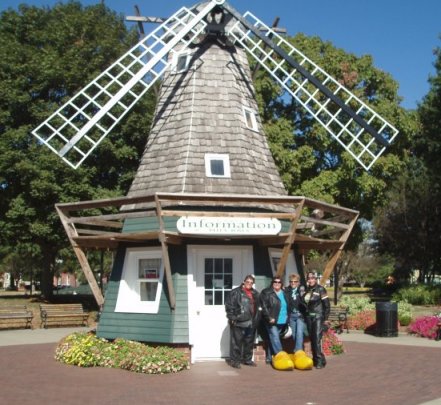 We treated ourselves to Cinnamon fritters, flaky "goat legs," and traditional Dutch letters (the main Dutch letter seems to be "S"), then continued East toward our next stop in Ottumwa.
You might remember I had a rather negative impression of Ottumwa on my solo ride to Drakesville – well I'm happy to report that this little river town is on its way winning me over. This time we came into town along a lovely residential avenue called Court Street. The houses were so distinctive it was all I could do keep moving and not stop to take pictures!
We encountered a bit of a riding challenge along this street when we rode through an area where a water main had clearly burst and was gushing water across the road. Fortunately it wasn't very deep up on the crown of the road, but on either side at the curb it was probably 5-6 inches deep and rushing quickly over the surface of the road. We moved at a slow, even pace along the crown and made it through with only wet pant-legs.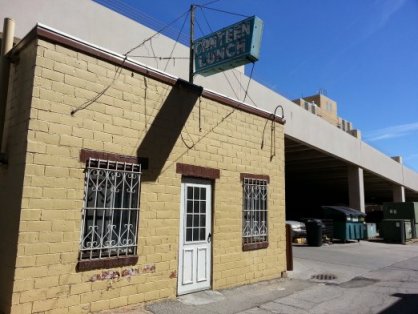 From Court Street we proceeded into the old downtown area, which appeared largely unkempt but had far more personality than the part of town I had ridden through last time!
Our destination here in Ottumwa was a tiny lunch counter called Canteen Lunch. We parked our bikes on the street in front The Owl's Nest Tavern, and we found The Canteen right around the corner. Hard to explain the location but it looked like someone tried to fight City Hall over the construction of a parking ramp, and in a compromise they simply kept the Canteen standing but built the parking structure right over the top of it. (Important to keep in mind that the best local food is usually found in places like this!)
The Canteen itself was a building made of cement block about the size of a two-car garage, painted mustard-yellow and with a classic neon sign still hanging off the front. Just inside the door was a U-shaped lunch counter with nearly every seat taken even though it was Saturday (or maybe because it was Saturday!). After a minute or so we managed to get 4 seats on one side, and 2 on the other, so our group split up and we enjoyed wonderful "loose meat" sandwiches – what they used to call "beef burgers" in school, or "Maid Rites" in the Midwest when that restaurant chain was thriving.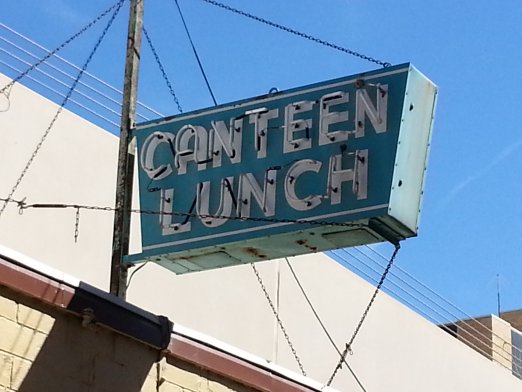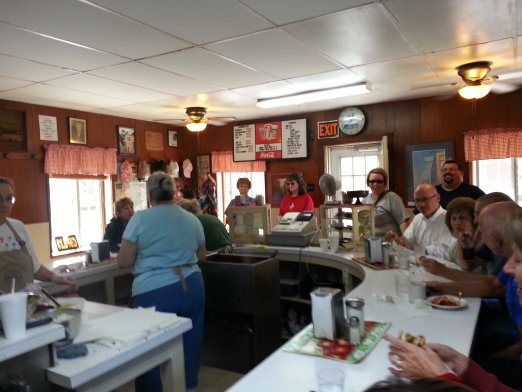 Ample food, dirt cheap, great atmosphere! Enjoyed our lunch and accosted a local gal to snap our photo, then took off for Eldon just a few miles to the east.
The American Gothic House is truly an Iowa gem – tucked back in a quiet section of town and not immediately surrounded by other homes or development except for the little museum/shop/learning center right next door. The little house and yard are fronted by a wildflower garden and a paved area suitable for staging photos.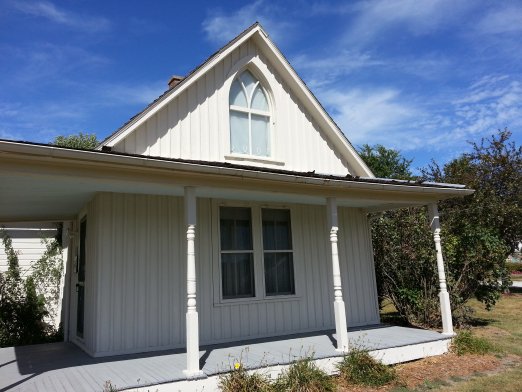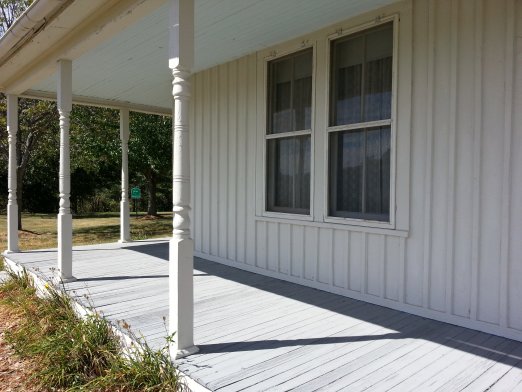 The house itself, including the little-half story on top with the now-famous Gothic-style window, was completed in 1882 by Catherine and Charles Dibble. It's therefore also lesser-known, but listed on the National Register of Historic Places, as the Dibble House. It was donated to the State Historical Society of Iowa in 1991 by then-owner Carl Smith. The museum and visitor's center was completed in 2007.
Our visit started with an informational presentation by Mr. Allen Morrison, an Eldon resident and former U.S. Marine who is familiar with the house, the work of Grant Wood, and the story of how the house came to be included as a backdrop in Wood's famous painting.
We also toured the museum itself, which featured a timeline of Wood's life, examples of the painting as the image has been used throughout popular culture, and various creative expressions of the two stalwart characters.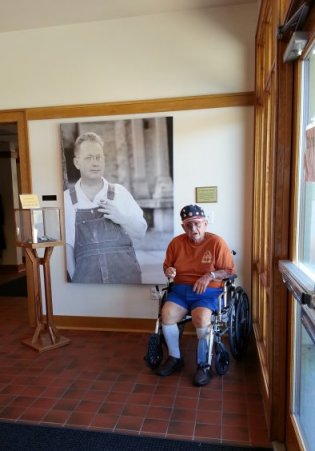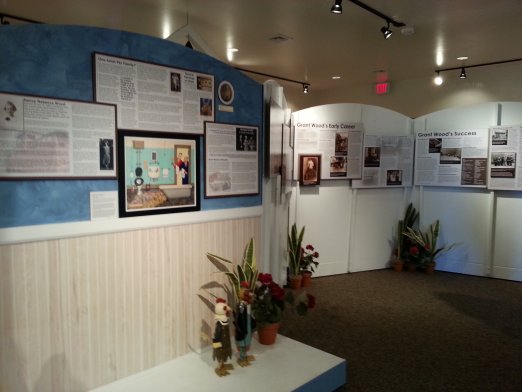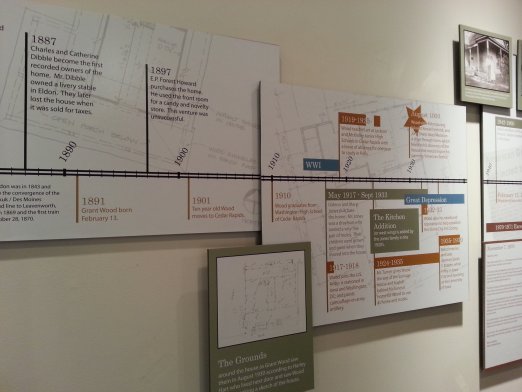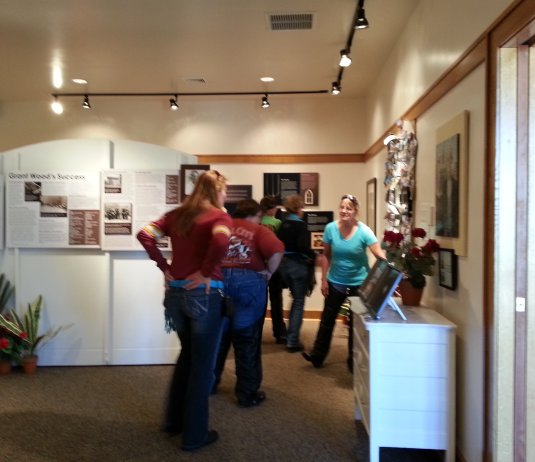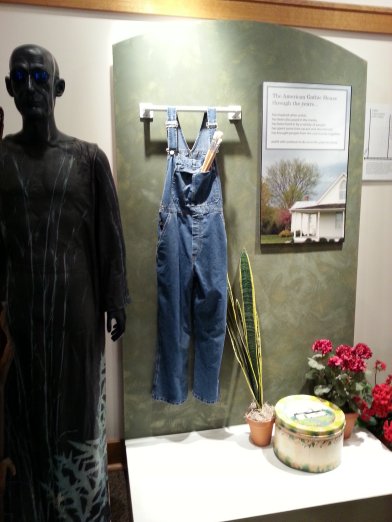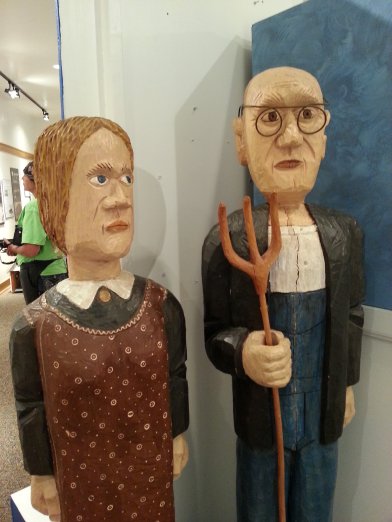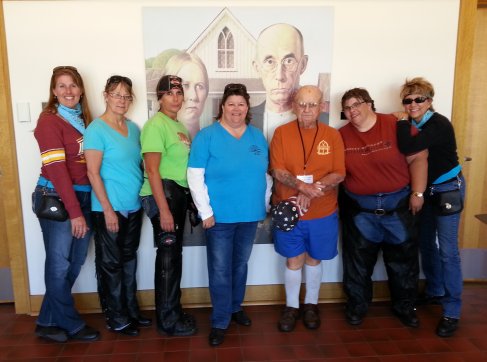 We took part in the visitor ritual of dressing up in "American Gothic" costumes and having our photos taken in front of the house.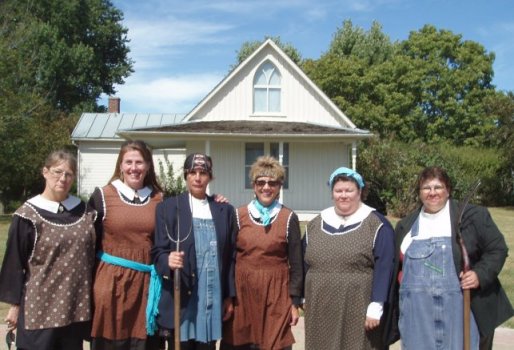 Mr. Morrison had told us that the current resident of the house, Ms. Beth Howard, was currently traveling and not at home. (Her story is could be the subject of a whole new blog post, but, if you go to Amazon.com and search for the book "Making Piece" by Beth Howard, you'll get a sense of her life story.)
I asked him if it was permissible to step up into the yard and take closer photographs of the house and he graciously allowed us to do so. He also let us pose on that famous porch, and drive our motorcycles up into the paved circular area so we could get a group photo of bikes and Divas in front of the house!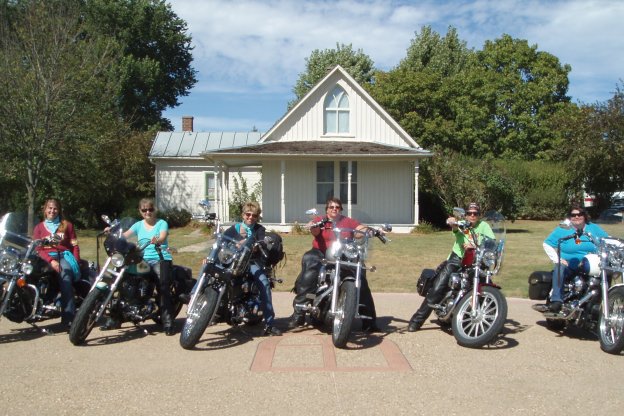 What was really neat was that he seemed to enjoy having us there as much as we enjoyed being there – a great guy who took a lot of pride in sharing the story of the house and its artist!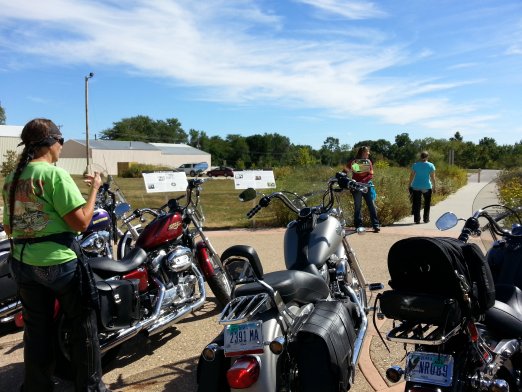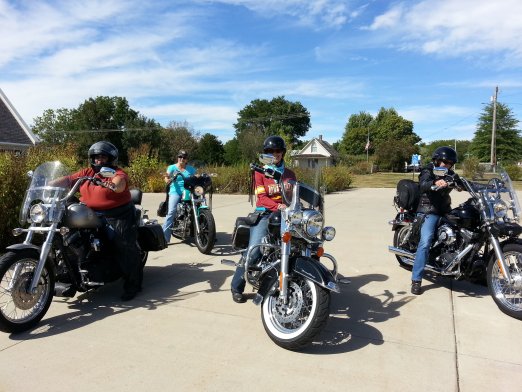 We left Eldon the way we had come in, along Highway 16, and stopped to top off gas at a station just south of the junction with Highway 34. Turned out that was a neat little paved road that took us back to the west through the tiny town of Agency and actually ran directly alongside Highway 34 for a stretch until we got back into Ottumwa. Picking up Highway 34, we continued west to Chariton then north along County Road S23 into Lacona.
Another brief stop here to contact our Diva sister Shirley, who had been unable to ride with us but was planning to meet us in Carlisle for ice cream. We continued along S23, which north of Highway 92 is also known as the Palmyra Road because it passes by the town of Palmyra (home of another beautifully historic Gothic structure, the Palmyra Church). Shirley met us at the junction of Highway 5 and rode in with us to Carlisle where we made a final stop for post-ride ice cream.
Interesting also to note once again the changing of seasons here – most of Iowa is in severe drought right now, so a lot of the corn is already completely dried. As for the beans – well they range in condition from still being beautifully lush and green, to being barely brushed in gold, to being completely dried out – sometimes all along the same stretch of road!
Such a strange year, weather-wise, but a great day visiting a truly unique Iowa treasure!
An estimated 800,000-plus bikers converged in a loosely-organized rally in Washington, D.C. on Wednesday, September 11 to mark the 12th Anniversary of the 9/11 terrorist attacks, and to honor the victims and rescue heroes of that day. Here are a few photos from various sources – sorry they are not properly sourced, it's hard to tell where some of them originated.
While some reports of this event suggested that the group was attempting to disrupt or confront a rally known as the "Million Muslim March" (later renamed the Million Americans March Against Fear), it turned out to be merely a large-scale "ride-through." The other rally, co-sponsored by the American Muslim Political Action Committee, the DC Area 9/11 Truth Movement, and Engineers for 9/11 Truth Movement, drew about 30 participants.
This post from EatSleepRide seems to suggest that only a small fraction of the bikers actually rode through D.C. itself. I really don't know what the real outcome was, but the staging photos are amazing!
I really noticed the problem when we were out Road Pickling back on August 18: my bike seemed to be making a lot of banging noises each time I'd go over a bump or even a dip in the road. It sounded like my saddlebags had come loose from their moorings, but I checked them and they seemed okay… so I chalked it up to just loose stuff inside the bags, rattling around.
Pretty naive of me, considering that we had previously noticed small puddles of shock absorber fluid on the garage floor on both sides of the bike. At our last stop on the Road Pickle ride, it was clear there was in fact a shock-related problem: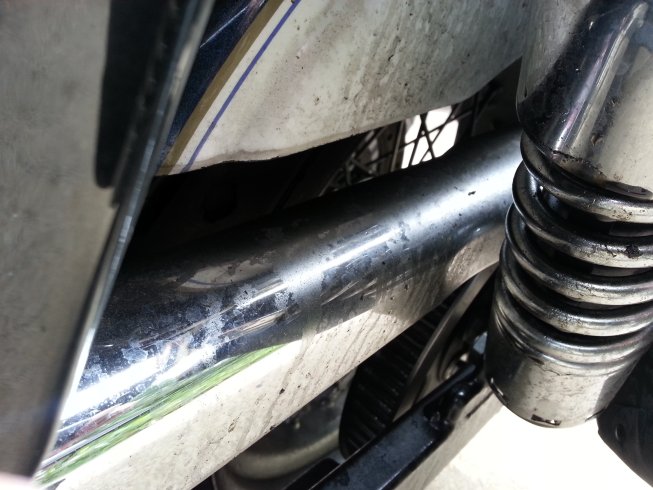 The following weekend I took the bike up to Big Barn to confirm that the shocks were both completely blown out. Disappointing, as they only had 7,000 miles on them. (It also happened to be "Demo Days" at the Barn, where they debuted the new 2014 HD bikes. Although nothing in the new lineup really grabs me, I did enjoy looking at some of the customer bikes.)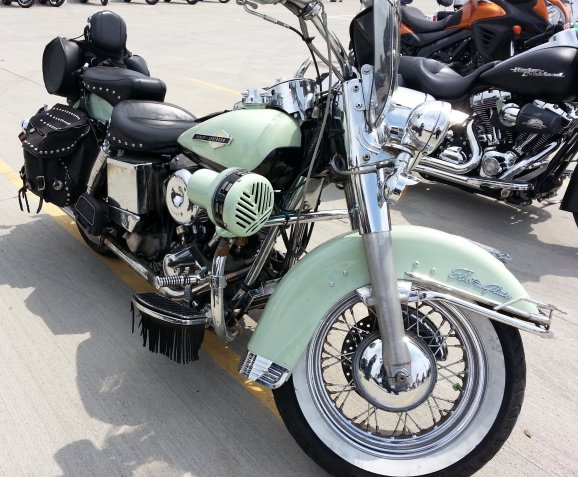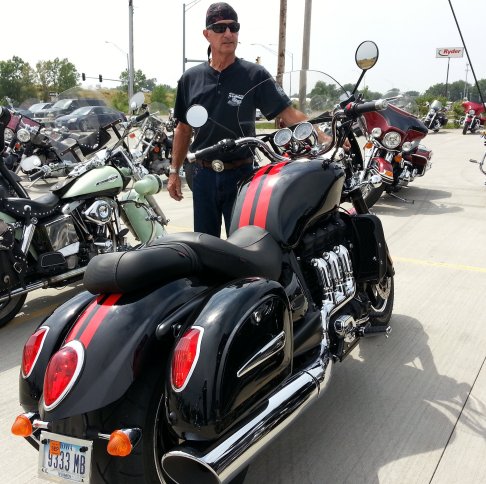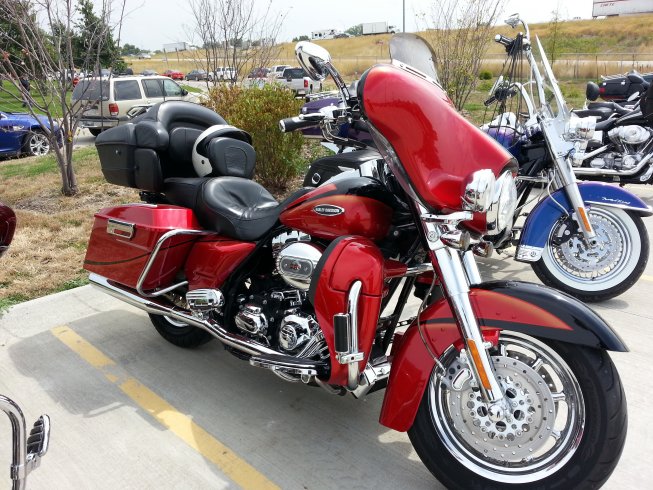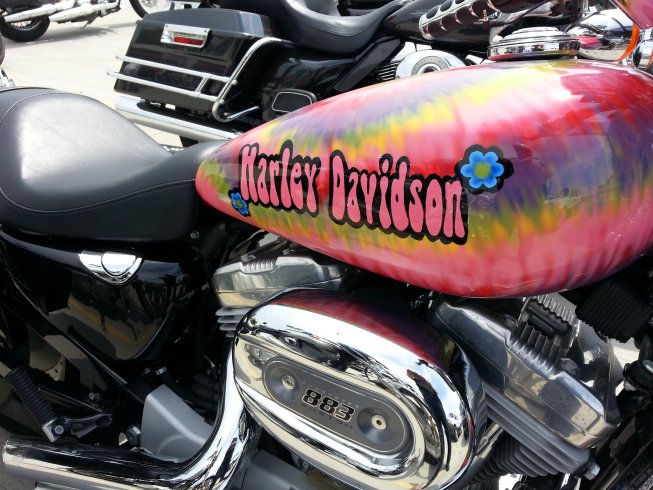 Neither the Barn nor Progressive Suspension – the company that made the shocks – could provide free replacement since the parts were three years old and out of warranty, so we purchased another brand and Steve put them on for me during that following week. I was ready to ride again by Labor Day weekend.
As it worked out, Labor Day was the day we picked to ride so we decided to take a return trip to the Haverhill Social Club. We met up with Garry and Shirley shortly after Noon in Altoona where we got to see Shirley's new-to-her bike, a Kawasaki 900 Vulcan in a really pretty dark metallic blue.
Our route to Haverhill took us east out of Altoona along County Road F48 to Newton, then we followed Highway 14 at Newton north to E63, where we turned back to the west to find Haverhill. It was a decent ride of about 60 miles, but it was the headwind direction and I had a crappy headache by the time we arrived.
We enjoyed our lunch at the Social Club and by 3:30 were ready to leave. We stopped at the Immaculate Conception Catholic Church in town, a century-plus Gothic style church completed in 1902, with a burgeoning parish dating back to 1877. (Sadly, the church closed in 2007 and is now only used for weddings and funerals of parish members.)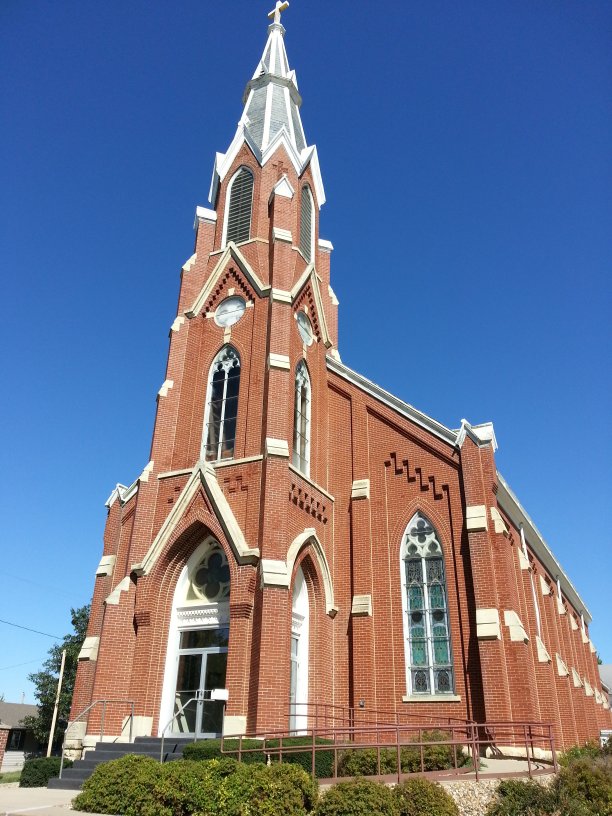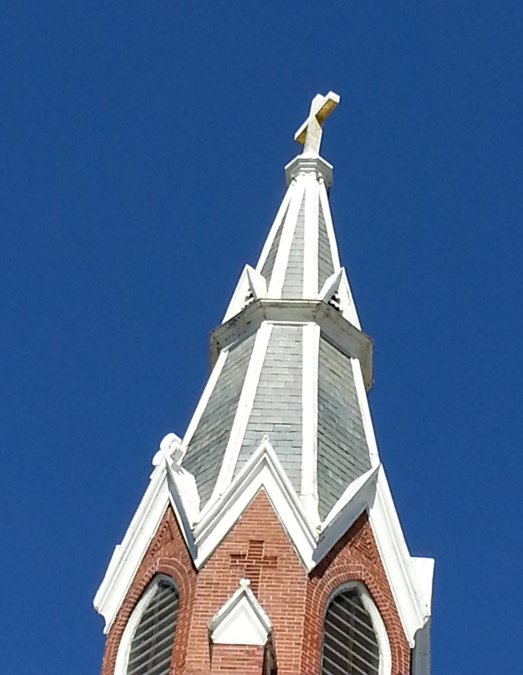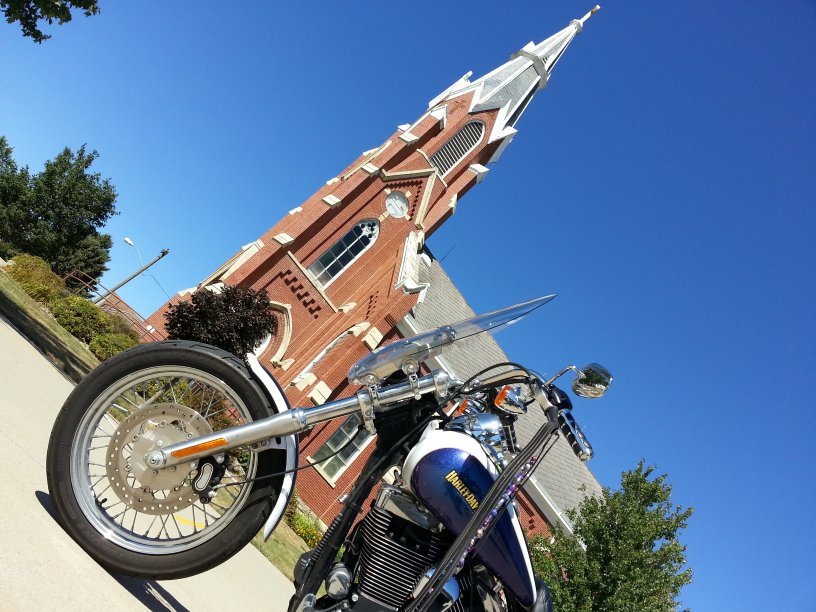 The ride home seemed much easier than the ride up – we had the tailwind, for one thing, but for another it was just a prettier ride. We left Haverhill heading west on E63, and followed S62, F17, and S52 to the south to once again pick up F48.
It's funny what a difference two weeks makes in the landscape here – the corn has that early-Autumn "glow" to it now, where the sun is a bit lower in the sky and makes the wide strapping leaves of the corn stalks seem to glow when lit from behind. The stalks are also starting to brown at the bottom, where just a couple weeks ago they were still fully green. And the soybeans are thick and healthy, dark green… when you get a large field of them, the breeze turns their leaves to the underside which creates a sort of silvery "wave" undulating across the field.
This whole route was so picturesque with old weathered barns and outbuildings, hilly fields of glowing corn and waving soybeans, groups of cows gathered under trees, and even some trees starting to change color.
We stopped in Altoona to say farewell to Garry and Shirley, then Steve and I proceeded on toward our next destination: Capital City Pub & Hot Dog, a restaurant not too far from our house, where we met up with friends Gerry and Janet. They had spent most of the day working, but had come down from Huxley for supper. We had a great couple of hours just catching up with them before we rode the remaining few blocks home.
The whole day was a lovely, 130 mile test for my new shocks, which passed with flying colors.
And speaking of flying colors, the 'bike jewelry' I added recently has also turned out to be a successful venture: I'm NOT getting whipped by either the fringe or the long strings of beads I attached to my clutch and brake levers. Hard to get a good picture of them, but I think they've added a distinctive and feminine touch to my bike.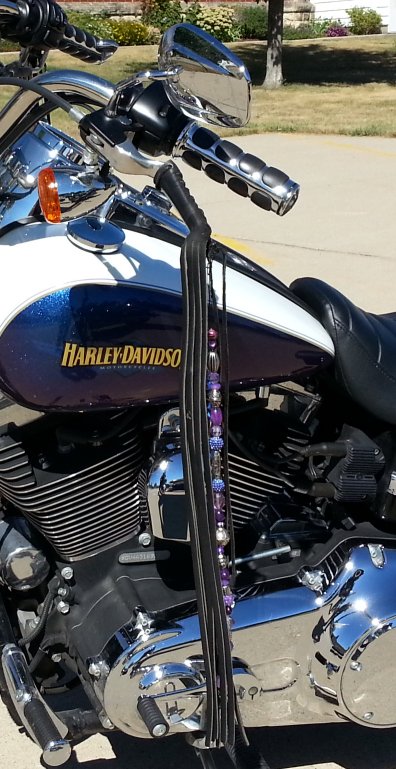 Hope your August has been trouble-free! Have you had any mechanical issues, or made any cosmetic changes to your bike this year?