All's quiet on the riding front…
Haven't been on any rides since mid-September, but only because I've been spending every free waking moment not only fine-tuning the e-book, but also learning the ins and outs of e-publishing.
I believe I have the Kindle version completely done and ready to go. Here's a screen shot of what it looks like on the Kindle Reader on my computer. See that gray area on the left? That's a clickable table of contents and it cost me a day of my life and a bit of hairpulling to get that to work!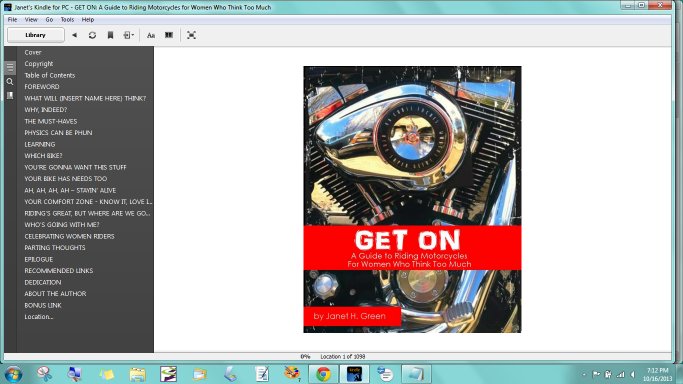 And, here's what it looks like on my Android Phone: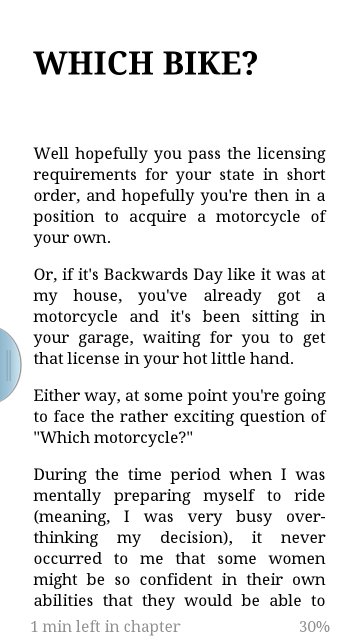 I'll of course be linking out to the Amazon page soon (still on target to launch October 25!), and I'll be adding a direct-download link here on the website to handle sales of the PDF and, possibly, the EPUB file used by the Nook devices and other readers such as Calibri. That involves learning the ins and outs of a plug-in or two for my blogging software (which is WordPress – thankfully a platform with literally hundreds of plugins to choose from). I'm kind of a nerd about these things… I love learning the technicalities of publishing as well as the writing!'
By the way, THANK YOU for sticking with me while I blog about the e-book! Once I launch, I'll have an author website for those posts and we'll be back to regular programming here.
And speaking of bike-related stuff… did you catch the news story about Pope Francis? He has decided to sell the Harley-Davidson motorcycle he was given this past summer, and to donate the proceeds to a Rome-based homeless shelter and care organization. I think it is a lovely decision and completely in keeping with his desire to present himself humbly and sincerely. I kind of wonder how that CraigsList ad would read, don't you?? :)