Provocation does not justify beating of SUV driver
It's the biker video that has stunned America: a group of riders in New York surround a family in their SUV, begin beating on the vehicle, and apparently pull the driver from the car and beat him in front of his wife and small child to the point where he requires hospitalization.
The story, as it has emerged over the course of the last couple of days, is that apparently there was an incident that provoked the riders to take this action. If you watch the whole 6-1/2 minute video, it clearly shows the bikes coming up on and surrounding the SUV, and one of the riders pulling in front of it and then slowing drastically. The rider shooting the video looks away just at the moment when the SUV most assuredly must have hit the slower rider.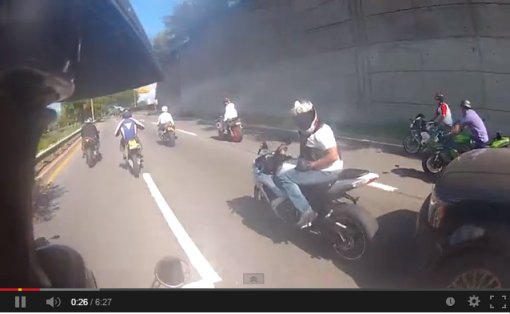 Here is the link to the full helmet-cam video on YouTube, for which the "embed" feature has been turned off.
The video then clearly shows the SUV actually running over one or more of the riders, after they came to  a stop around him following the collision. Then the SUV speeds away, pursued by the group of riders. It's at the end of that pursuit that they begin attacking the vehicle. The camera shuts off apparently moments before they pulled the driver from the car and beat him.
I suppose that eventually we will learn the full story – what really set the whole sorry chain of events in motion. Regardless, the tragedy of this situation is two-fold: first we have a father beaten and brutalized in front of his family, and his family traumatized watching all of this take place. Then we have one of the bikers, also apparently a father, possibly paralyzed from being run down by the SUV.
I've said it before: I just don't get the rage. If you engage in dangerous behavior on the bike, you are going to hurt someone or get hurt yourself. Does injury to you, or to one of your friends, justify this kind of vigilanteism?
In my opinion, no. Regardless of the injury to their friend, the riders had a responsibility to avoid further confrontation. And they certainly have no claim of self-defense, having pursued the driver for several miles.
Just stupidity, all the way around.
Agree? Disagree? Feel free to share your thoughts in the comments.