Thinking about learning to ride? GET ON with my new ebook!
It's here! GET ON: A Guide to Riding Motorcycles for Women Who Think Too Much is now available!
Click here to buy GET ON for Kindle and Kindle reader apps!
Click here to buy GET ON in Epub format for Nook and other e-readers!
Click here to buy GET ON in PDF Format!
(Note: All editions are copyright 2013 Janet H. Green and may not be copied, redistributed, or offered for sale outside of the links above.)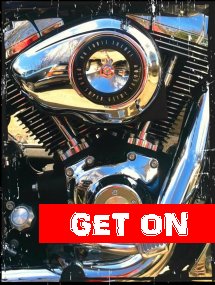 If you're a woman who's been thinking about learning to ride your own motorcycle, but are wanting to understand the risks and rewards more fully before getting started, now you've got a new resource for information and encouragement.
If you're a fan of Biker Chick News and want to know a little of my "Corn Dog backstory," you can learn more about how I got started riding and how I overcame the challenges I faced.
And if you're one of my beloved curious/horrified on-lookers and you just want to support my latest writing venture because you love me, well who am I to argue with that!
Whatever your motivation, it's my sincere hope that you will enjoy GET ON!
You can purchase GET ON at one of the links shown above, and of course you can follow my writing journey at my author website: www.janetgreenbooks.com.
I thank you, from the bottom of my heart, for purchasing GET ON!