For my local readers, just wanted to share this info on the ABATE District 4 Toy Run coming up in October! This is one of my favorite rides, and I've missed it the past couple of years. I hope and expect we'll be able to participate this year! Thanks to Laura Strovers for the info and please note that ABATE is unable to accept stuffed animals this year. (And that's a  shame, because I remember the Toy Run when it used to be a column of big, burly bikers with teddy bears strapped to their bikes!!)
ABATE OF Iowa Pre-Toy Run Party
Saturday 10-08-2011
Fat Boyz
200 Gateway Dr
Grimes, IA
starts at 7:00 PM
ABATE Of Iowa District 4 28th Annual Toy Run
Sunday 10-09-2011
Leave State Capital east parking lot at 1:00 PM SHARP.
Please donate one educational toy. All toys and donations go to the kids.
If you're from (or just IN) the area, I hope you can participate in this terrific event – it's somethin' special!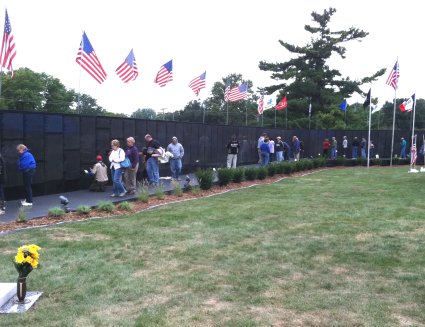 This past Saturday we took some time to visit a unique site that has some significance for our family. The Dignity Memorial Vietnam Wall Experience is a traveling three-quarter-scale replica of the Vietnam Veterans Memorial in Washington, D.C., and it was recently installed at Resthaven Cemetery here in the Des Moines area. Since 1990, the traveling Wall has been displayed in more than 200 U.S. cities, and has hosted millions of visitors.
My husband, who is 12 years older than me, is a former U.S. Marine and a veteran of Vietnam. It has had a lifelong impact on him. I respect him a lot for the service he voluntarily gave, and for the nagging physical and emotional effects he deals with on a daily basis. Sadly, it has only been relatively recently that he has been able to see his service as something to be proud of – for far too long, this generation of veterans was maligned by this country's shameful inability to separate its hatred of the war itself from the courageous men and women who served in it. (When people talk about The Wall in D.C. having healing powers, that's the reason: perhaps
these veterans could not get aid and comfort from those they returned home to, but many have found it when surrounded by granite slabs filled with the names of the men they served with.)
Because the official memorial in D.C. is so meaningful for those who served, the Dignity Memorial Wall was developed by Dignity Memorial – a nationwide provider of funeral, cremation and cemetery services – to provide a potentially healing experience for those who might never have the opportunity to visit The Wall itself.
The installation at Resthaven ran from September 16-18, was open 24 hours a day and was free to visit and view. (See the full 2011 tour schedule, and be sure to look for the 2012 schedule in the near future.)
Here in Des Moines, the American Legion Riders, Patriot Guard Riders, Iron Warriors, Vietnam Vets MC, and other bikers provided an escort for the Dignity Memorial on September 14 from Prairie Meadows Racetrack & Casino to Resthaven Cemetery. The American Legion Riders were on hand throughout the weekend to help visitors understand not only the Wall replica, but also the accompanying Battlefield Memorial or "Soldiers Cross." Several groups participated in scheduled ceremonies throughout the weekend.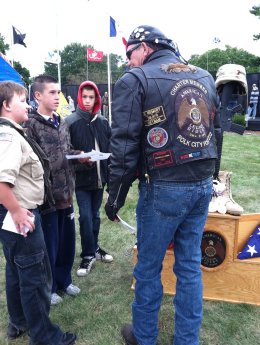 As the wife of a Vietnam veteran, and as an American who is grateful for the opportunity to reflect on the sacrifices made by those who served in that war, I would like to say thank you to Dignity Memorial for such an outstanding project, to the riding groups that escorted it to its installation, and to the sponsors who made it possible.

Sponsors: Prairie Meadow, Perficut Lawn & Landscape, Contractors Rental, HyVee Food Stores, Pepsi America, Sammons Financial Group, HR Green Engineering, Golf Cars of Iowa, Ziegler Power Systems, HCI Care Services, Freeman Decorating, Matthews Bronze, Watts Vault & Monuments, Created in Johnston, Wolf Construction, Best Portable Toilets, Computers in Motion, Willis Auto Campus, Bob Brown Chevrolet, Electronic Engineering, Pearson Bollman Law, FastSigns, Pratt Audio Video, Heartland Custom Flags, Boy Scout Troop 111 of Grimes, Boy Scout Troops 9, 13 and 217 of Des Moines, Competitive Edge, True Value Hardware, Felix & Oscars, Big Barn Harley Davidson, Iron Hearse Destinations, Barton Solvents, Dr. Scott Neff, Polk County Sheriff, Quality Resource Group, Polk County Recorder, Iowa National Guard, Target, Lowe's, Action Print, General Fire Safety, Doves of Love, J.R. Wagner.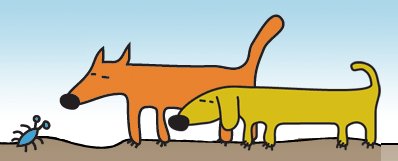 My dear friend Susan (Coyote) has taken on an enormous responsibility this year – she is leading the charge in our local HOG chapter to raise funds and support AHeinz57 Pet Rescue, a central Iowa rescue and adoption shelter. AHeinz57 Pet Rescue & Transport, Inc. is a non-profit no-kill animal welfare organization based in Adel/DeSoto, Iowa. They assist in caring for homeless dogs in Dallas County and also assist rural no-kill shelters in fostering and re-homing stray dogs. They rely solely on volunteers and donations from the public to fund their activities.
As part of this effort, AHeinz57 is hosting the "Mutt Madness Weekend" August 12-14, including a benefit poker run and meet-and-greet with the guys from National Geographic Channel's Rescue Ink as their very special guests!
This event takes place the weekend of August 12-14, with activities as follows:
Friday, August 12:
Meet-and-greet with Rescue Ink at Big Barn Harley-Davidson, 81 NW 49th Place in Des Moines. BBQ lunch available for a donation to AHeinz57.
Saturday, August 13:
AHeinz57 Poker Run, with registration beginning at 9:30 a.m. at Big Barn H-D; ride leaves at 11 a.m. and ends at Norwood Inn Bar & Grill, E. 29th & Broadway in Norwoodville. Entry fee is $25, which includes one poker hand and a t-shirt. You can get just the poker hand for $20 (no t-shirt), and you can also buy additional hands for $15 each (no t-shirt).  Lots of prizes to be raffled, plus 50/50 drawing and much more!
Sunday, August 14:
Mutt Madness Festival featuring businesses and pet rescue organizations, 10 a.m. – 3 p.m. at Big Barn HD!
Sunday, August 14:
Benefit dinner with Rescue Ink at Rube's Steakhouse, 3309 Ute Avenue in Waukee beginning at 5:30 p.m.; cost $60 per person.
For complete information, visit www.aheinz57.com or contact founder Amy Heinz at:
AHeinz57 Pet Rescue & Transport
mutts57@gmail.com
515-834-2635
The Iowa Angels For Sam ride takes place this Sunday, June 12. All proceeds from this ride benefit two families who are fighting cancer: 4 year old Camryn has neuroblastoma and 38 year old single mom of 5, Melanie, has stage 4 melanoma. There will be a free-will offering, poker run, and free food for participants.  Register at Maingate Bar & Grill, E 30
th
& Grand Ave. in Des Moines starting at 9 a.m.  The ride leaves from Main Gate at 11 a.m. with stops at Hartford Sportsman Club in Hartford, Rib Shack in Pleasantville, and Norwoodville Inn with free lunch.  Buses are available for non-riders, $15 per person.  If you have questions or want to register for the bus, visit the
Angels for Sam Facebook page
or call
515-238-3072
begin_of_the_skype_highlighting
515-238-3072
end_of_the_skype_highlighting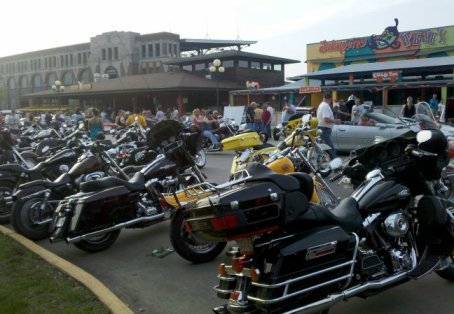 Big debate going on here locally this week – what started out as a great new free "bike night" event in Des Moines (including classic cars/hot rods) is embroiled in a PR controversy because they have added a mandatory $5 fee to be collected at the gate that is supposed to be exchangeable for food or beverages on-site.
The explanation from organizers is that this is not a fee to attend the event – it's just a way to ensure that everyone buys something from the concession stands, which "keeps the event free."
But, the thing is – the $5 is mandatory for everyone over the age of 12. So, you can't attend the "free" event unless you pay $5 at the gate for food/drinks you may or may not want. To me, that makes the event no longer free, because you can't attend without paying. (Unless you are 12 and under – but, last time I checked, that age group is not really able to bring bikes and cars to a show… well maybe Big Wheels and Barbie Jeeps, but I digress…)
Overall I think the organizers of this event would've been far better off just admitting that they're implementing a cover charge, and let the chips fall where they may. Trying to set it up (or "spin it," for you cynics) as a "mandatory coupon" just doesn't work.
Another problem for this event: parking was limited last week to just a few streets on our very large state fairgrounds, where before it had been more broadly spread out. Now, the bikes are forced to park 3 and 4 columns deep along one main street with the only overflow being a single column down a side street. If your bike is parked on that main street along the curb, you're there for the duration whether you want to be or not because there's no way to get out with all the bikes parked in front of you.
Between this and the spin over the cover charge issue, we probably won't go back to the event any time soon. And that's too bad, because it was a neat opportunity to see lots of great vehicles!
What are your thoughts? Do you pay to attend "bike night" events? Do you purchase food and drink from the vendors that are present? If you're local, what are your plans for attending this event? (If you represent this event, my facts – and my opinion – are based on what I've read on your Facebook page and on your printed material. Do tell me if I've mis-represented your case!)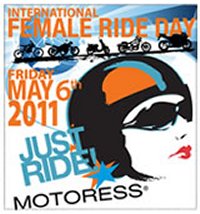 Hey don't forget, International Female Ride Day is coming up Friday, May 6! Hope you have a chance to get out for a ride – check out the Motoress website for info on how women riders around the world are participating!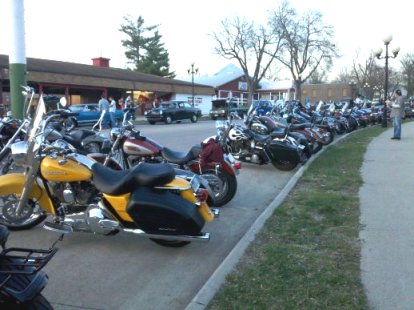 We've had a hard time getting Spring underway here – it's been cool and rainy for a long time, and just the past few days we've finally had some sun and temperatures barely over 60 degrees. I hope you've had better riding weather!
We did manage to get out to a local Bike Night event on April 12 – this was the inaugural "Gathering on the Grounds" which is a summer-long Tuesday night gathering of motorcycles and custom cars at the Iowa State Fairgrounds. The event has been cancelled the past few Tuesdays due to crappy weather, but the kick-off event was fantastic – huge crowd of bikers and hot rodders, beautiful cars and bikes, great live music and State Fair food favorites. Looking forward to future "Gatherings," Tuesday nights throughout the summer.
Sadly, the first Indianola Bike Night of the season was also cancelled due to bad weather (next one coming up May 20). A few of the brave rode to Big Barn Harley Davidson on April 16 for the Blessing of the Bikes – we attended the event's chili feed hosted by the Christian Motorcyclist Association, but with morning temperatures in the 30's we decided not to ride. Fortunately, there are a couple additional opportunities to get blessed coming up:
Sunday, May 15 – River's Edge Church, 204 College Ave., Iowa Falls. Free will lunch at Noon, blessing at 1 p.m. All welcome!
Saturday, May 21 – Route 65 Harley Davidson, 1300 South Jefferson Way, Indianola, 11 a.m. All welcome!
Here's hoping May is a warmer/nicer month than April!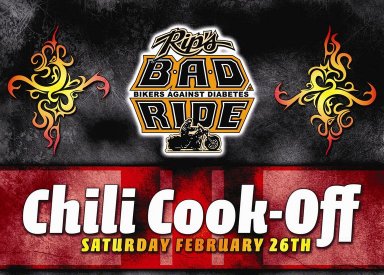 If you're looking to spice things up a bit before Spring hits, be sure to indulge in the Rip's BAD Ride Chili cook-off coming up February 26 at the American Legion Post 232 in Polk City, Iowa.
Celebrity judges will pick the overall winning chili and spectators will pick a "People's Choice" winner as well. Cooks can enter their favorite chili recipe for a $20 entry fee and must reserve their spot in the cook-off by Wednesday, February 23. Competing chili must arrive at the Legion Hall by 10:30 a.m. on February 26th. Visit http://badride.home.mchsi.com/ for an entry form.
Spectators enjoy all-you-can eat chili samples with a $5 admission fee beginning at Noon, and can enter to win a 50/50 raffle.
Awards begin at 2:45 p.m., and all proceeds from the event benefit the American Diabetes Association of Iowa. The American Legion Post 232 is located at 114 E. Broadway in Polk City.
Be sure to also mark your calendar for Saturday, October 1 to participate in the 2011 Rip's BAD Ride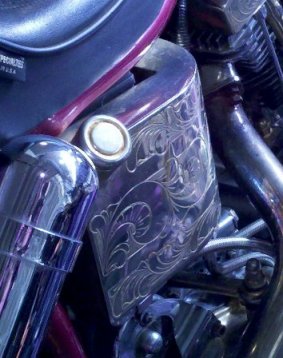 For most folks, robins and crocuses (crocii?) are the signs that Spring is just around the corner. For me, I always seem able to breathe a big sigh of relief as soon as the annual Capital City Motorcycle Swap Meet and Custom Bike Show has passed – which, thankfully, happened this weekend.
After a pretty good stretch of bitter cold (and major snow), it was in the 40's and low 50's this weekend so it was great to get out and "think bikes" if even for a short time. (Our driveway is a treacherous layer of ice now with all the melting snow so couldn't get the bikes out just yet. I fully expect to be able to take at least a short ride sometime next month. )
We haven't actually needed any bike parts for quite some time, but the swap meet is more of a social thing anyway that just gives us a chance to get out of the house and walk amongst all those folks who are part of the local scene that we haven't seen all winter long.
Two gripes this year: TEN BUCKS to get in (up from $8 last year – I wonder if there are restaurants that charge you to get in to read the menu?)… and the "bike show" seems to be getting smaller. (Still, I know it can't be cheap to rent the venue for this event, so I'll give 'em a pass this year. LOL)
One thing I do like about the bike show – it's not all about your typical "show bikes." There are always some really interesting, highly personalized bikes, cleaned up as best they can be but not necessarily picture-perfect and not always showing the latest design trends or elements. And of course a few newer customs as well.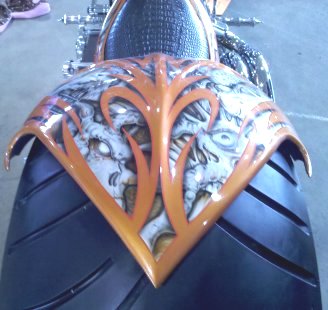 On a personal note, after doing great at my new job for about 60 days, all of us newbies got laid off on Feb. 11 – so I am once again unemployed. I can't believe it, and I'm extremely disappointed. I really liked the work, the co-workers, the customers and the company. But I am once again pounding the pavement looking for work. One thing I learned though – I can step into a completely new field, learn a job, and like it. I don't have to be doing the same stuff I've been doing for 25 years to be productive and happy. Maybe that will make my new search less stressful (and shorter)!
Also, coming up on the blog – my friend Shirley (who tried to "winter in Texas" but ended up taking a lot of the Iowa cold with her) has been able to take a few more scenic rides and she has sent me info and pictures. So – more ride reports coming soon!
Here's a list of some 2011 bike-related events that you can use to plan your riding year. The list is focused on central Iowa since that's where I'm based, but includes some national events as well. If you have something you'd like to add, just send me an email with complete info to janet@bikerchicknews.com. I'll determine whether to post it here or over on our Facebook page!
Capital City Custom Cycle Show & Swap Meet: February 12-13, 2011, Iowa State Fairgrounds. (Call 712-262-8910 for info)
Daytona Bike Week: March 4-13, 2011, Daytona Beach Florida.
Indianola Bike Night: Third Friday, April – September 2011, Indianola Iowa.
Conesville Hog Rodeo: Memorial Weekend 2011, Conesville Iowa.
Sturgis on the River Motorcycle Rally: June 15-18 2011, Davenport Iowa.
Awesome Biker Nights: June 16-18, 2011, Sioux City.
J&P Cycles Annual Open House: June 25-26, 2011, Anamosa.
Abate Iowa Freedom Rally: June 30, July 1-2 2011, Algona Iowa.
Iowa State HOG Rally: July 14-16, 2011, Pella Iowa.
Sturgis Motorcycle Rally: August 8-14 2011, Sturgis South Dakota.
Hawgstock Motorcycle Rally: August 18-21 2011, Winterset Iowa.
Bikes Blues & BBQ: September 28-October 1 2011, Fayetteville Arkansas.
Rip's BAD Ride: October 1 2011, central Iowa.
Biketoberfest: October 13-16 2011, Daytona Beach Florida.