2011 swap meet: harbinger of Spring!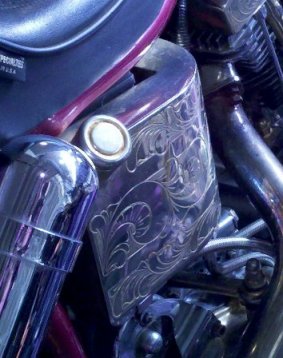 For most folks, robins and crocuses (crocii?) are the signs that Spring is just around the corner. For me, I always seem able to breathe a big sigh of relief as soon as the annual Capital City Motorcycle Swap Meet and Custom Bike Show has passed – which, thankfully, happened this weekend.
After a pretty good stretch of bitter cold (and major snow), it was in the 40's and low 50's this weekend so it was great to get out and "think bikes" if even for a short time. (Our driveway is a treacherous layer of ice now with all the melting snow so couldn't get the bikes out just yet. I fully expect to be able to take at least a short ride sometime next month. )
We haven't actually needed any bike parts for quite some time, but the swap meet is more of a social thing anyway that just gives us a chance to get out of the house and walk amongst all those folks who are part of the local scene that we haven't seen all winter long.
Two gripes this year: TEN BUCKS to get in (up from $8 last year – I wonder if there are restaurants that charge you to get in to read the menu?)… and the "bike show" seems to be getting smaller. (Still, I know it can't be cheap to rent the venue for this event, so I'll give 'em a pass this year. LOL)
One thing I do like about the bike show – it's not all about your typical "show bikes." There are always some really interesting, highly personalized bikes, cleaned up as best they can be but not necessarily picture-perfect and not always showing the latest design trends or elements. And of course a few newer customs as well.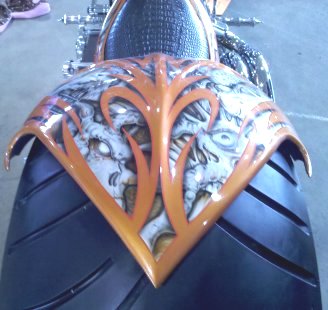 On a personal note, after doing great at my new job for about 60 days, all of us newbies got laid off on Feb. 11 – so I am once again unemployed. I can't believe it, and I'm extremely disappointed. I really liked the work, the co-workers, the customers and the company. But I am once again pounding the pavement looking for work. One thing I learned though – I can step into a completely new field, learn a job, and like it. I don't have to be doing the same stuff I've been doing for 25 years to be productive and happy. Maybe that will make my new search less stressful (and shorter)!
Also, coming up on the blog – my friend Shirley (who tried to "winter in Texas" but ended up taking a lot of the Iowa cold with her) has been able to take a few more scenic rides and she has sent me info and pictures. So – more ride reports coming soon!