Bikers Against Diabetes chili cook-off is Feb. 26; enter by Feb. 23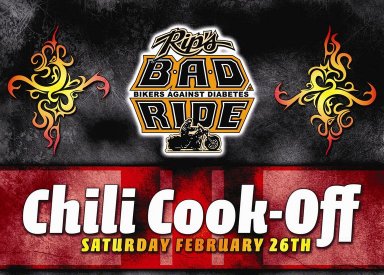 If you're looking to spice things up a bit before Spring hits, be sure to indulge in the Rip's BAD Ride Chili cook-off coming up February 26 at the American Legion Post 232 in Polk City, Iowa.
Celebrity judges will pick the overall winning chili and spectators will pick a "People's Choice" winner as well. Cooks can enter their favorite chili recipe for a $20 entry fee and must reserve their spot in the cook-off by Wednesday, February 23. Competing chili must arrive at the Legion Hall by 10:30 a.m. on February 26th. Visit http://badride.home.mchsi.com/ for an entry form.
Spectators enjoy all-you-can eat chili samples with a $5 admission fee beginning at Noon, and can enter to win a 50/50 raffle.
Awards begin at 2:45 p.m., and all proceeds from the event benefit the American Diabetes Association of Iowa. The American Legion Post 232 is located at 114 E. Broadway in Polk City.
Be sure to also mark your calendar for Saturday, October 1 to participate in the 2011 Rip's BAD Ride