Not the best April, but great stuff coming up!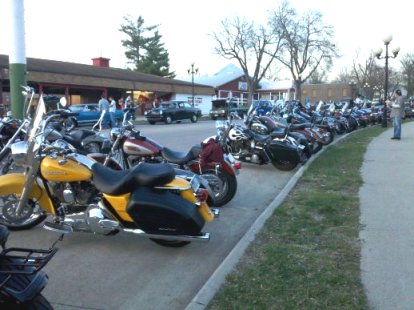 We've had a hard time getting Spring underway here – it's been cool and rainy for a long time, and just the past few days we've finally had some sun and temperatures barely over 60 degrees. I hope you've had better riding weather!
We did manage to get out to a local Bike Night event on April 12 – this was the inaugural "Gathering on the Grounds" which is a summer-long Tuesday night gathering of motorcycles and custom cars at the Iowa State Fairgrounds. The event has been cancelled the past few Tuesdays due to crappy weather, but the kick-off event was fantastic – huge crowd of bikers and hot rodders, beautiful cars and bikes, great live music and State Fair food favorites. Looking forward to future "Gatherings," Tuesday nights throughout the summer.
Sadly, the first Indianola Bike Night of the season was also cancelled due to bad weather (next one coming up May 20). A few of the brave rode to Big Barn Harley Davidson on April 16 for the Blessing of the Bikes – we attended the event's chili feed hosted by the Christian Motorcyclist Association, but with morning temperatures in the 30's we decided not to ride. Fortunately, there are a couple additional opportunities to get blessed coming up:
Sunday, May 15 – River's Edge Church, 204 College Ave., Iowa Falls. Free will lunch at Noon, blessing at 1 p.m. All welcome!
Saturday, May 21 – Route 65 Harley Davidson, 1300 South Jefferson Way, Indianola, 11 a.m. All welcome!
Here's hoping May is a warmer/nicer month than April!