Although the number of women who ride their own motorcycles is growing (aren't we up to, like, 13 percent now? I think that makes us THIRTEEN PERCENTERS!), I'm still astounded at the reactions some people have when they learn I am a rider. Most of them are well-meaning, I'm sure. But that doesn't mean they shouldn't take a step back and reconsider their words. Here are a few "rules of the road" when it comes to communicating with women bikers:
DO NOT share your gruesome stories right off the bat of friends/relatives/mythical figures who have died in motorcycle accidents. It's not helpful. And if you do, be prepared to hear about someone she knows who died a horrible death doing that thing you love.
DO ask her what make/model she rides. DO NOT ask her if that's considered "a girl's bike."
It's perfectly okay to ask her how long she's been riding her own. But, DO NOT start a conversation with, "Do you ride that big ol' bike all by yourself?" Because you're bound to get this in return: "No, I have my big strong husband run along behind and push it for me." Or maybe this: "Do you see a sidecar, Douchey?"
DO NOT chastise her for riding just because she has children. Anyone who has children could die stepping out the front door or driving their car, so don't blather on about "greater responsibility." DO congratulate her for showing her kids that life was meant to be lived doing things you love, and that it's never too late to discover or learn something new.
Okay, women riders, it's your turn – what are some of the reactions you've had to the fact that you ride your own motorcycle?
Been spending a little time lately setting up some tools to help folks find Biker Chick News in a few more places on the web.

First, I created a Facebook Page, Biker Chick News. I like Facebook a lot for connecting with old friends and keeping up with everyone in my life. The blog's "fan page" is a little different from my personal Facebook page – it's designed especially to keep "fans" updated on what's new at the blog, AND I've also enabled the "discussions" feature so if you want to ask a question or just start a topic for conversation among other "fans," you can do that too!

I'm also an occasional user of Twitter. Conan's late-night scoffing aside, I found that twitter was really useful in my previous line of work. But, I was "tweeting" a combination of things from work and personal life, which I think was a bit confusing to the friends who were (are) following me. I don't tweet much for work anymore, and most of my personal stuff is bike-related. So I decided to set up a new account under the name of the blog so the bike-related stuff I'm sharing would be associated with the blog. So, short version: if you use Twitter, you can follow @BikerChickNews and that will be me!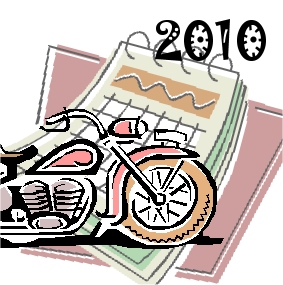 Here's a list of some 2010 bike-related events that you can use to plan your riding year. The list is focused on central Iowa since that's where I'm based, but includes some national events as well. If you have something you'd like to add, just leave the info in the comments section – if your additions are outside the central Iowa area, be sure to mention the city and state.
Struthers Brothers bus trip to Minneapolis for International Motorcycle Show (call 282-3634) – February 5-7
Capital City Custom Cycle Show and Swap Meet (call 712-262-8910) – February 13-14, Iowa State Fairgrounds
Daytona Bike Week, Daytona FL – February 26-March 7 www.officialbikeweek.com
ABATE/Big Barn HD Blessing of the Bikes – April 17
Indianola Bike Night, third Friday April – September www.bikedowntoitown.com
Conesville Hog Wild Rodeo – May 13-15
Ride for the Cure – May 29 www.rideforthecureiowa.com
ABATE Iowa State Freedom Rally, Algona – July 1-3
Sturgis on the River, Davenport – June 16-19 www.sturgisontheriver.com
J&P Cycles Open House, Anamosa (call 319-462-4819) – June 26-27 www.jpcycles.com
Honda Wing Ding, Des Moines – June 30-July 3 www.wing-ding.org
Iowa State HOG Rally, Waterloo – July 16-17 www.iastatehogrally.com
Sturgis Rally (70th Annual) – August 9-15 www.sturgis.com
Hawgstock, Winterset – August 19-21 www.hawgstock.com
Iowa State Fair Motorcycle Day – August 22 www.iowastatefair.org
Bikes, Blues & BBQ, Fayetteville AR – Sept. 29-Oct. 2 www.bikesbluesandbbq.org
Bikers Against Diabetes (BAD Ride) – October 2 www.ripsbadride.com
Biketoberfest, Daytona FL – October 14-17 www.biketoberfest.org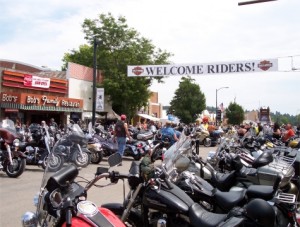 One of the bits of wisdom new riders hear a lot (even from me!) is, "don't let anyone push you to ride outside your comfort zone." That means you shouldn't feel obligated to do something on the bike you're not ready to do, and it's usually good advice.
But here's the thing about your comfort zone: it is and was intended to be a moving target! It changes constantly as you develop new skills.  So don't let complacency get in the way of your progress. After all, you've taken the biggest step already – just getting on the bike and learning to make it move. Some of the tasks that seem most daunting are easily within your reach – and believe me, you'll soon wonder why you ever let anything hold you back.
Ride a road with a higher speed limit! Pick a road that leads you out of town, gradually increase your speed, and enjoy the sights and smells of the roads beyond your doorstep. Enjoy the feel of the bike on the curves… take in the vista on the straight-aways… feel the connection to your bike and to your surroundings like you never have before.
Ride at night! Riding at night poses special challenges – make sure you're as visible as you can be, be extra-aware of traffic movements around you, and if feasible, ride with your bright headlights out on the rural roads so you get a wider swath of light with which to spot animals or other potential hazards. Consider your  bodily comfort, too – have a jacket you can don if needed, and wear clear glasses to protect your eyes.

Conquer the freeway entrance ramp! It can be nerve-wracking, especially if your local cagers don't seem to give an inch when it comes to merging (ahem – IOWA!!). But trust me, it gets less nerve-wracking with practice.
Take a weekend trip! Yes, yes, I know you're busy and you have obligations. But really – just do it. Pick a spot in your region you'd like to visit… plan your route (part of the fun!)… and go! You can leave on Saturday, return on Sunday – or whatever days work for you. You'll return home refreshed and eager to do it again, guaranteed!
Think of it this way: if you never ride outside your comfort zone, you'll never leave your own neighborhood. And that's probably not what you envisioned when you decided to learn to ride. So go for it!
This blog is full of reports of my many milestones – share YOUR accomplishments in the comments!
Heard from the Legion Riders Post 232 via email this week, they are holding a benefit auction on January 30 for a young girl stricken with cancer. They are in need of monetary donations, auction items, and of course BIDDERS. Also, if you have a stash of returnable cans you're holding on to, the Riders would love to receive them as a donation as well so they can cash them in for the upcoming benefit.
The Legion post is just off the square in Polk City – yes, you've ridden right by it on your way to Big Creek! You can check them out on Facebook!
And – just in case you're looking for something to do TONIGHT, Friday January 15, they're hosting bingo and a steak fry!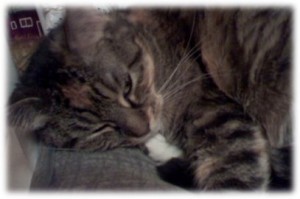 I feel like I'm waking up from a long slumber. Not only was I away from the blog for two months, but my mind was completely away from motorcycles for that same period while I searched for, landed and started a new job. (Then we throw some holidays in there too, and well perhaps I was just a bit ovewhelmed for a short time.)
When I finally did check in on the blog, I ended up reading through all of our 2009 Sturgis adventures – and found myself really longing for the whole motorcycle "thing" to come back . On  Saturday, hubby, daughter and I went up to Big Barn HD for the annual Zero Run and Chili Feed (the ride itself was cancelled but the chili was AWESOME as usual!) and I realized that the big motorcycle swap meet is coming up in a few weeks, the next local HOG chapter meeting is next week, and really, Spring is n0t TOO far away. Suddenly it feels like bikes are front-and-center again.
All this is to say that I'm "in the mood," hoping for an early start to the riding season, and I'm compiling my list of Iowa bike rallies and events. If you know of an event you'd like me to include, either leave a comment or drop me an email. I do have to point out that I can't list every individual "bike night" around the state, but if you know of one (location and dates) within 60 miles or so of Des Moines, you can send me the info and I'll try to include as many as I can.  I'll post the list soon.
Meanwhile, we got our 2010 J&P Catalog in the mail recently so it's time to do some shopping!
Temperatures here are in the single digits and below zero, and the state's covered with about 20 inches of snow. It must be time to reminisce a little about some favorite rides from 2009.
Iowa Veterans' Cemetery Ride – this one included a beautiful Iowa day, an un-planned detour, and a worthy destination. It was just Steve and I for this October jaunt.
When I bought my 1200 Sportster in July, we took a nice ride to the south to test her out. Especially nice day because we were joined by Wade, Coyote and Howard.
Of course the trip to Sturgis was the highlight of the year, and two of those days made my favorites list: the second day on the ride out to South Dakota, simply because of the amazing sidetrip through Badlands National Park; and, the day we went to Sundance, Wyoming and ultimately got caught in the rain. It wasn't all good riding, but it has become one of my favorite days to recollect!
The Lincoln Highway Bridge ride – not too far away, but a fun day with good road food and an interesting historic site.
How about you? Add a story about your best riding day from the past year in the comments!
Yes yes, I know, not every rider longs for a Harley. But for those who do, HD is sweetening the pot this month (yes, the month of January) with a special offer for owners of other brands. Just take your competing brand bike in for a trade, and they'll give you an extra $500 over your trade-in. (Roads covered in ice? Here's a tip – you can probably ask your dealer if they'll pick up your trade-in.) Here's the link for complete info on the HD website.
And, if you think you might want to own an HD but don't know which model is for you, check out this new "build your bike" app on the MoCo's Facebook page that will help you figure it all out.  Hey if nothing else it's a way to kill a few minutes while you're waiting for the snow to melt.
Finally, just a quick plug for one of the things I like best about the Harley brand – the community of riders. Once you do get that dream bike, be sure to join your local Harley Owners Group (HOG) chapter. You'll find an instant family of fellow riders eager to lead (or follow) you down the road.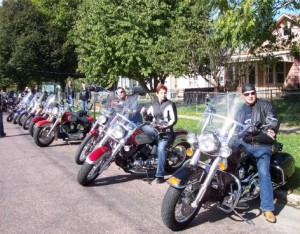 Jay's got a strong list of tips for road captains over at Road Captain USA, and, although I'm not a sanctioned road captain I've led a lot of rides so thought I'd make some additions here instead of whole-posting in his comments section. (Jay, hope you don't mind the link!)
Most notably, two things:
First, there's another reason to park away from the front door of the convenience store – when you get a little farther away from the entrance, you likely have more room for all the bikes in the group. You then have a better chance of getting parked in some kind of group or even loose formation for making an organized exit.
Second, I disagree that the group leader should "ride their own ride."  The group leader has to ride within their own skillset and comfort zone, for sure. But part of being the leader is keeping track of the rest of the group. and that's not possible if you just focus on your own ride.  That's not to say the leader shouldn't have the opportunity to enjoy the ride. But it's important to know what's going on with the rest of the group. I think the key is really just to find the middle ground.
Beyond these, here are a couple "tips" of my own – well, not really tips, just things I try to do when leading a group that I think make it more enjoyable.
1. I don't abandon people just because we've reached the destination. I know it's "policy" in some sanctioned riding groups that the ride ends the moment you arrive, and certainly in larger groups that's because people want to be free to head home as meets their needs. For the kind of small-group rides I'm usually leading, it just feels like common courtesy to lead the ride home too.
2. I try to pick destinations that have food and something interesting to see. Of course, the day is mostly about the ride itself. But it's nice to have something to explore, if even for a short time, to give everyone a break. As for the food – the logic of that just goes without saying.
If you find yourself leading rides, what are your tips? If you tend to follow, what do good leaders do that make the ride more enjoyable?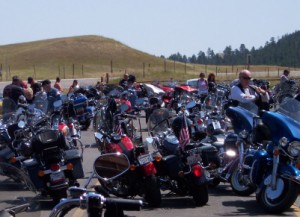 From time to time I like to stop and make note about the traffic levels on this site. A couple of interesting notes from the 2009 traffic logs:
The site averaged just over 20,300 visitors per month in 2009.
I almost (but not quite!) broke the 25,000 mark in monthly visits with 24,795 in August!
The number of visitors in each month in 2009 was higher than the number of visitors in the corresponding months in 2008, so, it was another record year for traffic despite some pretty big gaps in posting frequency.
It's always interesting, too, to discover what search terms people are using when they find this site – generally my traffic report shows that most people are searching for pictures when they click through. And that's okay with me – I'm sure the ones looking for "sexy biker chick pics" are disappointed, but at least their eyes get opened to the fact that real women actually ride motorcycles instead of just posing on them.
All that said, the one stat I'm resolving to really pay attention to in 2010 is this:
There are currently 172 people who subscribe to site updates, either through an RSS reader or via email. (I'm sure that number is higher for many other "biker chick" blogs, and that's okay too.)
Those people – you! – are the ones who are really interested to know when something new has been added. You're the ones who actually read my posts and create the community that surrounds this blog.
My goals for this site have always been simple: to express and share the joy of riding, and to encourage other women to ride their own. Hopefully, for at least 172 of you, I'm doing just that.