Ride outside your comfort zone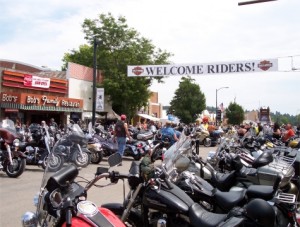 One of the bits of wisdom new riders hear a lot (even from me!) is, "don't let anyone push you to ride outside your comfort zone." That means you shouldn't feel obligated to do something on the bike you're not ready to do, and it's usually good advice.
But here's the thing about your comfort zone: it is and was intended to be a moving target! It changes constantly as you develop new skills.  So don't let complacency get in the way of your progress. After all, you've taken the biggest step already – just getting on the bike and learning to make it move. Some of the tasks that seem most daunting are easily within your reach – and believe me, you'll soon wonder why you ever let anything hold you back.
Ride a road with a higher speed limit! Pick a road that leads you out of town, gradually increase your speed, and enjoy the sights and smells of the roads beyond your doorstep. Enjoy the feel of the bike on the curves… take in the vista on the straight-aways… feel the connection to your bike and to your surroundings like you never have before.
Ride at night! Riding at night poses special challenges – make sure you're as visible as you can be, be extra-aware of traffic movements around you, and if feasible, ride with your bright headlights out on the rural roads so you get a wider swath of light with which to spot animals or other potential hazards. Consider your  bodily comfort, too – have a jacket you can don if needed, and wear clear glasses to protect your eyes.

Conquer the freeway entrance ramp! It can be nerve-wracking, especially if your local cagers don't seem to give an inch when it comes to merging (ahem – IOWA!!). But trust me, it gets less nerve-wracking with practice.
Take a weekend trip! Yes, yes, I know you're busy and you have obligations. But really – just do it. Pick a spot in your region you'd like to visit… plan your route (part of the fun!)… and go! You can leave on Saturday, return on Sunday – or whatever days work for you. You'll return home refreshed and eager to do it again, guaranteed!
Think of it this way: if you never ride outside your comfort zone, you'll never leave your own neighborhood. And that's probably not what you envisioned when you decided to learn to ride. So go for it!
This blog is full of reports of my many milestones – share YOUR accomplishments in the comments!