Disclaimer – I'm not an ATGATT rider. If you are, I think that's great because that's what suits you, but you might get squeamish reading this post. :) 
It's not often in the middle of an Iowa riding season that I have to stop and really think about what gear is needed for a ride. Now make no mistake: my helmet, boots and jeans are must-haves that I never ride without. But as far as leathers or other cover-ups, I'm flexible depending on the expected weather. And at this time of year, "expected weather" normally means one thing: HOT.
But sometimes, we get unseasonably cool wake-up temperatures even in the middle of summer. For one July Divas ride, it was 58 degrees when I got out of bed! In fact, we weren't even set to break 60 before 10 a.m. that day, and the high for the day was only predicted to be around 70.
In Iowa – in July! I KNOW!!
Fortunately, I've developed over the years a good understanding of what makes me comfortable in different temperature ranges, and as long as I stick to my "gear guide," I'm usually pretty happy in most anything above 50 degrees. Although I've pretty much internalized this at this point, it was helpful at one point to write it all down. So I don't literally refer to my chart every time I ride, but thought I'd share it anyway in all its charty glory: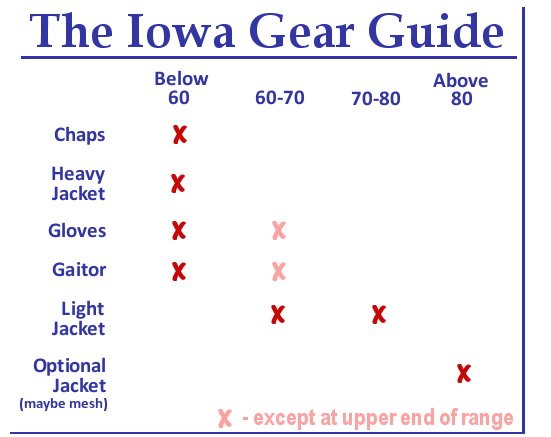 Still, it WAS July after all. And the thought of wearing gloves and my heavy jacket in mid-summer really had me wavering on whether to follow the Guide for the Diva's ride. Fortunately, I've also devised a simple test that usually convinces me the Gear Guide is right on: if I'm in doubt, I take a quick drive in the car with my bare hand hanging out the window.
This foolproof test confirmed what I already knew: I needed my heavy jacket, gloves, and gaitor, at least in the morning. And glad I wore them – I was quite comfortable all day!
So, okay – how do YOU decide what gear to wear? Click the "Comment" link above to share your thoughts!
A few motorcycling friends have been circulating this custom map over on Facebook this week… mine would be a lot less pink if I only counted states I had ridden in, but I'm counting every state I've ever visited under any circumstance. But I didn't count states if all I did was drive through without stopping.
To do your own custom map, visit Maploco.com/visitedstates.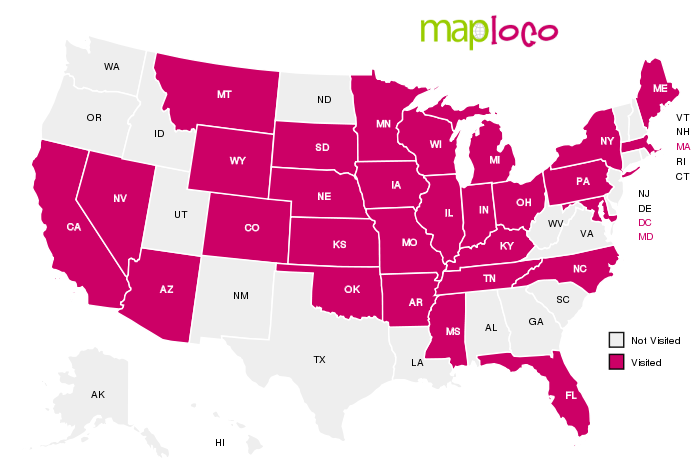 Create Your Own Visited States Map
A women's social event hosted by The Chrome Divas of Des Moines on June 11 collected over 100 bras for RangerLady.org, a local non-profit organization that gives personal dignity garments to women in locked mental health and other long-term care communities.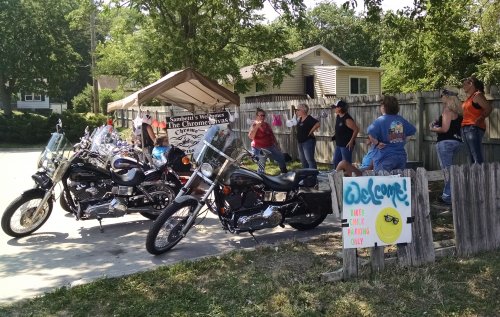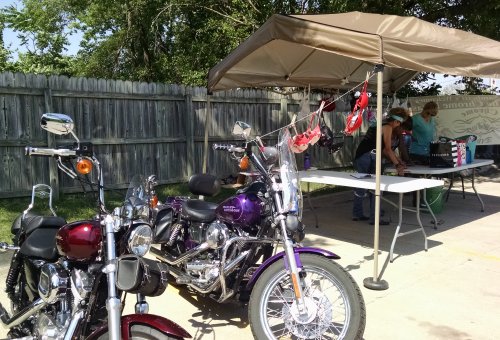 This was the first year of the social event for women riders, women who ride pillion, and women who don't ride but just love motorcycles. About 20 participants attended, including a contingent of Chrome Divas from Omaha and Lincoln, Nebraska and other Des Moines area women. It is expected to become an annual event.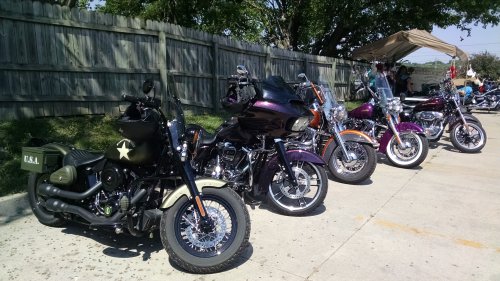 The social was held at Sambetti's, a bar and grill in Des Moines which serves as the chapter's official meeting venue.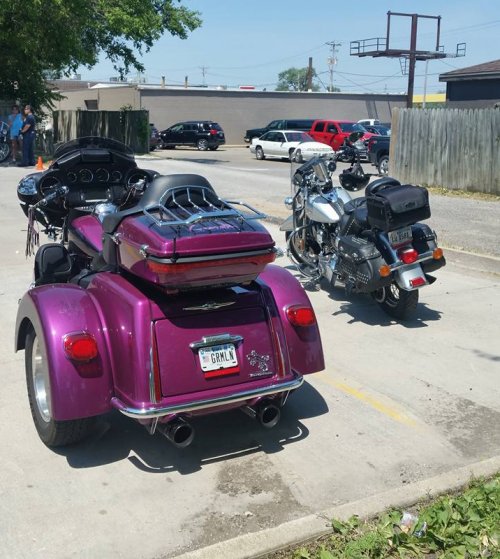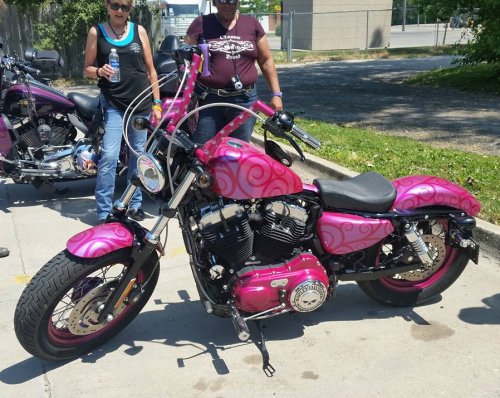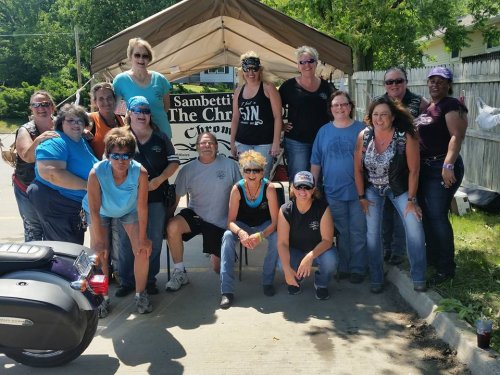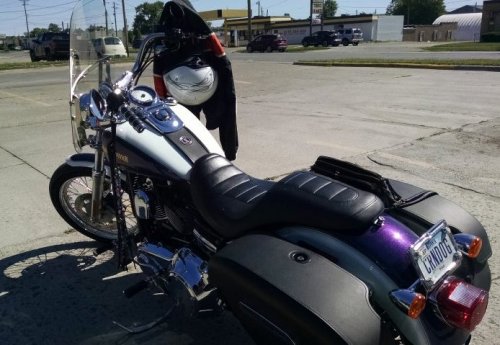 I don't know about you, but one of the things I wish I could change about myself is the degree to which I deny myself things or activities that make me happy in times when I feel I don't deserve to be happy. (Are there such times? Oh let's not go into that – I'm pretty sure everyone has times when they've created a shit-storm or been dealt a shit-storm or whatever, and they just feel too self-conscious about being seen being happy. How can you act so happy at a time like this? Don't you understand how you should feel right now? So they hide, when doing the thing would make them at least feel better, if not actually happy.)
Well I'm trying to get past some of my more recent shit-storms, and although it's not always easy, I'm kind of forcing myself out there.
One of the aspects of riding I've never been crazy about is the practice of riding by myself. I can never seem to calm my mind, and it just feels sort of pointless – out there hurtling around, putting myself in danger, and for no apparent good reason.
Except that I like being out there.
So this year while I'm still not planning any epic cross-country solo trips, I am making sure that if I feel like riding, I don't let my dislike for riding alone stop me. I just get out there and do it.
In May I took two solo rides – one was a very nice easy trip along the "Madrid Loop," about 90 miles with a stop at (where else) Casey's General Store.
Then on the 28th another little solo trip, this time in a beautiful loop through Madison County taking me through Winterset, St. Charles and Truro – 105 miles.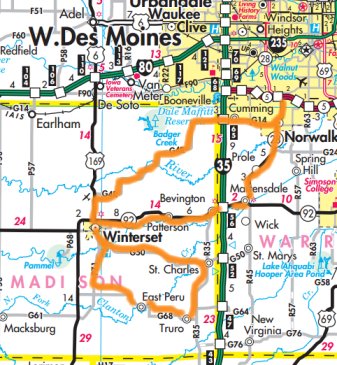 On this trip I actually stopped to take a few pictures of some of the scenery – things were lush and green, and are even moreso now that another month has passed.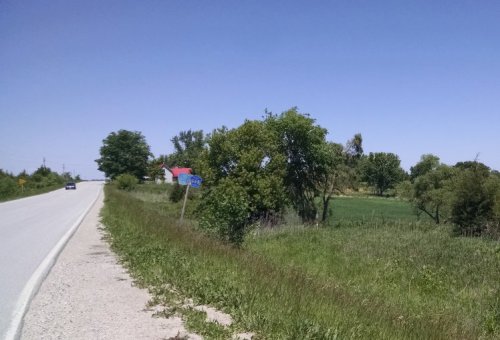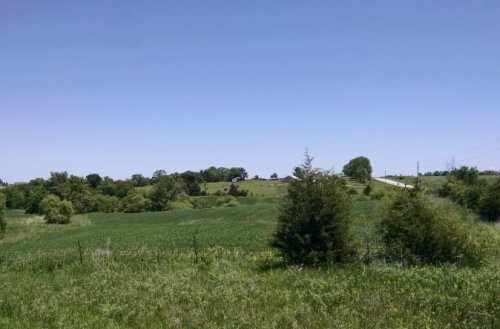 Another tactic I'm using is that I'm actually asking others if they want to join me. In the past I wouldn't do this if I was planning something last-minute – I just assumed everyone would have plans already set, though I have no idea why I thought I was the only one who didn't plan ahead. Anyway this year I'm just asking, and I have a wonderful ride to report on soon that came about as a result of this kind of effort.
Plus of course some Chrome Diva rides and gatherings, and so overall it's shaping up to be a fine (and much more involved) riding season. Hope it's that way where you are too!
PS – huge hugs to my wind sister RSW, and anyone else in the middle of a shit-storm. Ride more, worry less – wherever you are!
A monthly feature news publication here has a very nice piece in their June issue about women's riding groups in the Des Moines and central Iowa area. Cityview's Cady Colosimo talked to a number of women about their reasons for riding, their experiences, and the groups they ride with. I've linked to the online article below – you can also pick up Cityview free of charge in supermarkets and many other venues around the area. Take a look!
"Unbridled Freedom: Who Said Diamonds are a Girl's Best Friend?" 
The Chrome Divas of Des Moines want you – and your bras!!
My awesome group of biker gal-pals, the Chrome Divas of Des Moines, is hosting a women's motorcycling social event THIS SUNDAY, June 11! This is for women in the Des Moines and central Iowa area who ride their own, ride pillion, or even just love motorcycles. We're asking you to please bring a clean, gently-used bra as a donation to an organization called RangerLady.org, which provides personal garments for women in shelters and locked mental health communities. Yep, we mean it – bring us your bra!
The event is not an organized ride, and not a membership drive… just a fun social and bra-collecting event to be held at Sambetti's, 1430 – 2nd Ave. in Des Moines, on Sunday June 11 from 2-4 pm.
If you are in the area, we hope you'll join us for great lunch specials, set-aside biker chick parking, and a fun social time with like-minded women… and bras!
Note: Sambetti's is also open for regular business on Sunday. Riders, please enter on 2nd Avenue and proceed to the back/upper parking lot. If you're caging it, get there early for front-lot parking, and/or park next door at the brake shop!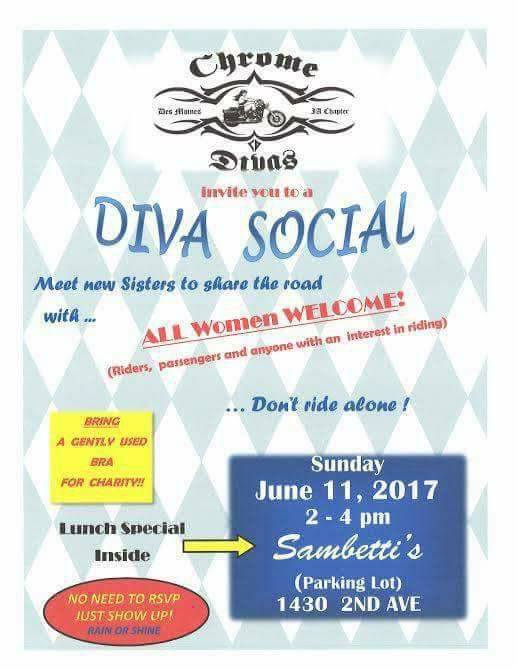 Okay okay, yes it's been since February (FEBRUARY, people!) since I last updated my blog… but I can assure you, I'm still here and I do still ride.
In fact I have ridden nearly TWO TIMES already this season. Nearly two! Okay so that's really only one, but that is nearly two so technically the previous statement is correct.  You see, I have kind of lost my riding mojo over the last couple of years… never really sure I want to get started at the beginning of the season, coming to a point where I don't really care whether I ride again… and then finally taking that first ride and realizing, yes, I still love this.
Now in my defense, I didn't go to the motorcycle swap meet because of my pissy attitude but also because normally the swap meet is kind of a turning point for me in the non-riding season where I can see that Spring is just around the corner. But this year, winter was really mild – we never even had one snow where I had to use the shovel – not one! And certainly not "nearly two"! So I was just sort of "meh" on the swap meet this year. I'm sure it was great, because it is motorcycle parts and a custom bike show – what's not to love??
Then March was full of cold and rain, and then in April I did take my first ride but then the Bike Blessing at Big Barn was rained out (cancelled, even!) toward the end of the month and that meant our Chrome Divas ride was also a bust. Last weekend was nice, but I was doing other things… but… but… THIS weekend looks like it's also going to be nice, so I will be headed out. Where, exactly, I have no idea but… I'm going!
Also, I have an appointment on Saturday morning that hopefully will result in something really fun – so stay tuned, I'll report on that ASAP!
I did take what qualifies as the "first ride of the season" not too long ago… I did a southerly loop from my home in West Des Moines down Highway 28 to 92, then west to Indianola and back up my old favorite, R63. I have to be honest: the only thing I could think of at first was really morbid "what if I crash"-type stuff. But by the time I got home, my mind was right and I had had a few miles of fun.
All this said, I'm blaming the lack of a horrible Winter for the sense of non-urgency I feel about riding this Spring, and I will soon be out and about. Here are a few upcoming events in the area… not saying I'll be there, but if YOU want to go, here they are:
May 13 – 22nd Annual Blessing of the Bikes sponsored by F&J Racing of Marshalltown, 2-4 pm.
May 19 – Indianola Bike Night, 5-10 pm on the Square in Indianola.
May 20 – Rescheduled Blessing of the Bikes at Big Barn Harley Davidson, with Christian Motorcycle Association and ABATE of Iowa, beginning at 10 am.
May 21 – ABATE of Iowa Thunder Ride to honor Vietnam Veterans, leaves at 11 am from Southridge Mall parking lot, goes to the Vietnam Memorial at the State Capitol.
There's way more than this, of course… Indianola Bike Night, 2nd Avenue Bike Night, bike nights in just about every town around… see a more complete list on the Facebook page for Thunder Roads Iowa!
Okay now you are up to date… more soon, for real!
Holy crap, I am way behind! Okay just wanted to be sure you all knew – because I had lost track – that the annual Capital City Custom Cycle Show & Swap Meet is coming up THIS weekend, February 11 & 12 here in Des Moines. For years, this event was held at the Iowa State Fairgrounds – but this year, it's being held at Seven Flags Event Center in Clive. Here's the scoop:
Custom Cycle Show & Swap Meet
February 11, 10 am – 8 pm
February 12, Noon – 6 pm
Seven Flags Event Center
2100 NW 100th St., Clive, Iowa
This is always the turning point event for me – once the swap meet passes, it's SPRING, baby!!
If you're local, or even if you're not and you're looking for something bike-related to do in the middle of Winter, this event is it. Will be interesting to see what the new location has to offer!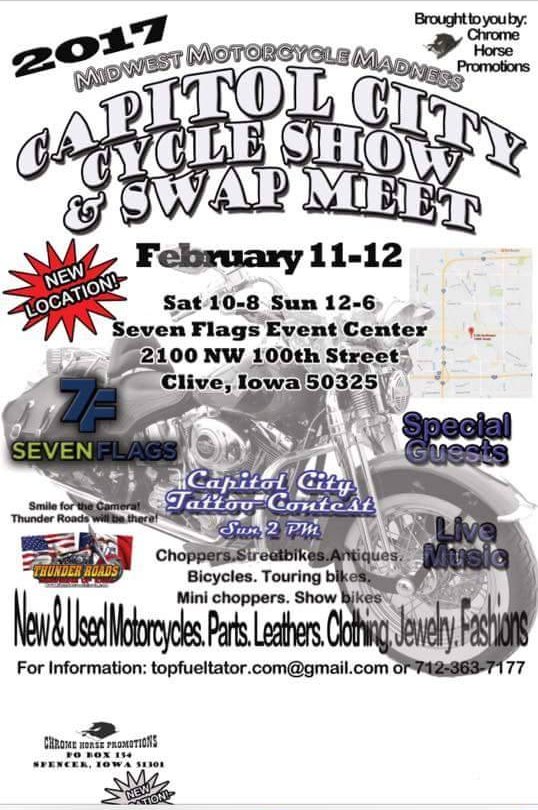 Hey all, I hope you had a fantastic holiday season and are off to a great start in 2017! I received an email recently letting me know that the Daniel J. O'Neill Law Office in San Luis Obispo, California is giving away some motorcycle safety gear, so I wanted to be sure you had a chance to enter to win one of these items.
Gear choices for the winners include an HJC full-face helmet or a pair of Alpinestars GPX gloves. The helmet features a lightweight advanced polycarbonate composite shell, moisture-wicking interior, and advanced channeling ventilation system. The gloves feature a patented third- and fourth-finger bridge, and Dynamic Friction Shield (DFS) knuckle protection system.
To get your entry in, click the link below and be prepared to share your best motorcycle safety advice. Winners will be announced on January 27, so do this now!
O'Neill Law Firm safety gear giveaway entry form
More soon!
October 3, 2016 marks the 10th anniversary of the publication of this post from my original blog (long since dissolved into the internet ethos), "A Blogger Looks at Forty."  I have updated the math in the dates referenced near the end of the piece; the rest remains unchanged from the original post. Thanks for reading about these two crazy, special women. 
Why did Janis Joplin call me today?
While dressing for work I decided to take a few CD's with me, and Janis's "Greatest Hits" was one I happened to grab. At work, as I popped it into the computer to play, I studied the photo used for the cover art. It's Janis in a red peasant blouse, a slug of bracelets on her wrist and beads around her neck, perched on a motorcycle and staring out with a grin through those big round glasses.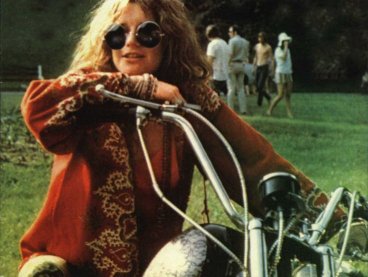 I'm feeling an odd connection to her since I started riding my Harley, but it's not because I identify much with her music or her lifestyle. (I can't get enough of her "Me and Bobby McGee" recording, which was released posthumously, but I can't say I've been a lifelong fan. And the drug culture she embraced – well that's just not my thing and never has been.) I think it's just that she embodies the freedom of spirit I feel when I'm on the bike – even though the music itself doesn't speak to me that strongly, her sense of self and the outward expression of it certainly do.
As I stare at Janis's photo, I take in her look. It's a strong, rebellious statement, one I am too straight-laced to mimic or adapt. She has, however, always kind of reminded me of my sister – from her general appearance to her hard-partying lifestyle and, ultimately, her untimely drug-related death. The photo of Janis on the motorcycle in 1970 could easily have been my sister Kathy in 1980. (Kathy rode pillion her entire life. I like to think she would've followed my example and learned to ride her own eventually, though it would have bugged the crap out of her that I'd thought of it first.)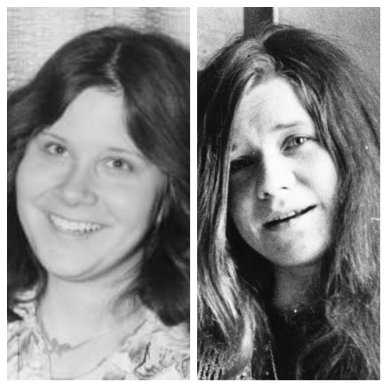 I look up a few more images of Janis on Google, continually struck by how much she looks like Kathy and still trying to figure out why I'm suddenly so interested. I visit the official legacy website managed by Janis's family, follow a couple links, and read a chronology of her life events. And a date pops out at me. October 4, 1970: the date that Janis died, at 1:40 in the morning, from a heroin overdose. It occurs to me that that is tomorrow's date. Is that why I thought to grab Janis's CD this morning, because for some reason I am supposed to mark that occasion?
I glance back at the photo and this time the resemblance to Kathy is almost over-whelming. And I realize: if tomorrow is October 4, that means today is October 3. And October 3 is the day Kathy was born.
And so, while not a week has gone by since Kathy's death from cocaine overdose that I haven't thought of her, it occurs to me that perhaps Janis called me today to make sure I didn't forget my sister on her birthday. So while I'm taking a moment to acknowledge Kathy's short, tumultuous life, I'll also give a nod to her famous sister-in-spirit. I'll reflect for just a moment on the fact that 46 years ago today, a kid named Kathy was celebrating her 10th birthday and a singer named Janis was living her last day on Earth. And both were probably thinking that forever still stretched ahead.