Screw It, Let's Ride.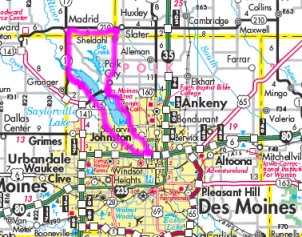 Harley Davidson couldn't have picked a better promotional campaign for the summer of 2008, as far as I'm concerned. Our lives have pretty much been on hold since June 14, while we've been waiting to determine whether we should move away from our flooded home or rebuild. Finally, after five weeks of waiting and no real information on which to base a decision (during which, by the way, we've been living in a camper in our driveway), we just said, "Screw it, let's ride."
So we did! On Sunday we got the bikes out of storage and took a 60-mile-or-so ride up past Saylorville Lake and on up to Madrid, Iowa, then over to Sheldahl and back down to Des Moines through Polk City. It was an absolutely perfect day, and wonderful to be out on the bike again. (Kristin and Hollie, whose home was also flooded, and Howard, who has been a God-send in the amount of help he provided during the clean-up, joined us.) One of those rides that really helps you clear your head, and reminds you why you took up riding in the first place.
Unfortunately we didn't think to take any pictures – but, I have some shots from a couple of rides from earlier this summer that I am eager to share, so hopefully I will get those posted soon.