Solo riding
A few weekends ago, I had the opportunity to spend an entire day riding by myself. Call me a weenie if you must, but I am finding I am just not that into it.
Now make no mistake, I've done shorter solo rides and (usually) enjoy them when I do. A few times, I've simply wheeled the bike out into the driveway to give it a cleaning, and decided to take off for a putt without planning or fanfare. Those are usually short, sweet, and fun. (The very first time I did this, it was early in my second season of riding and was a bit of a revelation – it occurred to me that there was no reason on earth why I couldn't just hop on and go for a blow-the-cobs-out test ride. So I did! And came back exhilirated!)
Sometimes, if I know I want to ride but it's too late to invite anyone and hubby doesn't want to go with me, I might even pick a nearby destination and ride that by myself. I think this is the type of thing my friend was referring to when she said recently that she admired me for taking off on the solo rides: feeling confident enough, when others don't feel like going, to just do it anyway. What usually happens to me on a ride like this, is I start out really enjoying myself, but after a fashion start feeling guilty and thinking in terms of "shoulds" – I should cut this short, I should get some laundry done, I should spend some time at home.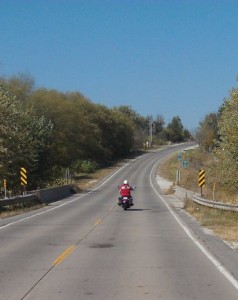 My recent trip to Drakesville, with my family out of town and no "shoulds" on the horizon, morphed into a real solo riding opportunity and so became kind of a test. Originally, a couple of friends were going to go with me. But their schedule changed at the last minute, and I was just stubborn enough not to let that alter my plans. Instead, I decided to see if, given the opportunity to take a longer solo ride, I could become really comfortable with being alone on a bike trip.
But even with a full day to ride alone, I found that I could not get past the "what if something happens" mentality. It went beyond simply being aware of potential hazards and looking for escape routes. I won't expound on this too much because I don't want to get morbid, but I definitely feel there is comfort in knowing someone else will be around if something goes wrong.
Aside from the short solo rides which are enjoyable until I start to over-think them, I also know that there are people who yearn to take an epic solo journey such as a cross-country trip or even a continuous nomadic experience with no end in sight. They save for it, plan for it, dream about it. Some of them even take it. I would imagine it is life-changing. I am not sure why I don't share this dream. Without making assumptions about other peoples' motivations, I wonder if it's because I don't ride for "big" reasons like escape or self-discovery. I just ride to enjoy the landscape, the view, the towns and the oddities along the way.
Now maybe 227 miles just wasn't enough time to put my negative thoughts aside. Maybe one has to ride alone for a week or a month or a year before catching "the bug" to take an epic solo journey.
Maybe I dream too small, think too much, and worry needlessly.
Maybe I'm just not there yet. Maybe it's just not a place I'm headed.
What are your thoughts? Do you enjoy – or even prefer – riding alone? Do you always ride alone and yearn for a "merry band" to ride with instead? Are you planning or dreaming of an epic solo journey?