BCN Stringer Report: Willow City Loop
(As promised, here is Shirley's second ride report from the Hill Country of Texas. For awhile there she was enjoying record cold, but being Iowans did have one distinct advantage: when the pipes froze in their cottage at their Kingsland campground, her hubby Garry knew the drill and had their running water restored in a jiffy! This report on their ride through the Willow City Loop makes me yearn for the twisties!)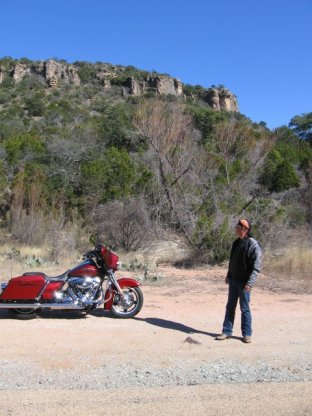 by Shirley P.
January 27, 2011 – We were lucky enough to get two days in a row with 70+ temps so mapped out a couple of rides.  On the 27th we took off about noon for the Willow City Loop. Starting from Kingsland we took 1431 to the west side of town and picked up county road 3404.  This is also called Slab Road for the very reason that it dips down across a low lying portion of a river with huge slabs of granite that you can walk across.  Once you cross the "slab" it is about 7 miles of country road to Hwy. 71 and then another 10 miles or so to the intersection of Hwy. 16 in Llano.  This is where we always gas up before we start the long part of the journey.
Both 71 and 16 are two lane highways with 70 mph speed limits and very few passing zones so to be honest neither are my favorite routes… but I digress!  Once you hit Hwy 16 it is approximately 18 miles to the Willow City Loop turnoff.  The turnoff is on the left and the signage is easy to miss, so if you go, be alert and on the lookout!
The loop begins with a sign that says "Loose Livestock" and they aren't kidding. The road is curvy, sometimes truly winding, and on a couple of occasions it's an up & down ride through granite outcroppings on one side and cactus and cedar on the other.  There were only a couple of places that we felt comfortable enough to pull over and take a few pictures.
We saw maybe three ranches or homesteads and couldn't begin to figure out how to get to one of them!  The sign was right, no fences or pens, cattle simply roam – but we didn't have to stop for any in the road so not a problem at least on this day.
You exit the loop on State Road 1323 and it is a short 3 or 4 miles back to 16. One of our favorite finds was the Knot On The Loop Saloon just as we turned west after exiting the loop. (Like idiots we took pics of the inside but not the outside.) This is a small bar/cafe where we ate a really good cheeseburger that was absolutely loaded with tomatoes, pickles, onions and lettuce.  One drink and we were on our way home.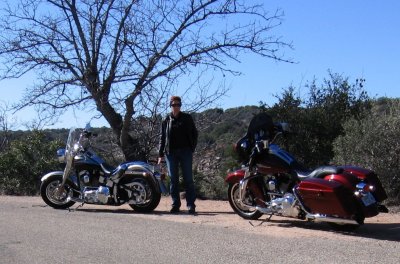 The first 4 miles or so back on Hwy 16 is very up and down and sharply curved.  This is a main route into Fredericksburg and is heavily traveled.  Apparently the locals don't pay a lot of attention to the 70 mph speed limit but really only had one jackwad in a big black truck try to run us over before things straightened out a bit. Hwy. 16 back into Llano where you can reverse the ride out or take 16 on to Hwy. 29 for another 13-14 miles and catch 1431 for the last 7 miles or so into Kingsland.  (This is the route we took because stopping at Pat's bar for a quick one on the way home has become a nice tradition.)
On Friday the 28th we took a similar route to see and climb the Enchanted Rock at Enchanted Rock National Park – that's coming up in a future report!
(Editor's note: THANKS, Shirley, for a great write-up and pictures!!)