Will this be the year you learn to ride?
Will 2016 be your year, the year you learn to ride your own motorcycle?
If you're like me, you don't just jump in to something like this: you take some time to educate yourself about the potential joys and dangers, pros and cons, and what you need – physically, practically, and mentally – to get started.
And if you're EXACTLY like me, you stomp around for two years in your wanna-be boots, trying to visualize your two-wheeled future. But I digress.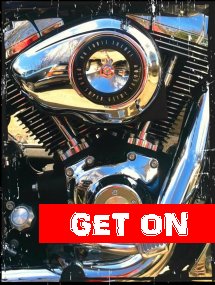 Whether or not this does turn out to be "your year," you might find it helpful to gather perspectives from women who DO ride, on what you need and what it takes to be successful in getting started.
If you follow this blog you already know I love to write… So hopefully it's no great shocker that I have compiled my perspective on those very topics into an e-book. :) An e-book that I hope you find entertaining as well as helpful! An e-book that costs less than nearly everything at Starbucks! An e-book that has been judged by other women riders to be "not completely hideous!"
"…the final push I needed to get started. Janet is educational, honest and very funny."

"Love the book and what it stands for. If you are a woman who has thought that maybe you'd like to ride, check out this book to see that you certainly can!"

"Janet Green nails it with great solutions and answers to difficult questions potential riders will struggle with. Don't think about riding, just read this book and 'Get On' right now!"
Here are the shopping links to purchase your copy of "Get On: A Guide to Riding Motorcycles for Women Who Think Too Much" for just $3.99 (cheap!):
Buy GET ON in PDF or ePUB formats here!
Beyond the e-book, I am always keen on fielding questions about anything related to riding. Share your questions anytime by commenting on blog posts, finding me on Facebook or Twitter, and/or by email! See my sidebar links to connect via other social sites, and thank you for reading!