Just thought I would share a few pictures of the 65 Corvair Convertible that's been occupying my hubby's time for the past couple of months. He has spent countless hours on bodywork, painting, polishing, trouble-shooting, repairing, fixing, fussing, screwin'-and-gluin'… our whole family is looking forward to the Good Guys Rod & Custom Heartland Nationals this weekend!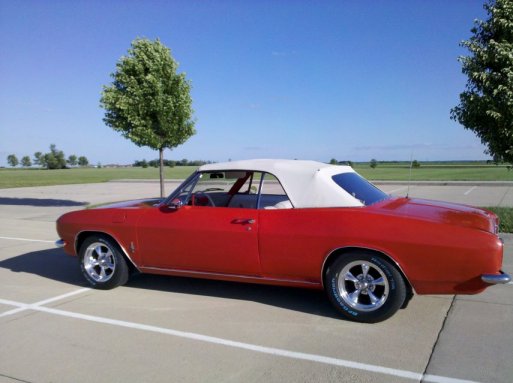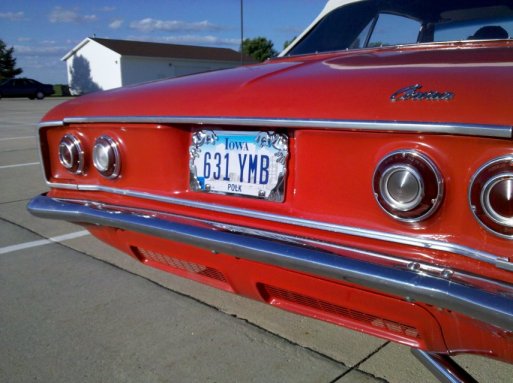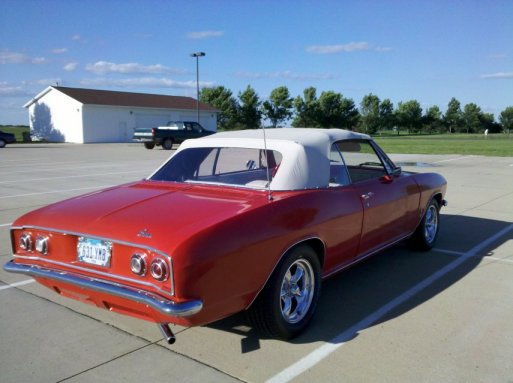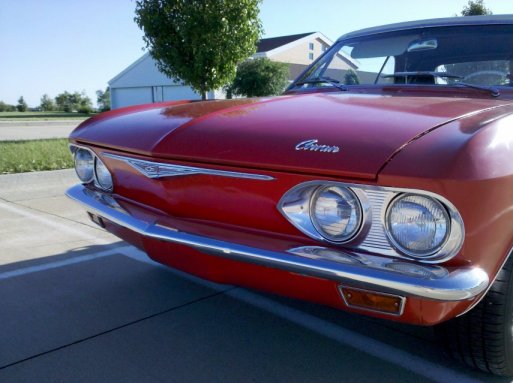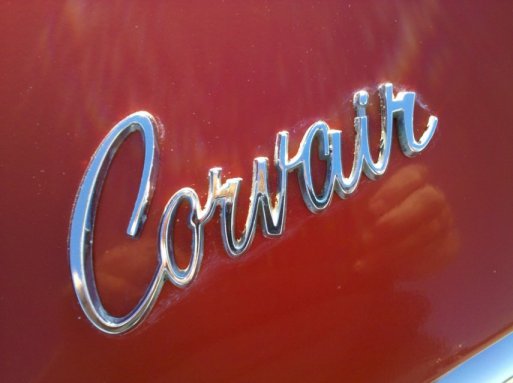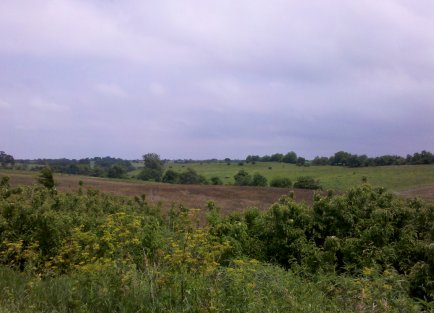 I'm not always "good" at riding by myself – it feels funny riding without a group of friends behind me, and after a fashion I can even start to feel a little guilty leaving Steve to his own devices. But, I know he's working hard to get the Corvair ready for the Good Guys Heartland Nationals next weekend and I felt like I'd been pretty helpful on Saturday by cleaning the car's interior, so I decided to take a ride on Sunday almost in spite of myself.
My plan was to ride to Creston about 80 miles southwest of Des Moines. Nothing there in particular I wanted to see, but I wanted to stretch my solo riding a bit and this was a little farther than I usually go.
I took off heading south down R63, but turned west before I got to the most scenic bits and took G14 through Norwalk and then G4R west to 169. This is a really scenic (if sometimes rough) route – we've ridden it heading east before, but I'm always amused/surprised at how different these roads can look going the other way.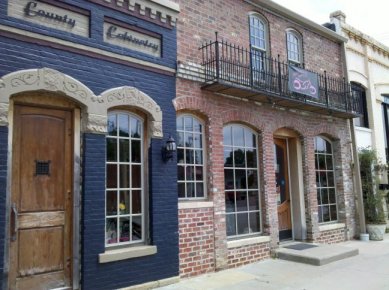 I turned south where G4R ended, and could have gone around the town of Winterset following 169, but in fact Winterset is one of my favorite Iowa towns – it's not only the birthplace and childhood home of actor John Wayne, it's also the birthplace and childhood home of my mother and her family, going back to the mid-1850's. So I'm familiar with a lot of the local landmarks, history, and even a couple of graveyards, and decided to ride through town and snap a couple photos.
I took a little detour around the Winterset square to see the work being done on the courthouse (well-deserved – she's a beauty!), spied Biker Diva Apparel as I was heading south (closed on Sundays – drat!) and stopped to snap a couple pictures of Kitten in front of this classic little storefront. (Whatever this building used to be, it's likely my great-grandfather once traded there!)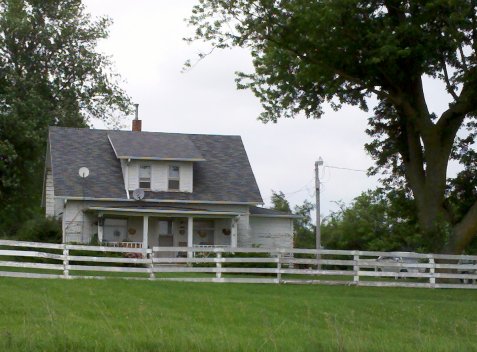 The road south becomes P71 as you leave Winterset, and I followed that til it met up again with Highway 169 ("Pavement Ends" – woops, backtrack to actually get to 169, then backtrack again to snap a photo of a really cute little homestead) then continued south to Highway 34.
It was in this area that I started to notice a few sprinkles of rain, and a look off to the west left no doubt that it was raining in Creston, just a few miles away from the junction I was approaching.
So to my right was Creston and certain rain… to my left was Osceola and a brighter sky, but I'd been there before. I took the left and headed toward Osceola (yeah, I'm chicken like that), and took a quick Casey's break to plot the route home.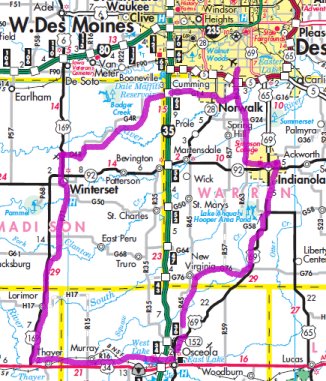 Left Osceola on Highway 69, veered off to travel the "missing link" of R45 from last year, and picked up the piece of G76 that junctions again with 69 at Medona.
I continued to catch sprinkles along the way, but I must've been on the leading edge of the actual rain. Anyway, from Medona it was an easy northeasterly shot into Indianola and then home via 92 and R63.
Guess I will have to try again to get to Creston, but I managed to totally enjoy all 120 miles even though I kinda missed having my merry band behind me!
A couple Sundays ago, Steve took a break from his Corvair project and we set off for a ride that included three of the towns on this year's HOG Chapter Scavenger Hunt: Lacona, Bussey and Reasnor – all tiny towns east of Des Moines in central Iowa.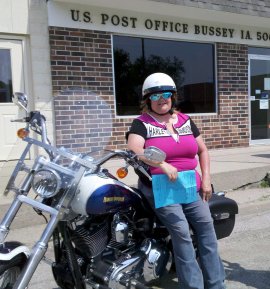 The day was hot standing still, but absolutely perfect when riding. We started with brunch at the Home Plate Diner on Des Moines' east side – we initially consisted of myself and Steve, Garry and Shirley, and Kristin on her new-this-year Road King. We took off to the southeast and stopped first in Carlisle to top off our gas. We lost Shirley at this point due to a stomach bug that was trying hard to get the best of her, and the four of us continued on to Lacona via S23. (This is where Shirley and I had ridden a couple weeks earlier and discovered the First Saturday Biker Lunch.)
The boys took their photos in front of the Lacona Post Office, and we proceeded east to Bussey, taking G76 to the tiny town of Attica at Highway 5. Turned south on 5 and just a short piece to the southeast was the turn-off to Bussey on G71. These county roads were interesting each in their own way – G76 had the feeling of being really isolated to me… very pretty, and not a lot of traffic. And G71 – wow! From Highway 5 you could see about three miles straight down the road to where it veered right into the tiny town of Bussey. Quite an amazing view, really.
We took our photos at Bussey, then a break at a convenience store where we plotted our route to Reasnor. The glitch in the planning was that we couldn't tell whether Highway T17 went all the way through to Pella – there were letters on the map covering part of the road. A silly little detail, but we figured out a Plan A and a Plan B and took off.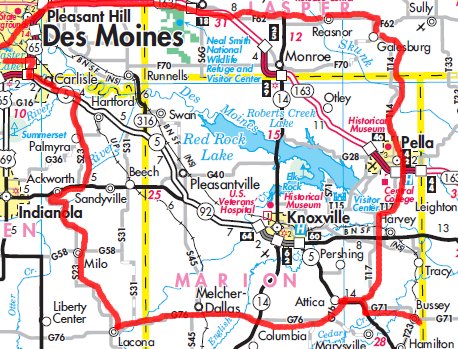 Back out G71 to Highway 5, right turn on Highway 5 just about a quarter-mile to T17, and then north on T17. The primary goal was to get through Pella, and shoot out the other end on T14 into Reasnor. Turns out T17 does indeed go all the way through, and it's really beautiful as well. We hit a detour going through Pella but found T14 (known as Main Street in town – original, right?) and proceeded to the north, where it eventually turned left and became F62 into Reasnor.
And Oh. My. Goodness!! I simply can't say enough about how pretty this ride was – rural homesteads, sweeping curves, greenery everywhere split by the asphalt ribbon (in decent condition, even!), and at either end of every leg of the trip, an Iowa town enjoying a slow-paced Sunday afternoon.
By the time we finished taking pictures at the Reasnor Fire Station, it was about 5 pm. We took F62 westward and picked up Highway 163, which is a four-lane that comes into Des Moines' east side. The whole trip was about 150 miles. I was really glad to get the chance to ride – this first part of the summer has been really rainy, and coupled with the fact that Steve is more focused on getting the Corvair ready for a July 4th weekend car show, my saddle time has been limited!
More soon I hope!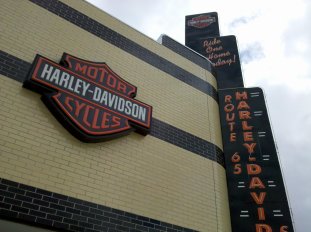 On the one hand, I'm so grateful to finally have a job that I swear I am not complaining. On the other hand, having a job is really cutting into my riding time! Haven't got to do too much on the bike lately, as I am back to waiting for good-weather weekends.
Last week, having watched two glorious blue-sky days go by outside my office window, I did have the bright idea of taking an evening dinner ride, and that was really nice – we rode our old favorite "up around the Lake" loop around Saylorville and then stopped for dinner at our friend's bar/restaurant, Sambetti's, for dinner. The lake level is actually pretty low right now compared to previous years, but the colors are still beautiful coming over the Mile Long Bridge – steel blue water, golden bluffs, and lush green trees.
The whole weekend turned off great weather-wise… Saturday was hot and humid, feeling like it would rain any minute, but not windy. It was the type of day where you felt over-heated standing still, but the moist air was cool once you got moving. I left Steve at home working on his Corvair and took a short ride down to Route 65 Harley-Davidson for their annual Spring Open House, where I visited with Cassie, Marla and Cuddles and then met up with Garry and Shirley.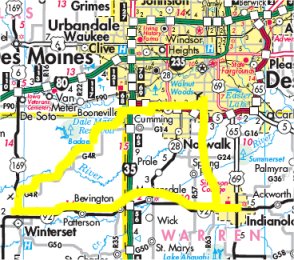 We didn't stay too long (but sure enjoyed our lunch, didn't we?? "HA! YEAH, COPS DO THAT!!" bleated our uncomfortably loud tablemate) but took a nice scenic ride west to Winterset on Highway 92, then north to County Road G4R. Ninety-two is quite nice – one of my favorites of the higher-traffic two-lanes in Iowa – but G4R alternates between lovely smooth asphalt and wretched crumbling cement. Still, it has loads of beautiful curves and well-kept homes lining the way back toward Des Moines via Norwalk. (Later, we realized we had forgotten – !! – the "first Saturday" lunch at Lacona… SO sorry, Erica! We will catch you again before summer's over!)
Sunday was another hot (but beautiful) day, and since we always get a late start on Sundays anyway (what with our traditional brunch and all…), Steve decided to take the afternoon off from the Corvair and go for a ride with me. More on that one later, it gets its own write-up if only to keep this post from being 2,000 words!
What have you been up to? Leave me a comment and tell me the most fun (on the bike – LOL) you've had so far this year!
The Iowa Angels For Sam ride takes place this Sunday, June 12. All proceeds from this ride benefit two families who are fighting cancer: 4 year old Camryn has neuroblastoma and 38 year old single mom of 5, Melanie, has stage 4 melanoma. There will be a free-will offering, poker run, and free food for participants.  Register at Maingate Bar & Grill, E 30
th
& Grand Ave. in Des Moines starting at 9 a.m.  The ride leaves from Main Gate at 11 a.m. with stops at Hartford Sportsman Club in Hartford, Rib Shack in Pleasantville, and Norwoodville Inn with free lunch.  Buses are available for non-riders, $15 per person.  If you have questions or want to register for the bus, visit the
Angels for Sam Facebook page
or call
515-238-3072
begin_of_the_skype_highlighting
515-238-3072
end_of_the_skype_highlighting
Selected via Random.org, the winner of the J&P Gift Card is….
Comment #4, Froggi Donna!
I honestly wish I had more of these to give away – I REALLY enjoyed reading everyone's comments and I appreciate each of you popping in to enter the contest!
UPDATE: The J&P Gift Card Give-away ends at 10 pm central, June 8! Click the link below for your chance to win!
Just a quick reminder that the J&P Gift Card Give-away ends June 8! Click here to enter for you chance to win!
A few years ago, I created a list of must-have accessories – my favorites at the time were a windshield, loud pipes, hand grips, saddle bags, and bling. That post just might be due for an update soon… I've since learned that a luggage rack, rider backrest, and highway pegs are pretty important items too, at least for me. Fortunately, one of my favorite retailers offers all of this and more. And, even better: they've once again invited me to give away a gift card!
J&P Cycles wants to give a $25 gift card to a lucky winner from Biker Chick News! If you'd like to be in the drawing to win, just leave a comment on this post with your answer to the question: "What's the best accessory you've added to your bike?" If you haven't added any, you're not doing it right! just leave a comment so I know you'd like to win!
The winner will be chosen via random.org on June 9, so leave your comment (one per person) before end-of-day June 8. And, be sure to include your email address when you fill out the comment form so I can contact you if you win! I promise not to share the email addresses.
J&P is a leading retailer of after-market motorcycle parts for Harley, Yamaha, Honda, and other makes/models. They have specialty lines for vintage and racing bikes, too. AND – every year they host a fantastic Open House weekend at their Anamosa, Iowa location. So come on up, down, or over June 25 and 26 to the 2011 event!
And, don't forget to leave your comment on this post to be eligible to win the gift card!
Disclaimer: As with the previous J&P Give-away, I was not compensated to promote their company or their website. In exchange for the links I've given them above, they are giving a gift card to a BCN reader.