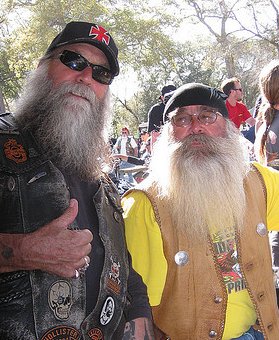 Time once again to share some of the nifty bits I've found traveling around the bike-related Internets… thought you would enjoy my latest finds!
First up, check out this post on Iowa Harley Girl's blog, inviting entries in her "Best Beard" contest! Entries due March 31, AND a prize for the winner!
The latest issue of Helmet Hair Magazine (an excellent online quarterly) contains a wonderful round-up by Petra Baer of V-Twin Mama of stories from women who talk about the moment when they realized they were having fun riding their motorcycles – instead of battling the butterflies. (Also be sure to check out the Helmet Hair Reader Poll results!)
If your non-profit organization is looking for a fund-raising idea, consider what Giveacar in the U.K. and many other organizations in the U.S. are doing (one that's local to me is called Teen Challenge): folks donate used cars, bikes and other vehicles which are then either scrapped or sold by the organization, thus turning used vehicles into cash for the charity. And if you have a bike you'd like to donate, it shouldn't be too hard to find a local or regional group willing to take it. Even junk vehicles are widely accepted. In addition to raising money for a good cause, you're also helping to lessen the environmental impact of a junked or non-operating vehicle. "We want to make sure that as many people as possible are aware of the environmental benefits of motorcycle donation," Dan Frank of Giveacar told me.
I've recently found a new way to enjoy Twitter, with the discovery of a web doohickey called Paper.Li. PaperLi gathers up all the links shared on Twitter by the people I follow, and collects them into a daily digital "newspaper" ("newspage"?) so I can read the articles, see the photos and watch the videos without having to scan through my whole feed. Since the folks I follow are not all bikers, and since even those who are bikers have a wide range of interests, the daily round-up is actually an eclectic selection of links on a variety of topics. To see what my friends are sharing on Twitter, check out the Biker Chick News Supplement.
Finally, my hubby Steve discovered this Honda commercial on Youtube recently, featuring a VERY young John Travolta. Enjoy!
P.S. – the awesome photo above of two dudes and their beards is from the Flickr stream of Janeyesee.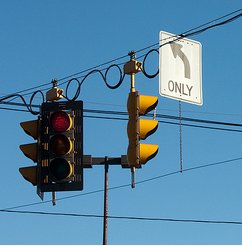 Have you ever been on the bike, sitting at a red light and anticipating the green, only to sit there… and sit there… and sit there… for minutes on end, realizing that the light is on a sensor and hasn't detected you? And worse yet, it's obvious no one's coming in either opposing direction… but you're stuck because the only option seems to be to run the light?
Have you ever gone ahead and run the light?
In today's culture and political climate, you're more likely to see a personal liberty taken away than restored. That's why I'm astounded that the Kansas House of Representatives actually approved a measure recently allowing motorcyclists, at their personal discretion, to run "dead red" stoplights.
That's right, the government decided that motorcyclists were capable of making a decision affecting their own safety.
Here's a link to the story as run at KMBC, the local ABC news affiliate in Kansas City.
Even more surprising to me is that the state of Missouri has had this provision in place since 2009. Perhaps other states already do as well.
Of course, with such a provision comes the responsibility to use it the way it's intended. It would not, in my opinion, give bikers the right to treat the light as a stop sign ("stop, look, and go if it's safe"). It would, however, allow you proceed through an intersection where you've been waiting and it has become obvious that the light's sensor doesn't detect you.
I would certainly support such a measure were it proposed in the legislative bodies here in my home state, and I'll be watching with interest to see what happens to the measure in Kansas going forward.
Stoplight photo above is from the Flickr stream of Kris_who.
I have posted this video just about everyplace I can think of and wanted to be sure to share it here. Enjoy… and dream!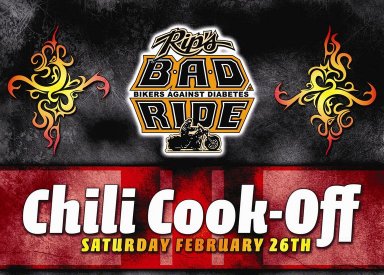 If you're looking to spice things up a bit before Spring hits, be sure to indulge in the Rip's BAD Ride Chili cook-off coming up February 26 at the American Legion Post 232 in Polk City, Iowa.
Celebrity judges will pick the overall winning chili and spectators will pick a "People's Choice" winner as well. Cooks can enter their favorite chili recipe for a $20 entry fee and must reserve their spot in the cook-off by Wednesday, February 23. Competing chili must arrive at the Legion Hall by 10:30 a.m. on February 26th. Visit http://badride.home.mchsi.com/ for an entry form.
Spectators enjoy all-you-can eat chili samples with a $5 admission fee beginning at Noon, and can enter to win a 50/50 raffle.
Awards begin at 2:45 p.m., and all proceeds from the event benefit the American Diabetes Association of Iowa. The American Legion Post 232 is located at 114 E. Broadway in Polk City.
Be sure to also mark your calendar for Saturday, October 1 to participate in the 2011 Rip's BAD Ride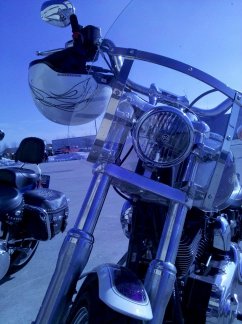 Quite the unexpected treat on Thursday – the first ride of the season! We didn't go far, but the streets were (mostly) dry and the temps made it all the way into the upper 60's, so we were able to get about 40 miles in along with a visit to Route 65 Harley-Davidson in Indianola.
It's always a bit of a gauntlet as things start to thaw, what with newly-revealed potholes, patches of traction sand that haven't yet washed away, and other drivers who simply are not on the lookout for bikes at this time of year. And of course, we know it's just way too early to sustain the warm weather, even though the giant rodent did predict an early Spring. Still, this is the earliest "first ride" in several years, and I was elated to be able to take advantage of the beautiful – if short-lived – ride friendly weather.
(As promised, here is Shirley's second ride report from the Hill Country of Texas. For awhile there she was enjoying record cold, but being Iowans did have one distinct advantage: when the pipes froze in their cottage at their Kingsland campground, her hubby Garry knew the drill and had their running water restored in a jiffy! This report on their ride through the Willow City Loop makes me yearn for the twisties!)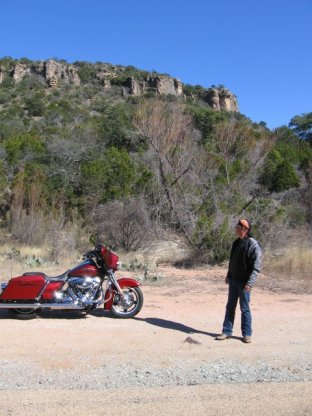 by Shirley P.
January 27, 2011 – We were lucky enough to get two days in a row with 70+ temps so mapped out a couple of rides.  On the 27th we took off about noon for the Willow City Loop. Starting from Kingsland we took 1431 to the west side of town and picked up county road 3404.  This is also called Slab Road for the very reason that it dips down across a low lying portion of a river with huge slabs of granite that you can walk across.  Once you cross the "slab" it is about 7 miles of country road to Hwy. 71 and then another 10 miles or so to the intersection of Hwy. 16 in Llano.  This is where we always gas up before we start the long part of the journey.
Both 71 and 16 are two lane highways with 70 mph speed limits and very few passing zones so to be honest neither are my favorite routes… but I digress!  Once you hit Hwy 16 it is approximately 18 miles to the Willow City Loop turnoff.  The turnoff is on the left and the signage is easy to miss, so if you go, be alert and on the lookout!
The loop begins with a sign that says "Loose Livestock" and they aren't kidding. The road is curvy, sometimes truly winding, and on a couple of occasions it's an up & down ride through granite outcroppings on one side and cactus and cedar on the other.  There were only a couple of places that we felt comfortable enough to pull over and take a few pictures.
We saw maybe three ranches or homesteads and couldn't begin to figure out how to get to one of them!  The sign was right, no fences or pens, cattle simply roam – but we didn't have to stop for any in the road so not a problem at least on this day.
You exit the loop on State Road 1323 and it is a short 3 or 4 miles back to 16. One of our favorite finds was the Knot On The Loop Saloon just as we turned west after exiting the loop. (Like idiots we took pics of the inside but not the outside.) This is a small bar/cafe where we ate a really good cheeseburger that was absolutely loaded with tomatoes, pickles, onions and lettuce.  One drink and we were on our way home.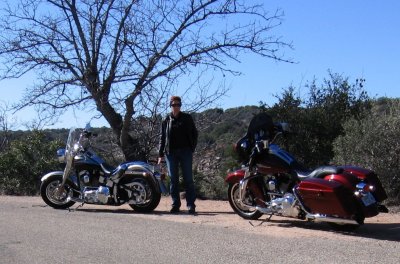 The first 4 miles or so back on Hwy 16 is very up and down and sharply curved.  This is a main route into Fredericksburg and is heavily traveled.  Apparently the locals don't pay a lot of attention to the 70 mph speed limit but really only had one jackwad in a big black truck try to run us over before things straightened out a bit. Hwy. 16 back into Llano where you can reverse the ride out or take 16 on to Hwy. 29 for another 13-14 miles and catch 1431 for the last 7 miles or so into Kingsland.  (This is the route we took because stopping at Pat's bar for a quick one on the way home has become a nice tradition.)
On Friday the 28th we took a similar route to see and climb the Enchanted Rock at Enchanted Rock National Park – that's coming up in a future report!
(Editor's note: THANKS, Shirley, for a great write-up and pictures!!)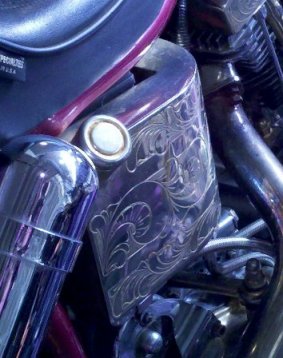 For most folks, robins and crocuses (crocii?) are the signs that Spring is just around the corner. For me, I always seem able to breathe a big sigh of relief as soon as the annual Capital City Motorcycle Swap Meet and Custom Bike Show has passed – which, thankfully, happened this weekend.
After a pretty good stretch of bitter cold (and major snow), it was in the 40's and low 50's this weekend so it was great to get out and "think bikes" if even for a short time. (Our driveway is a treacherous layer of ice now with all the melting snow so couldn't get the bikes out just yet. I fully expect to be able to take at least a short ride sometime next month. )
We haven't actually needed any bike parts for quite some time, but the swap meet is more of a social thing anyway that just gives us a chance to get out of the house and walk amongst all those folks who are part of the local scene that we haven't seen all winter long.
Two gripes this year: TEN BUCKS to get in (up from $8 last year – I wonder if there are restaurants that charge you to get in to read the menu?)… and the "bike show" seems to be getting smaller. (Still, I know it can't be cheap to rent the venue for this event, so I'll give 'em a pass this year. LOL)
One thing I do like about the bike show – it's not all about your typical "show bikes." There are always some really interesting, highly personalized bikes, cleaned up as best they can be but not necessarily picture-perfect and not always showing the latest design trends or elements. And of course a few newer customs as well.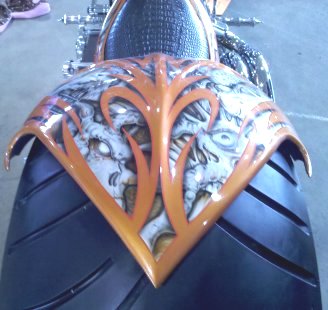 On a personal note, after doing great at my new job for about 60 days, all of us newbies got laid off on Feb. 11 – so I am once again unemployed. I can't believe it, and I'm extremely disappointed. I really liked the work, the co-workers, the customers and the company. But I am once again pounding the pavement looking for work. One thing I learned though – I can step into a completely new field, learn a job, and like it. I don't have to be doing the same stuff I've been doing for 25 years to be productive and happy. Maybe that will make my new search less stressful (and shorter)!
Also, coming up on the blog – my friend Shirley (who tried to "winter in Texas" but ended up taking a lot of the Iowa cold with her) has been able to take a few more scenic rides and she has sent me info and pictures. So – more ride reports coming soon!