Bits 'n pieces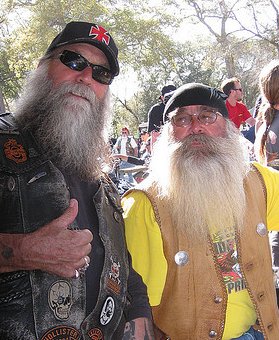 Time once again to share some of the nifty bits I've found traveling around the bike-related Internets… thought you would enjoy my latest finds!
First up, check out this post on Iowa Harley Girl's blog, inviting entries in her "Best Beard" contest! Entries due March 31, AND a prize for the winner!
The latest issue of Helmet Hair Magazine (an excellent online quarterly) contains a wonderful round-up by Petra Baer of V-Twin Mama of stories from women who talk about the moment when they realized they were having fun riding their motorcycles – instead of battling the butterflies. (Also be sure to check out the Helmet Hair Reader Poll results!)
If your non-profit organization is looking for a fund-raising idea, consider what Giveacar in the U.K. and many other organizations in the U.S. are doing (one that's local to me is called Teen Challenge): folks donate used cars, bikes and other vehicles which are then either scrapped or sold by the organization, thus turning used vehicles into cash for the charity. And if you have a bike you'd like to donate, it shouldn't be too hard to find a local or regional group willing to take it. Even junk vehicles are widely accepted. In addition to raising money for a good cause, you're also helping to lessen the environmental impact of a junked or non-operating vehicle. "We want to make sure that as many people as possible are aware of the environmental benefits of motorcycle donation," Dan Frank of Giveacar told me.
I've recently found a new way to enjoy Twitter, with the discovery of a web doohickey called Paper.Li. PaperLi gathers up all the links shared on Twitter by the people I follow, and collects them into a daily digital "newspaper" ("newspage"?) so I can read the articles, see the photos and watch the videos without having to scan through my whole feed. Since the folks I follow are not all bikers, and since even those who are bikers have a wide range of interests, the daily round-up is actually an eclectic selection of links on a variety of topics. To see what my friends are sharing on Twitter, check out the Biker Chick News Supplement.
Finally, my hubby Steve discovered this Honda commercial on Youtube recently, featuring a VERY young John Travolta. Enjoy!
P.S. – the awesome photo above of two dudes and their beards is from the Flickr stream of Janeyesee.