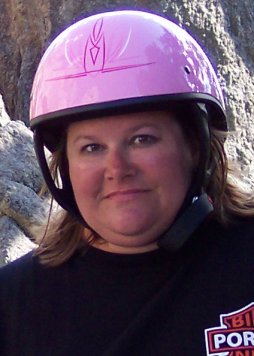 Last spring I said farewell to my beloved partner-in-crime, the Picky Bitch. Well, this riding season I will be bidding adieu to another longtime riding companion – my pink Fulmer helmet, which I acquired in… hm, I think early 2006.
So why'd I replace such a great piece of equipment? Well, for one thing the Motorcycle Safety Foundation suggests that a helmet's protective qualities may deteriorate over time. They also recommend replacing your helmet every few years (or immediately if it has been dropped or damaged) because new materials are always in development that improve the weight and functionality. I also happened to receive a beautiful new pearl-white helmet as a Christmas gift.
I'll introduce you to the new lid in a future post, but right this second I wanted to just acknowledge that the pink helmet has served me well: It protected my noggin when I dumped the bike in the mud over in Guthrie County one day… it served as a homing beacon for friends riding behind me through the chrome clot of Hulett, Wyoming on No Panties Wednesday… and on at least one occasion, it was the way someone at a rally recognized me ("You ride with a pink helmet, right?").
With the arrival of the new helmet, the question arises of what to do with the pink one. I'm sentimental enough that I hate to throw it away, but it really wouldn't be any good to someone else given its age. Maybe I'll hang it on the wall in our basement bar as a memento. Or maybe hang it upside down on the porch with a philodendron in it. Anyway, suffice to say it's seen more than a few great adventures.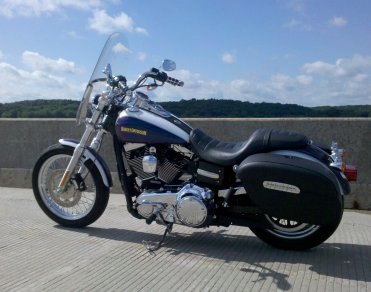 Call me egotistical, but I enjoy re-visiting old posts on this blog for a variety of reasons. Primarily, I'm able to live vicariously through my own adventures in those times (*cough* JANUARY *cough*) when snow, ice and cold make it impossible to actually enjoy the bike.
There've been a few times when having such a complete log of my riding experiences has actually been beneficial – for example, just the other day I looked up the exact dates of the "first ride of the year" for the past several years, because I wanted to say something on Facebook. And, I used the log of our 2006 Sturgis trip to help plan our 2009 Sturgis trip.
Although 2010 was a year where I didn't ride nearly as much as I wanted to, there were still some great adventures to be had! Here are a few highlights:
In all, a pretty good year. And, rest assured I've got some fun stuff planned for 2011, both on the road and on the blog!
How about you? What was YOUR favorite riding adventure of 2010? Tell us about it in the comments!
Here's a list of some 2011 bike-related events that you can use to plan your riding year. The list is focused on central Iowa since that's where I'm based, but includes some national events as well. If you have something you'd like to add, just send me an email with complete info to janet@bikerchicknews.com. I'll determine whether to post it here or over on our Facebook page!
Capital City Custom Cycle Show & Swap Meet: February 12-13, 2011, Iowa State Fairgrounds. (Call 712-262-8910 for info)
Daytona Bike Week: March 4-13, 2011, Daytona Beach Florida.
Indianola Bike Night: Third Friday, April – September 2011, Indianola Iowa.
Conesville Hog Rodeo: Memorial Weekend 2011, Conesville Iowa.
Sturgis on the River Motorcycle Rally: June 15-18 2011, Davenport Iowa.
Awesome Biker Nights: June 16-18, 2011, Sioux City.
J&P Cycles Annual Open House: June 25-26, 2011, Anamosa.
Abate Iowa Freedom Rally: June 30, July 1-2 2011, Algona Iowa.
Iowa State HOG Rally: July 14-16, 2011, Pella Iowa.
Sturgis Motorcycle Rally: August 8-14 2011, Sturgis South Dakota.
Hawgstock Motorcycle Rally: August 18-21 2011, Winterset Iowa.
Bikes Blues & BBQ: September 28-October 1 2011, Fayetteville Arkansas.
Rip's BAD Ride: October 1 2011, central Iowa.
Biketoberfest: October 13-16 2011, Daytona Beach Florida.