Dog days ride to Lake Red Rock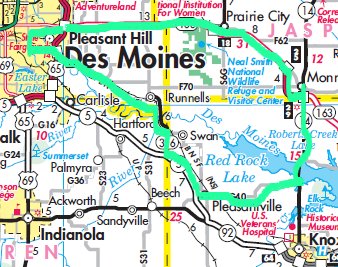 I don't know about you, but the second half of this summer has been brutal for us. July was hot, humid and horrible… I tried not to complain too much just because I remember what the winter was like… still, it sure made it unpleasant to ride, so we didn't for much of the month.
Then in early August we had a sad distraction of a different type: my mother-in-law, Betty, passed away unexpectedly. Although my husband Steve has three sisters to share in the tasks associated with final arrangements, there was so much to do. We got it all done, but the sadness remains – Betty was a really neat lady and I loved her a lot. It really zaps your energy, and breaks your heart, when something like that happens.
We did manage to make it to the Harley Owners Group (HOG) meeting in mid-August, which doesn't really count as a "ride" because it's just up to the dealership and back.
BUT, aside from that, we took a really pleasant ride back on August 8 that I wanted to mention.
First off, we got to ride with Kristin and Howard – had not got to do that for a LONG time! And, also met a great gal named Diane who is friends with both of them, and she went along with us too.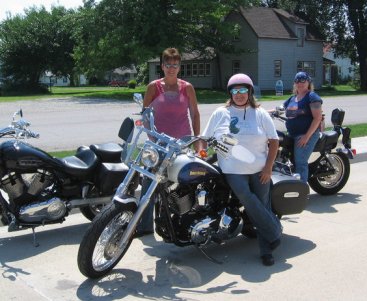 Second, it was HOT – we'd had a few days of fairly decent weather leading up to the 8th, but the 8th itself was one of the hottest days of the year. (Fortunately, the humidity wasn't as bad as it could have been so we didn't actually MELT. But, I'm pretty sure you could've cooked eggs on our gas tanks…)
Diane had to be at work by 4, and we didn't get going out the driveway til around 2, so we decided to just head toward Lake Red Rock for an hour, then turn around and come back. Lake Red Rock is southeast of us, another lake in the chain of Army Corps lakes and dams that runs through central Iowa. We don't get down there as often as we get up to Saylorville to the northwest, but we've had a couple of nice rides in that area.
We took Vandalia Road in Des Moines to the southeast to Highway 318 (same route we took to Swan the day Janet almost got forked in Columbia), then south to Highway 5, and took the turn-off through Pleasantville, which connected us to a county road called G40 – very pretty, but hot… we rode over the Lake Red Rock Mile Bridge and on to a Casey's General Store in Monroe, where we stopped for a break.
I'm pretty sure after this stop that I never want to be on Diane's bad side, because she almost kicked the Casey's Guy's butt because he wouldn't give her back her nickel deposit on the soda she bought right there in the store. "We're not a redemption center," he told her, and added that for him to give her back her nickel she'd have to buy five bucks more worth of merchandise.
Now I am not certain what Iowa's bottle deposit laws are, but it sure seems to me that if you sell the soda and take the nickel deposit, you should have to give back the nickel without requiring additional purchase – especially if the soda is consumed right there in the store, while-you-wait. Casey's Guy even boldly pointed to a uniformed officer in the checkout line (we were just down the road from the women's state correctional facility) and said, "He's in corrections, he'll tell ya." This was extra funny for a reason I won't go into, but suffice to say that for him to point to a womens' prison guard and imply that said prison guard was a bottle law expert was particularly funny given what Diane does for a living.
Anyway, Diane good-naturedly avoided a confrontation with Casey's Guy and with the prison guard, and it was time to head home. We took the quick way back along US 163, which becomes University Avenue once you hit Des Moines, had a quick cold one at one of our favorite watering holes, then rode the last few blocks home.
Just a couple hours' worth, but very nice to be out and about again on the bike. (Thanks, Diane – it was great to meet you, and I hope we get to know you better!) I've got to get back into some sort of regular riding – holy crap, it's almost Fall!