Update 4/3/10: The Picky Bitch is no longer for sale.
Well it's a bittersweet Spring for me – as you probably know, I bought a 2007 Harley Sportster 1200 Custom late last summer. The bike is great and I am really enjoying it. But, it means that I must sell The Picky Bitch. And that kinda hurts, because she's the bike that gave me nearly all the adventures I've shared on this website! So before I lose my nerve, here's the official announcement: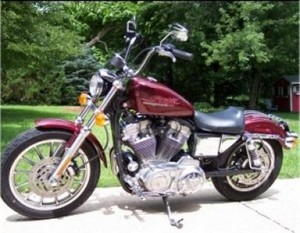 The Picky Bitch is for sale! She is a 2000 Harley Davidson Sportster 883 in Luxury Rich Red with just under 15,500 miles and is located in Des Moines, Iowa. This bike was perfect for me since Day One – always lady-owned, lowered front and rear and set up perfectly for shorter riders like me! (Of course, you can raise her back up if you aren't vertically challenged!)
She's in great shape, clean and shiny, with brand new tires front and rear. (No kidding, less than 50 miles on 'em!)
She's got forward controls, mini-ape handlebars, 11-inch Progressive shocks, and drag pipes, plus lots of extra chrome.  I thoroughly enjoyed owning and riding this bike, but now it's your turn to have some adventures with her.
Asking $4,600 or reasonable offer – sorry, no trades. See all the pictures over on Webshots. Any questions, just send an email to janetgia@yahoo.com.

I bought a Motorola Droid for use with my Verizon wireless service this past weekend, and discovered a neat website called www.womenwithdroids.com. What I noticed was that the site had a "mobile edition" that appeared by default on my new phone, while still giving me the option to view the full site in a browser. I loved the idea of offering a fast, slimmed-down version of the blog content on the small device, so decided to create one for BCN.
So – if you're visiting Biker Chick News on an iPhone, Droid, or other smart phone, you're probably getting our new mobile edition! I'm excited to provide this feature – it offers "just the basics" of BCN in an easily readable format for smaller screens:
The top 10 most recent blog post headlines – a click takes you to the full articles complete with photos.
Links to the full "About" and "Archive" pages
The text of the "About page" in its own little box.
A link to exit the mobile edition and view the full website.
Of course, the full site includes so much more – that's what your device's web browser is for – but for a quick and easy way to keep up with the blog, hopefully you'll dig BCN Mobile.
(By the way, if you blog using WordPress and have the capability to use plug-ins, try the plug-in available from AlexKing.org which auto-generates the mobile edition.)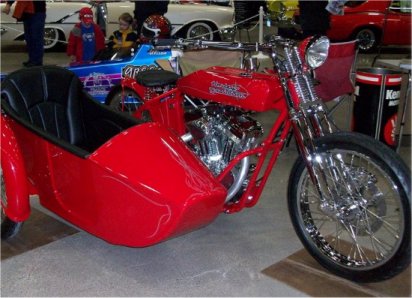 While last Sunday I was celebrating the arrival of Spring by taking the first ride of the season, this weekend we watched with amusement as Mother Nature tried to stick us with another 4 inches of snow. She succeeded on Friday night, but today is Sunday and it's all gone already – so, "nice try, Old Girl, but better luck in December."
The family and I did take advantage of an indoor activity on Friday night – the "World of Wheels" hot rod and custom car show.
Now car shows are nothing new to us – my husband has been a car nut forever, and for many years we were very active in the car show scene around Iowa and through the National Street Rod Association. (Talk about great road-trip stories – we were just reminiscing not too long ago with Garry and Shirley about the trip we took to a show in St. Paul, which was followed by a week of traveling to another show the following weekend in Pueblo, CO. What a blast!)
Anyway, we saw some ads on TV for this show – it promised special guest appearances by Chip Foose and Henry "The Fonz" Winkler – so we decided to go. (Hey, what gal who grew up watching "Happy Days" wouldn't want to spend Friday night oggling The Fonz? Fortunately, our daughter also knows Winkler through HD re-runs and for his role in the movie Holes, so it wasn't a tough sell.)
It was dumping a nice snow by the time we arrived, but that was okay because I think it kept the crowds at bay. We got lucky with a close parking spot, hustled in through the snow to the exhibition hall, stepped up to buy our $13-apiece tickets (yes, almost $40 to get three of us in!), got the tickets… and THEN looked up to see signage that said Chip and the Fonz would NOT be there until Saturday.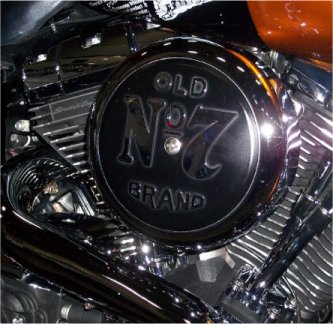 Well that was a downer, but by then we already had our tickets so in we went. It took the best part of about 3 hours to see the whole show, including a 20 minute dinner break. LOTS of really cool cars, some showpieces and some "rat rods," and also several bikes. I took a TON of photos – you can see them all in the World of Wheels album over on Webshots – but here are a few of the highlights:
For Stephanie, there were many examples of the mid-50's Bel Airs and pickup trucks – rest assured if there are photos in the album of a tri-five Chevy, Steph took them. She has very good taste!
A couple of really cool conversion vans – yes, that 70's trend is hangin' in there! – the neatest of these having a deep blue "Pirates fo the Carribean" theme.
Several nice motorcycles, including a custom vintage-looking red Harley with a sidecar, a restored  '45 Flathead, and a neat old-school looking custom Sporty with deep red metalflake peanut tank.
A pair of veterans who had built commemorative vehicles honoring fallen vets.
A 1911 Stanley Steamer.
A cool little Ford Festiva cut into a pickup truck, complete with matching trailer.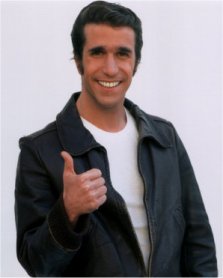 SO much more!
We had a nice few hours of family time walking around looking at the cars – neat to see our daughter taking an interest in some of the details her dad was explaining about the Bel Airs (of course, now she wants him to help her build one – nice!).
I just wish The Fonz had been there, because the weather was just nice enough the rest of the weekend that he might have been disappointed with the turn-out of his Iowa fans.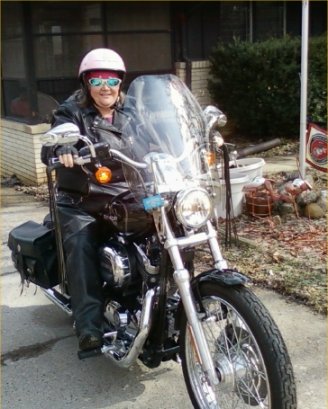 Take THAT, Winter – I have officially taken the first ride of the new season before going stark raving mad, and that means I WIN!
Well now, don't I feel better! As you may have guessed, I got to take a ride today – the FIRST ride of 2010! What a blast… a relief… a pleasure.
Accuweather predicted 54 degrees today, and since the sun was peeking out periodically I decided to step out and start the bike – you know, just to hear the rumble. Well she started right up so I rolled her out into the driveway and puttered around a bit… took my rain suit out of the saddle bag and folded it all back up into it's self-contained pouch (that was a victory in itself – do these things EVER fit back in the pouch??)… cleaned the windshield, held my new gauge trim ring up to where it will be positioned to see what it will look like (SA-WEET!).
The sun seemed to be hanging around so I decided to go ahead and take a short ride. Past experience has shown that 54 might be a fine temperature for working out in the yard, but on the bike it's damn chilly. So I went in the house and gathered up all my leather gear. Glad I did – I ended up going a little farther than I originally planned, about 60 miles total, and most of it was highway.
I headed south down Fleur Drive in Des Moines, which is a nice four-lane that goes past the airport on the South side of Des Moines. At the south end of the airport I headed west on Army Post Road, down to Highway 28, and turned south. This road goes through Norwalk and then Martensdale, and ends at Highway 92. Took 92 east to the point where a nice county road (R63) intersects, and then took R63 back up to Des Moines. In the city, this road becomes S.W. 9th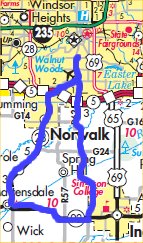 Street which is another major north/south road.
The problem with S.W. 9th Street – and with much of Des Moines – is potholes. Man, they are killer this year! I managed to complete that obstacle course and made it home safely… rode about 60 miles total, definitely feeling the chill but SO glad to have had the opportunity!
Riding season is here so Old Man Winter can officially kiss my *ss!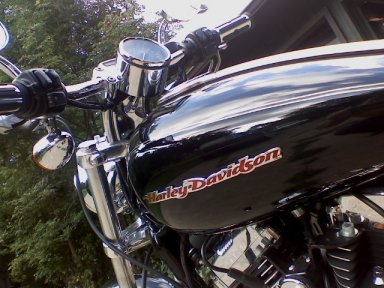 A couple of years ago I posted a piece on how to prep the bike for the first ride of the season, with tips courtesy of our local dealership. This year, I noted a round-up of bike cleaning tips in the latest issue of the Harley Owners Group magazine, HOG, and thought they were worth sharing.
Two caveats: of course, the article itself was full of references to and recommendations for Harley-branded cleaning products. I don't personally invest in all of those, but I do admit I really like their "Sunwash" product.
And, there are likely tips and techniques you've gathered over the years that work best for you – maybe you don't feel the need to baby the bike so much and just want to occasionally get the bugs off. That's cool (because that's honestly how I do it)… but the only hard and fast rule of bike cleaning should be this: "First, do no harm."  Meaning: sometimes it's good to just recalibrate your brain and make sure your bike-cleaning short-cuts aren't causing damage.
So for what they're worth, here are some bike-cleaning don'ts offered up by The MoCo.:
Don't use a pressure washer – the garden hose works just fine. (I guess this means I should stop takin' it to the car wash.)
Don't get dirt in your cleaning products – I think this means if you drop the polishing rag on the ground, get a different one.
Don't use rags that contain nylon – because it's abrasive. They recommend micro-fiber, which for the record, I hate.
Don't use common household detergents – again, because they're abrasive and have chemicals that can react with your bike's surfaces.
Don't wash your windshield with gas station fluid, which is formulated for glass.
Don't blow dry your bike with a leaf blower – because they blow dirty air. That's assuming you use the same leaf blower you use in the yard. Maybe if you had a leaf blower just for the bike?
Don't use car products on your bike – or at least, read labels carefully.
Don't use nylon scrubbing tools on your bike.
Now it's your turn: Add your bike-cleaning Do's and Don'ts in the comments!