Update 4/3/10: The Picky Bitch is no longer for sale.
Well it's a bittersweet Spring for me – as you probably know, I bought a 2007 Harley Sportster 1200 Custom late last summer. The bike is great and I am really enjoying it. But, it means that I must sell The Picky Bitch. And that kinda hurts, because she's the bike that gave me nearly all the adventures I've shared on this website! So before I lose my nerve, here's the official announcement: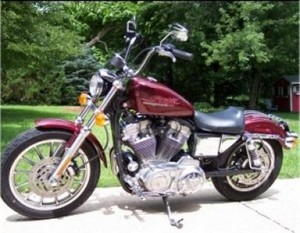 The Picky Bitch is for sale! She is a 2000 Harley Davidson Sportster 883 in Luxury Rich Red with just under 15,500 miles and is located in Des Moines, Iowa. This bike was perfect for me since Day One – always lady-owned, lowered front and rear and set up perfectly for shorter riders like me! (Of course, you can raise her back up if you aren't vertically challenged!)
She's in great shape, clean and shiny, with brand new tires front and rear. (No kidding, less than 50 miles on 'em!)
She's got forward controls, mini-ape handlebars, 11-inch Progressive shocks, and drag pipes, plus lots of extra chrome.  I thoroughly enjoyed owning and riding this bike, but now it's your turn to have some adventures with her.
Asking $4,600 or reasonable offer – sorry, no trades. See all the pictures over on Webshots. Any questions, just send an email to janetgia@yahoo.com.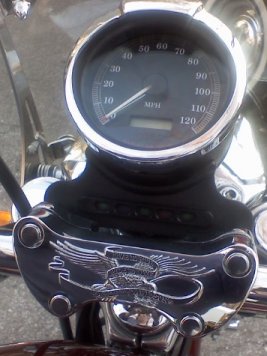 Thought I would just show off the new configuration of my speedometer. I've never been crazy about the black, pebble-textured speedo housing. And, we found after we put the pullback risers on that the speedo was sitting at an angle where I could barely read the speed and couldn't read the mileage at all. So a new configuration was needed.
Steve turned the black housing around so that a bend in the shoulder area would put the speedo at a better angle. He switched out the original black handlebar bracket for a chrome "Live to Ride" version, and bought the neat chrome bezel as well. The problem was, the black housing was supposed to lay on top of the chrome L2R bracket, and when it did, it covered part of the eagle design. Steve's solution was to bolt the speedo housing to the back of the chrome bracket rather than the top.
The whole thing required a little fabrication on the housing as well as a re-setting of the lights that go across the shoulder piece, and some further noodling to figure out how to show the entire eagle design. What's neat about it is that the black housing really fades into the background, while the chrome bezel and bracket kind of pop forward, visually. I'm not sure I've accurately described it, but the whole setup looks really neat. The L2R bracket matches two other L2R items I have on the bike.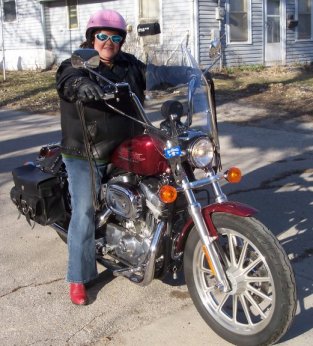 Took me a few days to get it posted to the blog, but I did get to go on a very short ride on… hmmm, think it was Monday of this past week. Just a couple miles, but had to get out as it was really nice out and I hadn't had a chance to test out my new pullback risers that we added to the ape hanger handlebars a few weeks ago. One of these days soon I'll pull the bike out into the driveway and take pictures of all the goodies that got added this winter – the bike doesn't look drastically different from 10 feet away, but the details are sure looking good!
We took advantage of the 60-degree temperature on Sunday as best we could… putting all the chromey bits on the Picky Bitch that I'd gotten for Christmas! Here's what we added:
Belt guard cover
Front axle nut covers
Rear master-cylinder cover
Pullback risers
A note on the pullback risers… last fall, my wonderful husband purchased and installed Ape Hanger handlebars for me (you might remember the story about how I didn't seem to notice!). I noticed after a little riding that my shoulder blades were kind of aching, so we talked about pullback risers. The bike is looking awesome with the risers on there, so I'm really hoping those solved the shoulder-blade problem. Guess we'll see… in a MONTH or more! (What IS IT with this @#$ winter??)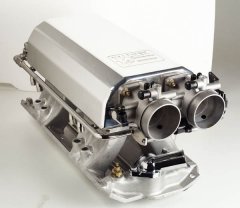 My husband tells an amusing story about how, one year with a previous wife, he was building a custom car. He decided, since he viewed it as "their" car, that it would be a wonderful idea to give her car parts for Christmas.
Now I am not here to debate the wisdom of that idea. I am only here to point out that she is, in fact, a previous wife. And that perhaps if he wonders why, he should think back to the festively wrapped box he gave her that ended up containing a chrome tunnel ram.
Now since he freely admits that 25 years later the incident is still painful, I imagine there was perhaps the teensiest bit of trepidation about giving me motorcycle parts for Christmas.
But he needn't have worried – the lower master cylinder cover, the front axle nut covers, and the upper belt guard are welcome additions for The Picky Bitch. I love you, honey, you are welcome to give me chrome for Christmas any time!
(Googled photo courtesy of Walker Performance.com.)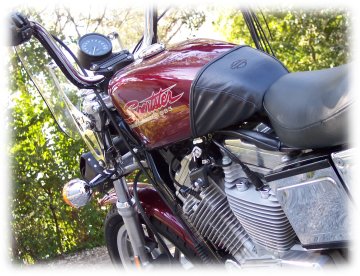 On Monday of this week it was an absolutely unseasonably amazing day, with temps in the upper 60's. Did I ride? No, and I even had the afternoon off! But, my dad's in the hospital and I needed time to do some errands for him, so I didn't get to take advantage of the late-season riding weather.
Now it's Friday and we've got a little over an inch of snow on the ground – ah, Iowa!! The snow means that I'm now working on my over-winter plan for The Picky Bitch… I talked about this last year and didn't make any progress, but hopefully this year will be different!
PB is actually a lot like me: a little rough around the edges, a few dings here and there, but a good ol' gal that works hard and appreciates a good makeover now and then. So this winter I'll be on a quest to provide her with a few of those baubles, in an effort to transform her from workhorse to chrome-dressed glamour-girl! 
The plan also includes a new paint scheme, but that will mean big bucks so I'm not sure that will happen this year. At this point all I have is a plan on paper… but like gardeners with their seed catalogs, you can bet I'll be spending at least a few nights this winter snuggled on the sofa with my HD parts book, dreaming about rolling the PB out of the garage next spring slathered in chrome!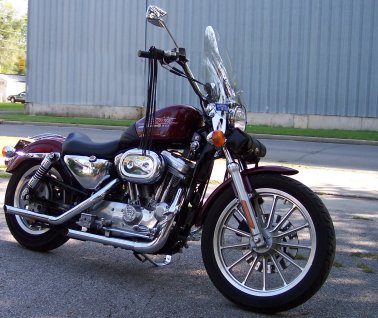 Okay so funny story… on Saturday, 2 days before my birthday, we're going on a ride down to Indianola to the Route 65 Harley open house. I back my bike out of the garage, pull the choke out to warm it up… everyone's standing around waiting for me as usual. Once the Picky Bitch is warmed up, we saddle up and Steve, Kristin and Hollie and I all head out. I notice that my bike felt kind of funny – different, but not sure how… when I turned that corner off the side street, it felt like my arms were "going wide" to make the turn. And then going down Holcomb St. toward 2nd Ave., my arms felt like they were in a different position. One more turn onto 2nd Ave. and I know something's different, but still don't know just what. So as I'm heading down 2nd Ave., I notice my arms are actually sitting higher… and my hands are actually parallel to the ground instead of at an angle… I'VE GOT NEW HANDLEBARS! 
Yep, Steve had bought and installed new ape hanger handlebars for my birthday, and it took me THREE BLOCKS to figure it out!! LOL Since I was in the lead I took everyone into a parking lot where I stopped and got off the bike and gave Steve a big hug and kiss… I hope he knows how much I really like them, they are really comfortable! Now all I need to go with them are the Kuryakyn ISO Grips (with Throttle Boss, of course)… and maybe a chrome belt guard… oh! and today up at Big Barn HD we saw a neat seat – the Reach Solo Seat for Sportster… yeah, kinda like getting new drapes – now the living room furniture doesn't match!
The last ten miles of the Estrogen Ride turned out to be a challenge for me. It was a simple matter of coming into Des Moines on Highway 163, which becomes University Avenue at the city limits and which takes me straight home. But I think my brain finally began to shut down a little from the weekend's excitement. While cruising past the State Fairgrounds and down East University, I became impatient and couldn't decide which lane to be in. I kept moving back and forth. And once, while planning to signal a move into the right-hand lane, I actually hit the kill switch instead of the turn signal, shutting off my bike for a few seconds til I figured out what I'd done. I flipped the switch back on while still coasting – the bike back-fired and re-started, but I felt pretty damn stupid. It was at that point I told myself I'd better just calm down, and think, if I wanted to make it home. I found I had a hard time collecting my thoughts into cohesive stories the rest of the evening.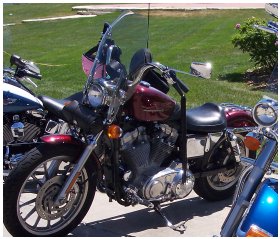 I was talking about the Estrogen Ride at work the other day and one of the guys asked me "how in the world" do I have any fun traveling long-distance on a Sportster? It's true that the Sporty is not really intended to be a touring bike, but mine has been set up with several Harley Davidson parts that make it a whole lot better for road trips than the stock machine. I was fortunate that most of these were already on the bike when I bought it, but they are all things I would have added myself anyway.
Here's a list of the stuff on the bike that specifically contribute to its long-distance capabilities, at least for me:
Forward controls kit
Detachable SuperSport Windshield
Buckhorn handlebar kit (including longer cables)
Chrome Luggage rack
With all of these Harley parts and the other stuff I've added to the bike, it rides as well as any pre-2004 (non-rubber mount) Sporty can ride. Of course, I love to shop so I have a few Harley accessories on the bike as well that don't affect it's touring suitability – but they sure do add to my enjoyment of the bike:
Leather tank bra
Live to Ride primary cover
Chrome oil tank cover
Straight pipes
Finally, I've got a few other HD items still on my wishlist (hey, birthday's comin' up – a girl can dream, right??):
Chrome engine guards with highway pegs
Color matched hard bags
Two-up Reach seat with passenger backrest
Chrome master cylinder cover
Chrome hand levers'
Chrome belt guard
"Buckshot" air cleaner cover
And, I want to try mini-ape handlebars instead of the buckhorns (what can I say, I love the look!)
Of course, none of this would be necessary if I would just buckle and trade the Sporty in for a Low Rider, but that's a whole 'nother can-o-worms!
Putting drag pipes on the bike this week… they sure sound good! Still working on making the stock heat shields work, but here's a preview: