Ready for Spring: cleaning the bike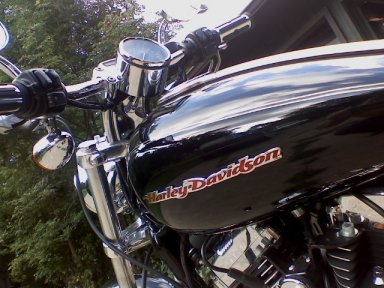 A couple of years ago I posted a piece on how to prep the bike for the first ride of the season, with tips courtesy of our local dealership. This year, I noted a round-up of bike cleaning tips in the latest issue of the Harley Owners Group magazine, HOG, and thought they were worth sharing.
Two caveats: of course, the article itself was full of references to and recommendations for Harley-branded cleaning products. I don't personally invest in all of those, but I do admit I really like their "Sunwash" product.
And, there are likely tips and techniques you've gathered over the years that work best for you – maybe you don't feel the need to baby the bike so much and just want to occasionally get the bugs off. That's cool (because that's honestly how I do it)… but the only hard and fast rule of bike cleaning should be this: "First, do no harm."  Meaning: sometimes it's good to just recalibrate your brain and make sure your bike-cleaning short-cuts aren't causing damage.
So for what they're worth, here are some bike-cleaning don'ts offered up by The MoCo.:
Don't use a pressure washer – the garden hose works just fine. (I guess this means I should stop takin' it to the car wash.)
Don't get dirt in your cleaning products – I think this means if you drop the polishing rag on the ground, get a different one.
Don't use rags that contain nylon – because it's abrasive. They recommend micro-fiber, which for the record, I hate.
Don't use common household detergents – again, because they're abrasive and have chemicals that can react with your bike's surfaces.
Don't wash your windshield with gas station fluid, which is formulated for glass.
Don't blow dry your bike with a leaf blower – because they blow dirty air. That's assuming you use the same leaf blower you use in the yard. Maybe if you had a leaf blower just for the bike?
Don't use car products on your bike – or at least, read labels carefully.
Don't use nylon scrubbing tools on your bike.
Now it's your turn: Add your bike-cleaning Do's and Don'ts in the comments!