World of Wheels great fun, but where are Fonzie and Foos?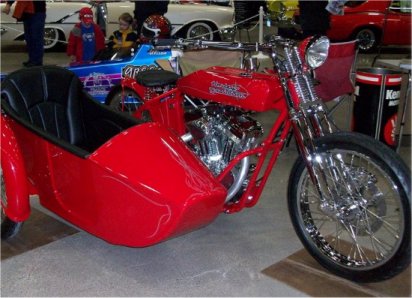 While last Sunday I was celebrating the arrival of Spring by taking the first ride of the season, this weekend we watched with amusement as Mother Nature tried to stick us with another 4 inches of snow. She succeeded on Friday night, but today is Sunday and it's all gone already – so, "nice try, Old Girl, but better luck in December."
The family and I did take advantage of an indoor activity on Friday night – the "World of Wheels" hot rod and custom car show.
Now car shows are nothing new to us – my husband has been a car nut forever, and for many years we were very active in the car show scene around Iowa and through the National Street Rod Association. (Talk about great road-trip stories – we were just reminiscing not too long ago with Garry and Shirley about the trip we took to a show in St. Paul, which was followed by a week of traveling to another show the following weekend in Pueblo, CO. What a blast!)
Anyway, we saw some ads on TV for this show – it promised special guest appearances by Chip Foose and Henry "The Fonz" Winkler – so we decided to go. (Hey, what gal who grew up watching "Happy Days" wouldn't want to spend Friday night oggling The Fonz? Fortunately, our daughter also knows Winkler through HD re-runs and for his role in the movie Holes, so it wasn't a tough sell.)
It was dumping a nice snow by the time we arrived, but that was okay because I think it kept the crowds at bay. We got lucky with a close parking spot, hustled in through the snow to the exhibition hall, stepped up to buy our $13-apiece tickets (yes, almost $40 to get three of us in!), got the tickets… and THEN looked up to see signage that said Chip and the Fonz would NOT be there until Saturday.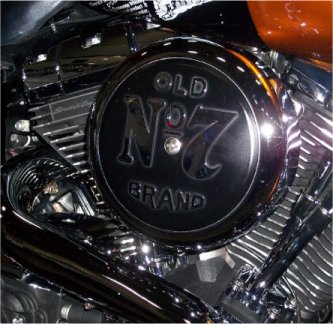 Well that was a downer, but by then we already had our tickets so in we went. It took the best part of about 3 hours to see the whole show, including a 20 minute dinner break. LOTS of really cool cars, some showpieces and some "rat rods," and also several bikes. I took a TON of photos – you can see them all in the World of Wheels album over on Webshots – but here are a few of the highlights:
For Stephanie, there were many examples of the mid-50's Bel Airs and pickup trucks – rest assured if there are photos in the album of a tri-five Chevy, Steph took them. She has very good taste!
A couple of really cool conversion vans – yes, that 70's trend is hangin' in there! – the neatest of these having a deep blue "Pirates fo the Carribean" theme.
Several nice motorcycles, including a custom vintage-looking red Harley with a sidecar, a restored  '45 Flathead, and a neat old-school looking custom Sporty with deep red metalflake peanut tank.
A pair of veterans who had built commemorative vehicles honoring fallen vets.
A 1911 Stanley Steamer.
A cool little Ford Festiva cut into a pickup truck, complete with matching trailer.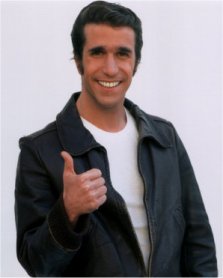 SO much more!
We had a nice few hours of family time walking around looking at the cars – neat to see our daughter taking an interest in some of the details her dad was explaining about the Bel Airs (of course, now she wants him to help her build one – nice!).
I just wish The Fonz had been there, because the weather was just nice enough the rest of the weekend that he might have been disappointed with the turn-out of his Iowa fans.