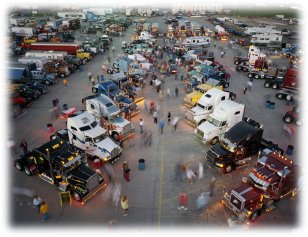 Canadian photographer Edward Burtynsky is attempting to capture the spirit of the Sturgis Rally by shooting a large-scale photo that shows bikes and riders lined up and down along the entire length of Main Street. 
Burtynsky is known world-wide for his photos depicting natural landscapes changed by industry – quarries, urban mines, housing developments, and railroads have all been subjects in his photos.
The Sturgis photo will be used as the cover of a forthcoming book of his work that will focus on oil as a natural resource, an industry, and a social and cultural "force" that fuels our modern lifestyle. The image is intended to show the celebratory spirit of people with a common bond – in this case motorcycles – that is affected by the availability of oil and the industries that have grown up around its use. (The photo above is part of the same forthcoming book and depicts the Trucker's Jamboree at Walcott, Iowa in 2003. Click the picture for a larger view.)
If you're headed to Sturgis and want to be in the Main Street shot, staging begins on the street at 5 p.m. on Tuesday, August 5.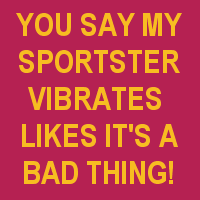 I just could not pass this up – a new study of British women has shown that 46 percent of them rarely have orgasms. This sad news is sure to put a damper on worldwide celebrations of National Orgasm Day, coming up July 31.
Fortunately for me, I own a pre-2004, non-rubber-mounted Sportster so I do not have this problem.
In reading about the study, however, I was surprised to learn that we've all probably been doing our Kegel exercises wrong – unless we learned them personally from Dr. Arnold Kegel.  These exercises actually serve two purposes: they help relieve stress incontinence (if you pee when you laugh or cough, do your Kegels), and they help women achieve vaginal orgasm.  Kegel, it seems, was pretty sure that to be effective, his exercises should be done "against a resistance." This part of the Kegel puzzle seems to have been largely forgotten, however, so they're often taught incorrectly – unless, of course, you own a pre-2004 Sporty.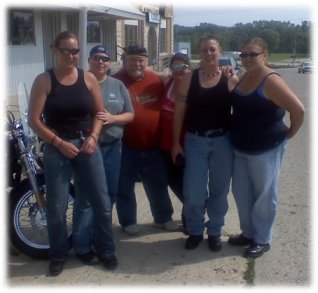 Well we did not take our bikes down to East Village – we decided to go there and drink instead. (Hey sometimes you need one kind of therapy, sometimes you need another!) We did have fun, we sat and talked to the karaoke DJ Michael, who is so worried about us and the house… and later on Steve's nephew Ben stopped in and we closed the place down chatting with Ben and his friends.
Saturday was another story – it was a little cloudy but we decided to try to find a place for lunch that was not too far, but a nice ride. I recalled that the local HOG members ride to Baxter fairly often, so I figured there must be food there… I did a little Googling and discovered a place called OKelley's Steak & Pub, so we gathered up Kristin, Hollie, Jenn and Amy (lucky Steve, the only boy) and went for a mid-afternoon lunch.
This is a less-than-an-hour ride along one of my favorite roads – F48 in eastern Polk County. Only trouble was when we got there, OKelley's was closed (except for the bar) because they were waiting for a big group of bikers to arrive for the ending of a charity ride. (Must've been the one we heard about Friday night.) We asked the bartender for a recommendation in another town not too far away and she said there was a nice little bar and grille in Kellogg, Iowa – we took Highway 17 out of Baxter and 224 south to Kellogg, where we found Desperado's. We almost didn't get to eat there, either – they shut down the grill for a time between lunch and dinner hours, but they fired it back up for us and we had a great little lunch with ribeye sandwiches, chicken strips, fried mushrooms and other goodies.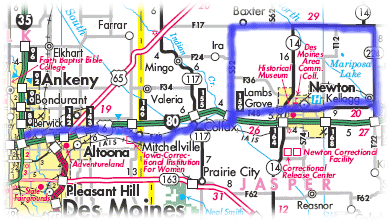 Another large group of bikers came in just as we were leaving, so we asked one of them to snap our picture before we took off. (Thanks, friend!) Although we thought for a time we were going to get rained on, it actually cleared up and was sunny by the time we were on our way home. We headed south out of Kellogg just down to Highway 6, which has beautiful new paving, then east into Newton. We crossed Highway 14 and 6 became F48 again, which took us all the way home. Our route, now that I see it in the picture, looks a lot like the Big Dipper!
Only other ride this weekend was the shorty Steve and I took to breakfast on Sunday. It's raining pretty hard as I write this, and I'm thinking about my Dangerous Curves gals and hoping they are okay.
House update: as I mentioned in my other post, the City keeps asking us to wait for them to gather some resources that might be helpful. We are thinking that perhaps they will have a plan in place early this coming week, so maybe by the end of the week we will know whether we are staying or going. Meanwhile, 'nother few nights in the camper won't hurt.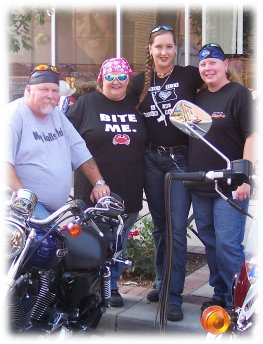 Since I'm unable to go on the Dangerous Curves ride this year, weather-permitting I will be going a few blocks down the road to East Village Bike Night – this is always a blast, with live music and ethnic food all rolled up into a biker street party.
Here are the official details, from the Historic East Village organization that hosts the event:
Historic East Village, Inc. presents the 4th Annual East Village Bike Night Friday, July 25, 2008 from 5-11 p.m.
Begin the evening at Blues Before Sunset from 5:30-7:30 p.m. at the State Historical Building , 600 E. Locust, with Erick Hovey Band. Stick around after the blues concert for more music, food vendors, beer gardens and some of the coolest motorcycles around in the heart of the East Village – the E. 5th Street and E. Locust Street vicinity. Bike night is an opportunity for motorcycle enthusiasts from across central Iowa to show off their bikes and admire others! This is the only Bike Night held in downtown Des Moines and has become one of East Village's most popular events.
Motorcyclists are asked to enter the event at E. 5th Street and Walnut, where they will be directed to designated street parking. No vehicles will be allowed into the event.
Food vendors will include:
Kabaab House (Greek)
Chef Joe's
Los Primos (Mexican)
New Oriental Food Market (Chinese)
The Tavern (Pizza)
Historic East Village, Inc. will also be selling T-shirts with proceeds benefitting the nonprofit organization. The band TOASTER will play on the outdoor stage located on East 5th Street near Grand Avenue from 7-11 p.m.
The 4th Annual East Village Bike Night is sponsored by Historic East Village, Inc., Sayles Graphic Design, The Blazing Saddle and Big Barn Harley Davidson.
For more information, call (515) 281-4011.
So – am I gonna see you there??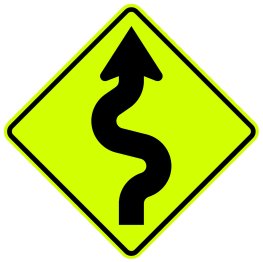 Although I will miss the ride this year, I want to wish sunny, safe and FUN travels to the amazing women leaving this week for the 2008 Dangerous Curves "V-Twin Voyage" ride! Don't forget, girls, I will expect SOMEONE to do the ride reports! (Coyote, are you listening? LOL)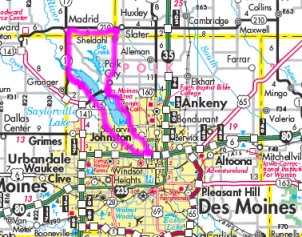 Harley Davidson couldn't have picked a better promotional campaign for the summer of 2008, as far as I'm concerned. Our lives have pretty much been on hold since June 14, while we've been waiting to determine whether we should move away from our flooded home or rebuild. Finally, after five weeks of waiting and no real information on which to base a decision (during which, by the way, we've been living in a camper in our driveway), we just said, "Screw it, let's ride."
So we did! On Sunday we got the bikes out of storage and took a 60-mile-or-so ride up past Saylorville Lake and on up to Madrid, Iowa, then over to Sheldahl and back down to Des Moines through Polk City. It was an absolutely perfect day, and wonderful to be out on the bike again. (Kristin and Hollie, whose home was also flooded, and Howard, who has been a God-send in the amount of help he provided during the clean-up, joined us.) One of those rides that really helps you clear your head, and reminds you why you took up riding in the first place.
Unfortunately we didn't think to take any pictures – but, I have some shots from a couple of rides from earlier this summer that I am eager to share, so hopefully I will get those posted soon.
Wow, folks, I don't even know where to start. The summer is proceeding without me. Biking adventures have been on hold for a few weeks, and the ones I did have, I haven't even been able to post about yet! Here's what happened:
On June 8, my father passed away after several months of battling the effects of late-stage liver disease. In the midst of planning for his funeral, the City here began talking about possible flooding along the Des Moines River. We live about two blocks from the river and levee system, and our home was severely flooded in 1993. At that time we rebuilt, and trusted the City when they said it would never happen again. As the talk escalated this year into a voluntary evacuation of our area, I stopped sorting through photos of Dad long enough to pack several plastic tubs full of keepsakes, mementos, important papers, etc. into our camper and car. After a couple of days of nervous levee-watching, we sent our daughter and pets to stay with her older sister not too far away.
On Saturday, June 14, one of the permanent levees about six blocks from us washed out. We received a knock on our door at 4 a.m. from the Sheriff's department, insisting that we leave immediately. We drove out in our packed vehicles, and watched from a couple blocks away while the National Guard tried to build a temporary sandbag wall to save our neighborhood. When this wall gave way and water began rushing over Second Avenue, we knew what the ending would be. We walked away as our daughter called via cell phone and told us, "I'm watching it on TV and I just saw the water reach our house."
Eventually, we'd discover that our home – a sort of makeshift split-level consisting of two homes butted together and joined by a short interior staircase – had about five feet of water in the master bedroom. It came to just below the countertops in the kitchen. Everything we couldn't save that was under water was ruined.
Since that day, we've been trying to figure out whether to rebuild again or move. The City government has been involved from Day One with myriad rules, inspections and always the promise of a possible buy-out – but we are stalled. The present rules of the buyout would leave us homeless and owing a large chunk to our mortgage company. To rebuild, the City says we must first fix the foundation – estimated to cost at least $32,000. 
We do not have the resources to pursue either option, and so we wait. Our family is still apart – Steve and I are living in a camper in the driveway, our daughter is still living with relatives. It has already been one month, but it seems like much longer. The stress of not being able to make progress down either path is overwhelmingly frustrating.
One of the important questions, of course, is "What happened to the Picky Bitch?" Well, she is fine – she was moved to higher ground along with my husband's bike and our 1959 Ford – and she remains tucked away in a high, dry garage not too far from here. I miss her, and I really think a ride would do me good. Hopefully soon!
For now, my head hurts. Keep us in your thoughts and prayers. Maybe I can blog a little more about this soon – there is so much to talk about.