Photo above: a stitched-together panorama of the bikes gathered at Kung Fu Tap & Taco.
Click here for the full album!
This was a near-perfect day in so many ways. After last weekend's Toy Run rainout, I was anxious to see what the weather would have in store for Theresa's benefit ride. I needn't have worried – our high for the day was in the upper 70's, with a beautiful bright blue sky. This in late October, in Iowa! The ride was scheduled to begin around 11 a.m. at Big Barn Harley Davidson, where Theresa works in the Warranty Service department. We arrived shortly after 10 a.m. to find there were already around 100 bikes gathered. By 11 that number had doubled and they were still coming in, so the ride start was bumped to Noon. Eventually I think they had almost 300 bikes and probably 500+ people.
Around Noon the bikes started leaving, and we made a very impressive and continuous mile-long column traveling down 2nd Avenue toward downtown Des Moines. (If you've never been in such a column, I don't know how to describe the feeling. But it can be a little emotional realizing that all these people are gathered for the same big-hearted purpose.) Bikes in the lead blocked intersections so we could pass through as a group without worrying about cross traffic. (Probably illegal but what the hell… we're bad-ass bikers, we're supposed to do shit like this!) As we approached Downtown, traffic got a little heavier and around Court Avenue there were lots of pedestrians – the Farmer's Market had just closed, and lots of those patrons were standing around watching us pass, some taking pictures or shooting video. There was a police officer at 3rd & Court who held off the cross-traffic there for us to pass through the intersection as a group.
Just south of the Iowa Cubs triple-A baseball stadium, we turned and headed toward the home of Theresa's sister Vicki,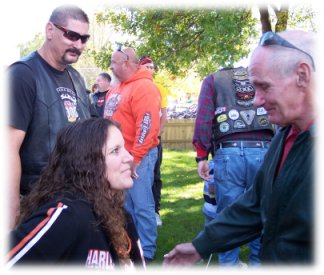 where T is recuperating. Family members had arranged for T to be outside when everyone arrived – I'm not sure they were expecting quite so many of us! All those bikes took up probably two full blocks! After a short benediction and opportunity for as many as possible to meet and greet Theresa, we took off again, this time for the Kung Fu Tap a few blocks away.
The stop at Kung Fu was really just an opportunity for us to hang out while Theresa's family helped transport her to the site of the actual pot luck dinner waiting for us at the end of the ride. We were there long enough to enjoy a beverage and then the group took off again.
Our final stop was the clubhouse of the El Foresteros. This is an old-school motorcycle club; these are the folks who actually hosted the ride and dinner. They certainly don't normally open up their clubhouse to the general public – it's a members-only gathering spot. I for one appreciated their hospitality and willingness to let non-members show their support for our mutual friend.
As for T herself – she's doing pretty well but still has a long recovery ahead. I wish her the very best, and I'm really pleased to have been part of such a great turn-out for this event!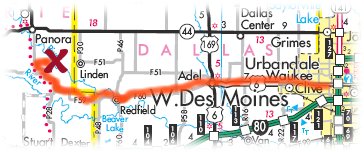 As it turns out, there's one more thing The Picky Bitch is picky about: road surface! She likes paved highways, and she will tolerate fine, hard-packed gravel as long as it's dry. But she will throw herself to the ground in a temper tantrum (and take me with her) if she's forced to slough through the kind of slimy mud we encountered on Saturday.
We debated going out at all – chance of rain was 50-50, it was cloudy and cool. We didn't particularly want to ride in the rain, but decided to chance it. The plan was to ride over toward Panora with Howard, Brenda, Hollie and Kristin, where we were going to look at a possible new bike for Brenda at Jackie's house.
We put on full leathers and I chose not to wear my brand new jacket because I didn't want it to get wet. I'd later be thankful for that decision. We headed out Hickman Road in Des Moines, which is old Highway 6, and took that all the way to Adel. We then proceeded west on F60 to Redfield, F59 to P28, and then north on P28 toward Panora. This is a really pretty ride, and was a road we'd taken a couple times before – once on our way to see Albert the Bull with Garry and Shirley, and once last summer when Coyote and I traveled to LeMars.
At some point just south of Panora, we turned onto the road that led down to Jackie's house. It was gravel… fine hard-packed, clay-based gravel, and it was wet. We had to travel on it about a quarter-mile, but it was a downhill ride with a curve. The first couple hundred feet were okay – I'd loosened my grip and slowed way down. But toward the bottom of the hill, where the curve set in, there was a spot where I could see that the gravel was actually mostly mud. Slimey, rutted clay-based mud. As I started through it, going probably less than 5 mph, I thought, wow I could drop the bike pretty easily through here, better be careful. The next moment, I was splatted on the ground face down, arms out-stretched ahead of me and the Picky Bitch laying on my @#$ foot.
I wasn't hurt, but I couldn't pull my foot out from under the bike. I looked up the road behind me to see my fellow riders all trying to safely get whoa'd on the mud-slimey hill (THANKS, everyone for not running over me! I still have no idea how they all managed to get stopped in that mess without going over)… Steve came running up asking if I was okay and I said, "I'm alright, just get the bike off my foot…" so he and Howard pulled the Bitch up and then helped me up. My gloves, my jacket, and my chaps were covered in mud slime – my knee and ankle were a little sore, but no serious damage to me.
As for the poor Bitch – totally destroyed front turn signal (not just the lens and housing, but also the post that mounts it to the triple-tree), broken back brake linkage rod and dangling/bent brake pedal (cobbled back together for the ride home), and – !@#$- bent my brand new ape hanger handle bars!!
We got the bike down to the garage at Jackie's house, she and her family helped me get cleaned up a bit and the guys managed to get the bike put back together enough that I could ride it home (THANK YOU!!). Brenda did make that bike trade, so she got to ride home on her new-to-her Honda Shadow Aero 750… and yes, I rode The Picky Bitch back through the slime up the hill to the road and home.
A few things I'm thankful for:
1. I'm thankful I was dressed for the fall. I have a burn mark on my chaps (they're branded!) where the hot pipes were laying across my leg and pinning my foot; my gloves protected my hands from serious harm; and my poor right boot (yep, my red cowyboy boot) has another battle scar.
2. As noted, I'm thankful I wore my old jacket and I'm thankful that Steve had just put the saddlebags back on the Bitch on Friday – they probably protected the back end of the bike from serious damage.
3. I'm thankful, obviously, that I wasn't hurt and that none of my friends were hurt trying to get to me – this could have turned into one big pile of broken bikes.
4. I'm thankful for Jackie's hospitality.
5. I'm thankful for the friends who were with me and eager to help.
All of this is why I missed the 2007 Toy Run; I need to get the bike back together in time for the benefit ride next weekend.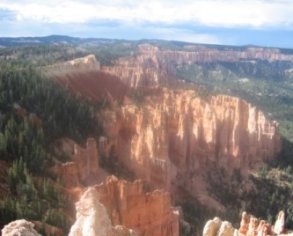 Carole wrote in with a quick report on her recent trip to Utah with Judy (oh, and, their hubbies!) – wow, it looks like a must-ride! Thanks for sharing the trip with us, Carole!
"I thought I would share a couple of photos from our two week trip to the west.  We had a great time with Gene & Judy and saw some absolutely beautiful country.  I must say that I envy those living in Utah with endless rides and gorgeous scenery everywhere!   Brice Canyon was my favorite of all places with Arches being close behind.  The mountain ride on Hwy 191 going from Arizona into New Mexico was awesome and I would love to ride it again without the rain.  Every turn there was a sign posted telling us to watch for wild game in the road ahead.  I was leading at the time and saw four deer, a wild hog, and turkey in the road.  No elk appeared in my headlights which I was relieved by even though I would have loved to see one off the road a ways!  If you have never traveled to Utah please do in the future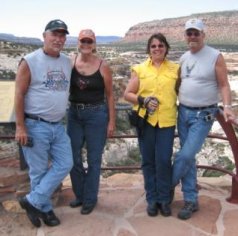 and I guarantee you will love it!"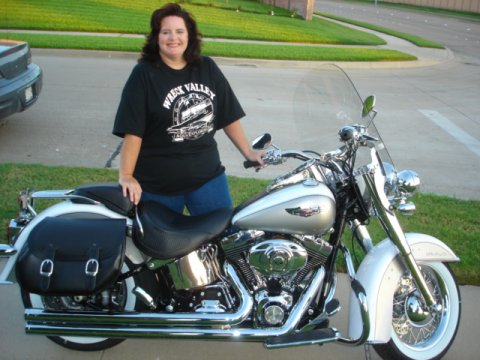 Deb W. of Grand Prairie, Texas just bought her very first Harley Davidson around the first of September. Here she is with her 2008 Softail Deluxe! Deb says, "My husband decided to upgrade from a Honda VTX to a Honda Goldwing. I peered over his shoulder one Saturday morning and he was looking at the motorcycles on the internet. I calmly said if you decide to go get a bike like that then I am headed over to the Longhorn Harley Dealership and I am going to get my Harley!" Obviously, Deb got her wish. She mentioned that her previous bikes were a Honda VLX 600 and a 1300 VTX.