Saying a prayer for a good friend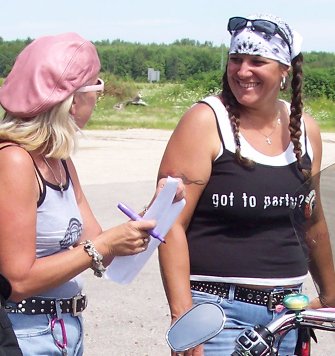 Upon arriving at Big Barn HD for their open house event today, I learned that my friend Theresa – from the Estrogen Ride and other events, shown on the right in this photo – had been in a serious accident on her bike last night. She was southbound, and a drunk driver in the northbound lane made a sudden left turn in front of her, causing her to t-bone the car. I'm familiar with the intersection where this happened, so I'm guessing she probably hit the car going 30-35 mph. She is alive, with multiple serious injuries, and tonight is still in the ICU. Her beautiful HD Wide Glide has been totaled – folks, I saw the photos, and it is chilling: the forks are pushed back into the engine and the front wheel is twisted into nearly the shape of an 8. 
"T" has a loving family and many, many friends, and I believe that ultimately she will be okay. But, she has a very long road of recovery ahead of her. 
I am begging you all to please please PLEASE ride safe. Know that others do NOT see you, and that their judgment may be impaired, and that ANY car could be the one that makes the move that changes your life. I am also begging you – don't drive drunk. When you drink, your judgment becomes impaired whether you think it is or not, and you could easily change/ruin/end the lives of innocent people – including your own and those of your loved ones.