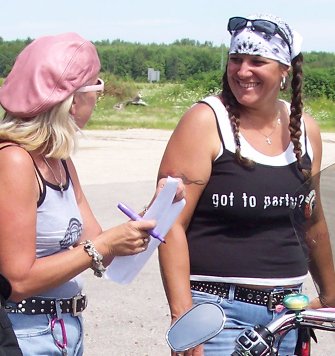 Upon arriving at Big Barn HD for their open house event today, I learned that my friend Theresa – from the Estrogen Ride and other events, shown on the right in this photo – had been in a serious accident on her bike last night. She was southbound, and a drunk driver in the northbound lane made a sudden left turn in front of her, causing her to t-bone the car. I'm familiar with the intersection where this happened, so I'm guessing she probably hit the car going 30-35 mph. She is alive, with multiple serious injuries, and tonight is still in the ICU. Her beautiful HD Wide Glide has been totaled – folks, I saw the photos, and it is chilling: the forks are pushed back into the engine and the front wheel is twisted into nearly the shape of an 8. 
"T" has a loving family and many, many friends, and I believe that ultimately she will be okay. But, she has a very long road of recovery ahead of her. 
I am begging you all to please please PLEASE ride safe. Know that others do NOT see you, and that their judgment may be impaired, and that ANY car could be the one that makes the move that changes your life. I am also begging you – don't drive drunk. When you drink, your judgment becomes impaired whether you think it is or not, and you could easily change/ruin/end the lives of innocent people – including your own and those of your loved ones.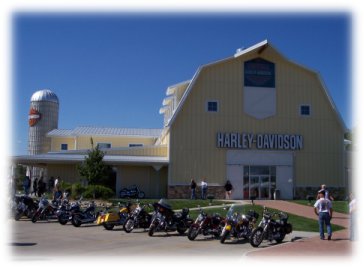 We spent a good chunk of this afternoon – again, absolutely perfect weather, with temps around 80 and bright blue cloudless sky – up at our local HD dealership, Big Barn Harley Davidson, at their 2008 Model Open House, where they had a burger feed, live music, in-store specials, demo rides, and a "bike night" event. Tonight they'll be showing Easy Riders on the side of the building as a "drive-in movie." I noticed that the 2007 Sportster 1200 Custom I had fallen in love with (raspberry and off-white two-tone) is gone, which is probably a good thing because now I can stop worrying about it – LOL. I've been working on a custom-paint plan for The Picky Bitch, which I think I will put into action this winter. So maybe by next spring I will have a very different-looking bike!
The event was nice, although it didn't look to me like they had all their '08's in the building yet. I sure like the Low Rider in that 105th Anniversary Copper and Black scheme. I took lots of pictures, though I'll admit they look pretty much like every other group of pictures I take at Big Barn events – LOL – anyway, you can see them in the Webshots album I put up. Be sure to note the gold metal flake Sporty 1200 – the photo doesn't even begin to capture the sparkle of that paint, it was pretty amazing in the sunlight!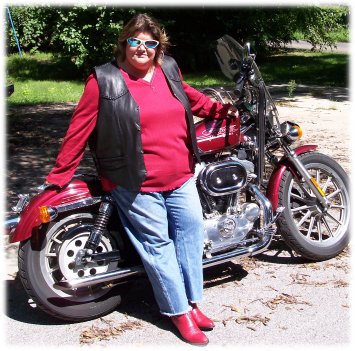 Labor Day weekend couldn't have been better, weather-wise… I took Friday off so I'd have a four-day weekend, and it was mid – to upper 80's and clear blue sky all weekend! On Friday night we went to the final "bike night" in the East Village section of Downtown Des Moines – this is always a great time, with a street dance, lots of bikes, and really good vendor food, not to mention all the usual restaurants and bars in that section of downtown.
I teased my DH because Shirley came up to ride over with us w/o her hubby (who was at a car show in KC) and our neighbors Kristin and Hollie also went… so it was Steve "sweeping" after a group of four women! Susan (Coyote) joined us downtown, so that made 5 gals and Steve – yes he seemed pretty pleased with himself!
Did not do much of anything for the next two days except take lots of naps – LOL, hey it WAS the weekend after all! –  but then today (Monday) decided to go on a lunch ride… our DD rode with Steve – she's not that into the bikes but she is, once in a while, a good sport! – and we went up to Ames, IA about 30 miles from here and ate at one of my favorite restaurants called Hickory Park. After a great lunch we trekked home – only put about 65 or so miles on the bikes but it was beautiful and we really enjoyed it.
Last couple rides I have been riding in my new red Ariat cowboy boots, instead of my HD's, and I have really gotten used to them. In fact, I love the way they look and feel – and they have a decent grippy sole so I feel like I have a good footing when stopped. You can sorta see them in the picture above, which my daughter snapped today. These are kind of "interim" boots til I can find a good deal on HD Laredo's in brown.
OTHER NOTES:
I added one new video to the video channel – it's a cute clip from the movie "Roman Holiday" that I found on YouTube. If you have a neat video you'd like me to link to or post, just drop me an email to let me know!
Also – remember I mentioned we were set to break 12,000 visitors in August? Well the final total was (get this): 13,873!! WOW!! Thank you for coming back here again and again to read my junk – I'm so glad you're here!