We're well into Fall here; the leaves are in mid-turn but have not hit their peak yet, and the weather has been really nice. The past couple weekends we've taken some nice rides – last weekend we headed up to Jester State Park for a meet-and-greet with some of Kristin and Hollie's friends, then took a scenic ride home from the Grimes area. Then this weekend we cruised up to Ames with Kristin, Hollie, Howard and Brenda to visit Zylstra Harley-Davidson, where the 2008 Model Year Open House was in progress. I am really enjoying my new handlebars – I feel like Chopper Girl! (Maybe I am shedding the "Rebel Biker Mom" image…?? LOL) One thing I hate, though, is Highway 69 that runs from Des Moines to Ames. This road is AWFUL!! Every spot in the road that's been fixed is a significant bump for my Sporty.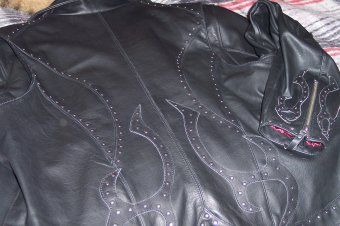 One thing I love – in addition to my new handlebars (and the guy who bought them for me)? My new HD leather jacket! Yep, Zylstra had a great sale on leather gear this weekend, and Steve called me over to the sale tent to show me a really beautiful jacket that he knew was my size. Now I've written before about the lack of nice gear in women's plus-sizes, and the merchandise manager at our local dealership has been assuring me that more plus-sizes are coming. (And, she's been right! There are more of the really pretty women's tops in the 1W-3W HD sizes in stock since the new Fall stuff came in, and I've been rewarding this as often as I can given my budget! LOL) Because most leather tends to run small, I was fully expecting that the HD 3W size would still be too snug for me – but, this jacket fit so-o-o-o perfectly, so we bought it. Now I no longer have to wear my Walgreens leather (yes – Walgreens!) – although I'll admit, it has lasted several years and looked more stylin' as soon as I added a cool HD patch to the back.
The benefit ride for Theresa is scheduled for Saturday, October 20 at 11:00 a.m.  Registration will be 10:00-10:45 at Big Barn Harley Davidson in Des Moines, 81 NW 49th Place (2nd Ave. exit off I-80).  Donations will be warmly accepted and very much appreciated.  The ride will end with a potluck dinner and raffle.  All bikers are welcome – if you are in the Des Moines area, or traveling this way at that time, please join us!
If anyone would like to donate items for the raffle or food for the dinner, please send me an email and I'll pass along your message.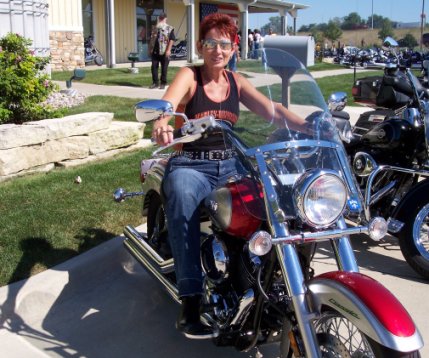 Shirley P. from Carlisle, Iowa rides this beautiful Yamaha V-Star 650, red and silver. She bought it two years ago after having practiced one whole season (including a trip to Sturgis!) on a 250 Virago. She says that she and her husband Garry visited a dealership about 30 miles away where they found the bike, and the day they went to pick it up they were on his bike… so she had to ride it home without the opportunity to "practice" on it first – well she made it with no problems, and now this bike's been to Sturgis twice already!
I went up to the hospital and visited Theresa today, where she's still recuperating from her recent accident. She had surgery on her wrist on Thursday of last week, and she said it went really well so that's on the mend. Her pelvic fractures are healing slowly – she is still on a lot of pain meds so she's not attempting to walk yet, but it's only been ten days. She's having a few issues with doctors not communicating with each other very well, and I think she even fired one already – LOL – so she's definitely fully aware of all that's going on. As it turns out, earlier reports about a fractured femur and dislocated knees were not correct, so at least she doesn't have those issues to worry about. I can't imagine all that she must be dealing with emotionally – she has a lot of support from family and friends so hopefully that is helping.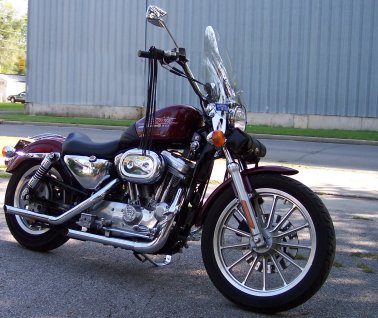 Okay so funny story… on Saturday, 2 days before my birthday, we're going on a ride down to Indianola to the Route 65 Harley open house. I back my bike out of the garage, pull the choke out to warm it up… everyone's standing around waiting for me as usual. Once the Picky Bitch is warmed up, we saddle up and Steve, Kristin and Hollie and I all head out. I notice that my bike felt kind of funny – different, but not sure how… when I turned that corner off the side street, it felt like my arms were "going wide" to make the turn. And then going down Holcomb St. toward 2nd Ave., my arms felt like they were in a different position. One more turn onto 2nd Ave. and I know something's different, but still don't know just what. So as I'm heading down 2nd Ave., I notice my arms are actually sitting higher… and my hands are actually parallel to the ground instead of at an angle… I'VE GOT NEW HANDLEBARS! 
Yep, Steve had bought and installed new ape hanger handlebars for my birthday, and it took me THREE BLOCKS to figure it out!! LOL Since I was in the lead I took everyone into a parking lot where I stopped and got off the bike and gave Steve a big hug and kiss… I hope he knows how much I really like them, they are really comfortable! Now all I need to go with them are the Kuryakyn ISO Grips (with Throttle Boss, of course)… and maybe a chrome belt guard… oh! and today up at Big Barn HD we saw a neat seat – the Reach Solo Seat for Sportster… yeah, kinda like getting new drapes – now the living room furniture doesn't match!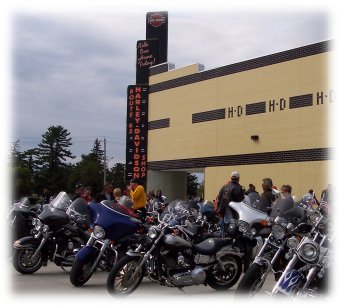 We took a nice ride with our neighbors, Kristin & Hollie, down to Route 65 Harley Davidson on Saturday for their 2008 Model Year Open House – we'd never been there before, and it's a really neat building! It looks like an old Art Deco-style building from the 30's that got turned into a hot rod shop in the 50's… except that the building is brand new. Tons of space inside… they need a few more bikes, but the '08's are not all in yet so I'm sure it will fill up in the next few weeks. Had a good lunch courtesy of the dealership, and they had live music as well. Weather was a little chilly but we had plenty of gear (except gloves! yikes!) so it was a nice way to spend the afternoon. Here's a link to the Webshots album with our photos!
(heehee) Come on out, girls, Mary B. has told me you've been reading and lurking! LOL Now please post a comment and, send me your pictures (with bikes please!) so I can put you in the Biker Chick Buzz! And – welcome!! Thanks for reading! ~ Janet
Here are a few recent links of interest to women who ride.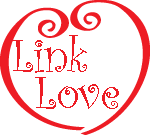 Leah wrote this piece about how she got started riding her own motorcycle. If you read a little more of her blog, you will be stunned to read about the accident and fire in her ex-husband's truck that nearly took his life as well as that of their Down Syndrome daughter. Truly a miracle that they lived. I can't even imagine what they all must be going through, but my prayers certainly include them all this week.  
The Canadian Prime Minister's wife, Laureen Harper, loves to ride the muddy trails.
Sue Pollard and 50 friends take off on a mission from Kittery, Maine.
What?? You mean WOMEN can be bad bikers too??
And finally, Froggi's off and running… hopping?? … RV'ing in the new rolling Lily Pad!