Labor Day Weekend stuff 2007 (check out the red boots!)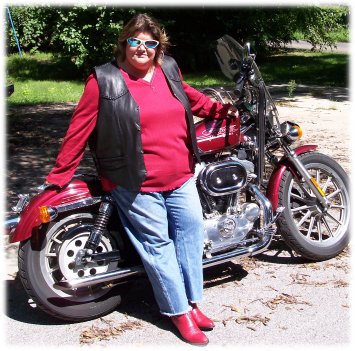 Labor Day weekend couldn't have been better, weather-wise… I took Friday off so I'd have a four-day weekend, and it was mid – to upper 80's and clear blue sky all weekend! On Friday night we went to the final "bike night" in the East Village section of Downtown Des Moines – this is always a great time, with a street dance, lots of bikes, and really good vendor food, not to mention all the usual restaurants and bars in that section of downtown.
I teased my DH because Shirley came up to ride over with us w/o her hubby (who was at a car show in KC) and our neighbors Kristin and Hollie also went… so it was Steve "sweeping" after a group of four women! Susan (Coyote) joined us downtown, so that made 5 gals and Steve – yes he seemed pretty pleased with himself!
Did not do much of anything for the next two days except take lots of naps – LOL, hey it WAS the weekend after all! –  but then today (Monday) decided to go on a lunch ride… our DD rode with Steve – she's not that into the bikes but she is, once in a while, a good sport! – and we went up to Ames, IA about 30 miles from here and ate at one of my favorite restaurants called Hickory Park. After a great lunch we trekked home – only put about 65 or so miles on the bikes but it was beautiful and we really enjoyed it.
Last couple rides I have been riding in my new red Ariat cowboy boots, instead of my HD's, and I have really gotten used to them. In fact, I love the way they look and feel – and they have a decent grippy sole so I feel like I have a good footing when stopped. You can sorta see them in the picture above, which my daughter snapped today. These are kind of "interim" boots til I can find a good deal on HD Laredo's in brown.
OTHER NOTES:
I added one new video to the video channel – it's a cute clip from the movie "Roman Holiday" that I found on YouTube. If you have a neat video you'd like me to link to or post, just drop me an email to let me know!
Also – remember I mentioned we were set to break 12,000 visitors in August? Well the final total was (get this): 13,873!! WOW!! Thank you for coming back here again and again to read my junk – I'm so glad you're here!