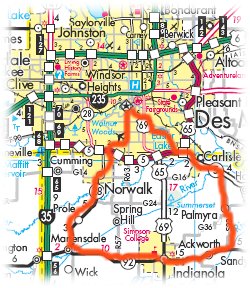 What a great weekend! Weather was beautiful both days, and Mother's Day was sweet as always with my daughter and husband indulging my weakness for garden statuary.
Steve and I took a really nice ride on Saturday afternoon – our neighbors, Kristin & Hollie, both ride now (Kristin just bought a new Sportster 1200 and Hollie wasn't content to ride pillion for long – she bought an '83 Yamaha 750 Virago "Midnight Special"), but Hollie's a new rider so just experiencing all her "firsts." She decided she was ready for the highway on Saturday, so I planned a short (-ish) route that took the four of us south out of Des Moines and down to Carlisle, where our friends Garry & Shirley live. Stopped by their place to see if Shirley was back from the tattoo parlor yet (she wasn't), then we headed down to Indianola to see if we could catch up with her still at the shop. We took a pretty county road (the one we always take to Bike Night) down to Hiway 92, then west to Indianola, where we found Shirley still at the tattoo shop with her sister. She had just finished getting a really cool mystical dragon on the back of her shoulder, so we hung around and admired it for awhile. Then stopped at the A&W for a snack and headed west out of Indianola on 92. This is a very pretty hiway in and of itself, but then we picked up 28 going north back toward Des Moines, and boy was that nice too! Very picturesque. We rode about 63 miles total, but took almost four hours to do it! LOL – Guess we are good at moseying!!
It was a trouble-free ride but it should be noted that Hollie had had a mishap earlier in the day where she actually took a spill – she was trying to maneuver the bike on a stretch of pavement where there was a "seam" in the road with the two parts of the road at different heights, and the tire caught on that "groove", and the bike was pretty much yanked right out of her hands. She has a nasty bit of road rash on her arm and a few bumps here and there but thankfully is otherwise okay with only minor quick repairs (courtesy of my dear hubby Steve!) to the bike. I don't think anyone would've blamed her if she'd decided to opt out of the planned afternoon ride with us, but she decided to get right back on and rode great the rest of the day. So glad she is okay, and so thankful for the beautiful weekend!
Had a nice weekend on the bikes… Friday night we rode down to Indianola for their first bike night of the season. This just continues to be one of the best summertime events in our area – great weather, live music, hundreds of awesome bikes to oggle and drool over. On Saturday, we rode up to our HD dealership for the annual "blessing of the bikes." This is a season kick-off event where bikers gather for a non-denominational group blessing, followed by individual prayers for those who want them. We spent a couple hours enjoying the beautiful day, the live music (you gotta love a Christian band that plays "Family Tradition" by Hank Williams, Jr.!) and the fellowship, as well as the all-you-can-eat chili served in the HOG club-house afterward. Later that afternoon we took a two-hour ride with the neighbors – Kristin has a new Sportster 1200 Custom – before calling it a day. It was windy (again) but probably will be until June so we can't really avoid it.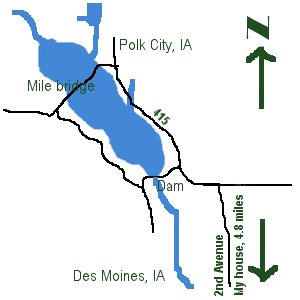 The problem with coming off a long winter is that one becomes really anxious to ride. And that means that one tends to venture out on the first warm day, no matter what the conditions other than temperature might be. Today was a day like that – nearly 80 degrees and sunny, but the "other conditions" were that there was a steady 30 mph wind. This didn't deter us from taking a ride "up around the lake." Only about 30 miles total but hey, it counts! Saylorville Lake & Dam is an Army Corps of Engineers project just north of Des Moines. The lake and dam are used to control the levels of the Des Moines River as it passes through the city. (Interesting to note that in 1993, all these efforts failed: steady, heavy rain over a period of weeks in northern Iowa resulted in extremely high water levels in both the Lake and the River, and in early July the River overlflowed not only its banks but also its levees, causing more than $150 million in damage within the contiguous cities of Des Moines and West Des Moines. I think about this every time we ride up around the lake because our house was almost completely destroyed in this flood.)
Our ride took us first to a Casey's General Store for gas and bottled water, where we got our first taste of the 30 mph crosswind. This was actually worse than what we had experienced on our way home from Sturgis last August, and I decided at Casey's not to lead us over the Mile Long Bridge that spans the Lake. We rode instead up to one of our favorite campgrounds, Cherry Glen, where we discovered that the lower parking lot and boat launch was closed off and indeed, completely under water. We then rode back toward the dam, and took the road that goes over the it, to get down to the Spillway. (The wind was just as awful going over the dam; I think the only consolation we got from not taking the Mile Bridge was that we were not being thrown around in our lane with a hundred-foot drop into the Lake on either side of us. The dam road contained earthen embankments, steep and rocky though they were, down to the lake on one side and another camp ground on the other.)
The spillway is of course where the water from the lake churns through the opening of the dam and settles back into the flow of the Des Moines River. I wish we had thought to take our camera – we go to the Spillway frequently when we are in the mood for a short ride, but I have never seen the water as high or as turbulent as it was today. The water rushes downward from the opening of the dam into a giant pool, where underneath there is a cement buttress that forces it to splash back, creating the effect of ocean water crashing against shore rocks. This serves to slow the rushing water down so it doesn't wash away the river banks. The water splashes often some 40 or more feet into the air, and frequently rains down (or washes over) the people standing on the overlook high above. It's frightening, but mesmerizing, to look over the fence and watch the water rushing down the spillway and being flung back and forth.
After watching the water for some time, we left the dam area and headed back home. I commented on the wind, and our friend Garry said, "The wind must be a 'woman thing,' I don't even think about it." So now I'm curious – is the wind a 'woman thing'? Is it a 'woman thing' because women tend to right lighter-weight bikes? DO women tend to ride lighter-weight bikes, or is it just a 'Janet Thing' because I ride the Sportster? Anyway, doesn't matter, I've got a little bit of windburn on my cheeks that almost looks like a sunburn, so at least it's obvious I spent the day outdoors. Not bad for March 25 in Iowa.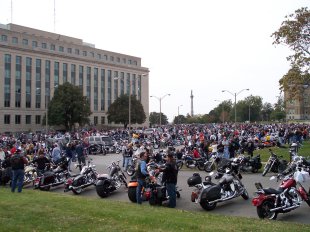 Participated in the 2006 ABATE of Iowa District 4 Toys for Tots Toy Run on October 8 – it was a nice event with, I'm guessing, over 2,000 bikes. We gathered at the State Capitol building here in Des Moines, left there right at Noon and rode to Plaza Lanes which is a popular "bike night" spot during the summer, where we donated our toys and socialized for a bit before heading home. This event is always an impressive one… a lot of people don't like the challenge of getting out of the parking lot at the Capitol because it's not organized. You just *go*, along with 2,000 others, and hope you don't crash into anyone. I've found that the secret is to be just aggressive enough that you can hold your spot (or claim a spot) without actually competing for it: meaning, I will creep forward and get my nose in there (into the column of moving bikes), but I will also let someone else in if it looks like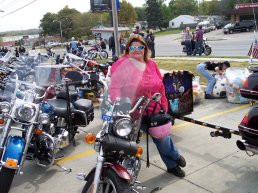 they aren't paying attention or for they *really* want my spot. (In other words, the secret is to never occupy the same physical space as another rider! LOL) It IS a challenge, but it can be done – I've done it without incident for four years in a row now, and many others have done it much more than me.
I posted some pictures over on WEBSHOTS, because the trial version of my gallery-making software ran out and I'm too broke to pay for it at the moment.
We are back from a nine-day trip to Sturgis and the Black Hills! I'll be adding day-by-day ride reports and lots of photos over the next couple of weeks, so stay tuned! Here's the quickie recap, though, in case you're curious how we allotted our time:
 Days 1 & 2: Leisurely ride to Sturgis (actually Belle Fourche) from Des Moines, with overnight stop in Mitchell, SD
    Ride Report     Photo Gallery
Day 3: Spent in Sturgis, walking around and gawking
    Ride Report     Photo Gallery
Day 4: Scenic Trip to Mt. Rushmore, Iron Mtn. Road and Needles Highway
    Ride Report     Photo Gallery
Day 5: Scenic trip to Devil's Tower
    Ride Report     Photo Gallery
Day 6: Scenic trip to Deadwood via Spearfish Canyon & Roughlock Falls
    Ride Report     Photo Gallery
Day 7: Back to Sturgis for the Rat's Hole Custom Bike Show
    Ride Report     Photo Gallery
Days 8 & 9: Leisurely ride home
    Ride ReportWhat a totally awesome and beautiful trip! And I rode it – 2,075 miles – on a frick'n SPORTSTER!!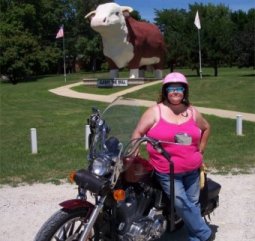 We are trying to put on some miles in preparation for the two-day ride to Sturgis, so today we took off to the west with the added goal of taking some pictures of Albert the Bull. Albert is a 30-foot-tall, 45-ton sculpture of a Hereford bull, erected in Audobon, Iowa in 1964 to acknowledge the impact of the beef/cattle industry on the local economy. He's something of an Iowa landmark and an excellent biker destination. The weather was outstanding for late July – it was 80 degrees and sunny, with bright blue sky and scattered clouds. (The whole week prior, it had been in the upper 90's and humid – so this was a welcome break!)
We took off from home heading west out of Des Moines on old Highway 6, which we took all the way through Adel and Redfield, picking up Highway 44 (the Western Skies Scenic Byway) at Panora. We hit some road construction  between Redfield and Panora, but I have to say, Redfield has got to be one of Iowa's prettiest small towns and the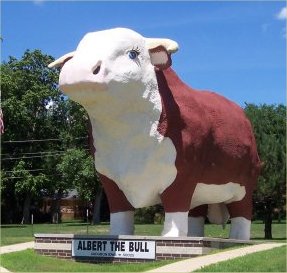 landscape along 44 is just impossibly lovely – lush green fields, immaculate farmyards, century-plus-old homesteads, all perfectly green from recent rains.
We stopped for a water break in Guthrie Center along Highway 44, and a very friendly gal at the gas pumps asked us where we were headed. When we said we were going to take pictures with Albert the Bull, she told us that her dad had been one of the men who had done the original plaster work (actually concrete troweling) on the sculpture – so Albert was a special point of pride for her, and she still lived in Audobon.
We finished up with Highway 44 at Hamlin, then turned North where we found Albert just four miles up the road in the middle of Audobon City Park. You can't help but smile when he comes into view from the road, and of course there's a little information kiosk where you can learn all about how and when he was made. (Here is more info about Albert online!) The park is lovely, and includes a well-maintained campground and playground.
After snapping several pictures, including one of Albert's rather impressive testicles, we headed on into Audobon proper where we had a late lunch at the Chatterbox Café. This little spot on the west side of Division Street was just what we were looking for – a mom 'n pop place to eat and visit. The food was very good, the service was especially friendly, and we had a leisurely meal before heading back for home.
Because of the rather iffy stretch of road construction we'd encountered between Redfield and Panora, we decided to take an alternate route home so we headed south out of Audobon on Highway 71, down to 83 and then east to Anita. Stopped to top off gas, and headed up to I-80 east back to Des Moines. This was about a 70-mile stretch of one of the nation's busiest Interstates, but all went well. (We will be taking this same Interstate out of Des Moines as we head to Sturgis.)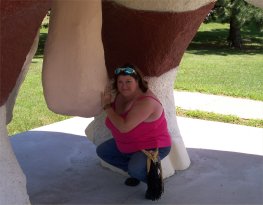 We had left Des Moines around 11:30 a.m., and got home just about 5:45 p.m. It was a perfect day riding – good weather, good friends, no mishaps – and a photo op with a giant concrete bull!
Just a short jaunt today to try out the new Mustang solo seat… have you ever noticed that when you ride or drive on a brand new street in your hometown that it just feels really weird, like you aren't even in the same city? There has been so much development and expansion here in Des Moines these past few years, and there's a new road that runs along the south end of our downtown area – not just a resurfaced road, but an entirely new road that never existed until just this past year. It's 3 lanes wide in each direction, with lots of attractive landscaping on both sides – built BIG for anticipated traffic, although today (a Sunday AND a holiday) there was no one else – and it just feels really strange! Anyway, awesome short ride, love my new seat! Hoping to rack up many more miles this year!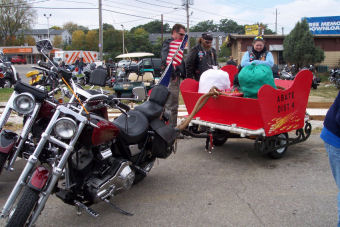 Just finished up with the ABATE of Iowa Dist. 4 Toys for Tots Run, 2005. It was a great day – about 58 degrees, partly cloudy butpartly sunny too… Steve says he thinks there were fewer bikes this year, but I'd still estimate about 1,500-2,000 bikes, every bike donating at least one toy to the USMC Toys for Tots program, and many bikes donating multiple toys. (The lead bike was towing atrailer made to look like Santa's sleigh, packed with toys!) 
We did hear reports of two "incidents" this year – one person apparently lost it taking a curve and wiped out, not seriously injured, so that's such a relief. I hate to hear about this kind of stuff. And one person dropped their bike in the parking lot of the destination point, trying to maneuver. As large as this event always is, I'm frankly surprised there are not more of these types of things happening. I'm glad my fellow riders are okay! <p>
HERE is the photo album with all the pics.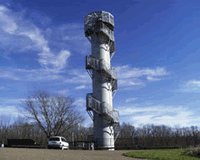 I knew when I got out of bed on Sat. August 6th it was going to be a perfect day – the kind with a bright blue sky and
sunshine, no clouds, mid-80's for temps. Decided we were going to ride to Pella, Iowa, a picturesque community about 40 miles southeast of here with distinctively Dutch heritage and the tallest working windmill in the U.S. Got the family out of bed (lazy bums!) and announced our plans… a few grumblings, but hey, if I don't push 'em they would just as soon sleep til noon. No sense wasting such a perfect day!
The ride down Hwy 163 to Pella was uneventful (though I missed a turn-off to a more scenic route, being unfamiliar
with the area), and very enjoyable. Once in Pella we saw the klokkenspiel (giant clock in a Dutch-style clock tower, with animated figures that come out and move around when it chimes) and also stopped in the Historical Village. This is a small touristy-type venue that offers a tour of the Windmill, plus a "village" of the types of shops and buildings that would be found in an 1850's Dutch town. Unfortunately, we were travelling on the cheap so decided not to pay the $20 it would've cost for the family to actually take the guided tours. Kinda wish we had spent the $$ now, as I'm sure it would've been really neat to see the whole thing. As it was, we got to watch the windmill at work, and studied a very nicely-done (free) timeline of Pella history.
We had lunch at a little diner called the Windmill Cafe, then back on the bikes and travelled the short way down to Lake Red Rock and Knoxville. While en route we passed Cordova State Park, home to the tallest observation tower in the Midwest. This thing is an interesting structure: it used to be a water tower serving the state parks in the area, but when they all hooked up to the rural water system the tower was no longer needed. In 1995 they decommissioned it, and in 1998 they built a spiral stairway around the outside of it and an observation deck at the top. The deck is 106 feet, and 170 steps, off the ground.
Stef and I decided to make the climb – she's afraid of heights and I'm not in the best physical shape for this sort of thing (two days later and my thighs are still burning!), but we both made it and discovered that the view of the surrounding Des Moines River Valley is breathtaking. On this clear day you could see several miles in every direction, and we spent about 20 minutes enjoying the vista.
The only bad part of the day was that at one point on the road, I started to feel these little needle-sticks on my shoulder… then down near my waist (okay my "spare tire", which is not so much flab as it is a protective overhang for my nether-region)… and then more back up on my shoulder. It was painful, and driving me NUTS, as the sticks were hitting me every few seconds. I decided that a bee must have got into my shirt, and I had to pull the bike over because there's not much patting and shoo-ing one can do while going down the road. Pulled my shirt out of my jeans and Steve said something flew out – but only one something, so he said it had to have been a wasp because of the multiple stings. Anyway, got it out of there and put myself back together; now I've got about six sting marks that are itching like CRAZY.
In all we put 120 miles on the bikes – I am fast-approaching the 2,000-mile mark for the season.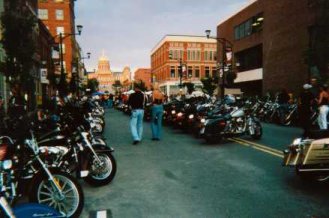 East Village Bike Night July 29 – Seems like there's a "bike night" most every night of the week somewhere around here at a diner, bar or bowling alley. The "original" bike night takes place at Porky's Barbecue on Thursday nights, and now there's another one down the street from Porky's on the same night so you can travel back and forth between the two.
Others have sprung up all over town, and last summer, a group that organizes and promotes events in downtown Des Moines hosted a one-night-only event called "Bikers in the City." We attended, and thought it was a lot of fun. Well this year, for a variety of reasons, they didn't do that event – but a group of business owners in a downtown area called the East Village took it over and WOW, did they do it right! East Village Easy Riders Night was held July 29, with closed-off streets for bike parking, outdoor vendors (food and merchandise – lots of each!), free live music in the street, and an excellent street-party atmosphere.
I'd guess there were 700-800 bikes – I'm not a good judge, so not sure, but it was A LOT… and it was a nice evening weather-wise, too. We rode in early, joined up with friends Garry & Shirley, and just walked around looking at bikes and enjoying the music. So, congrats to the East Village – they've been rehabbing, rebuilding and restoring this older section of downtown Des Moines for the last couple years and I know the business owners were wanting to draw a good crowd down there to show off what's been happening – well, I'd say they succeeded with "bike night", and I for one hope they do it again next year!