East Village Bike Night, July 2005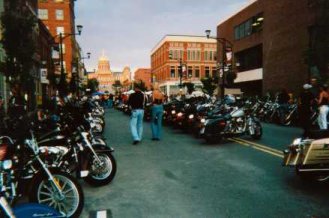 East Village Bike Night July 29 – Seems like there's a "bike night" most every night of the week somewhere around here at a diner, bar or bowling alley. The "original" bike night takes place at Porky's Barbecue on Thursday nights, and now there's another one down the street from Porky's on the same night so you can travel back and forth between the two.
Others have sprung up all over town, and last summer, a group that organizes and promotes events in downtown Des Moines hosted a one-night-only event called "Bikers in the City." We attended, and thought it was a lot of fun. Well this year, for a variety of reasons, they didn't do that event – but a group of business owners in a downtown area called the East Village took it over and WOW, did they do it right! East Village Easy Riders Night was held July 29, with closed-off streets for bike parking, outdoor vendors (food and merchandise – lots of each!), free live music in the street, and an excellent street-party atmosphere.
I'd guess there were 700-800 bikes – I'm not a good judge, so not sure, but it was A LOT… and it was a nice evening weather-wise, too. We rode in early, joined up with friends Garry & Shirley, and just walked around looking at bikes and enjoying the music. So, congrats to the East Village – they've been rehabbing, rebuilding and restoring this older section of downtown Des Moines for the last couple years and I know the business owners were wanting to draw a good crowd down there to show off what's been happening – well, I'd say they succeeded with "bike night", and I for one hope they do it again next year!