Had a great weekend here, it was extra-long – I had taken three days off from work with my DD going away to summer camp on Sunday, and told the DH: we are goin' ridin'!! Friday night we all went down to a "bike night" in a small-town just south of here; we rode with our friends Garry and Shirley… well over 700 bikes "on the square" in Indianola!! Beautiful evening, great ride both directions. On Monday with Stef at camp we set out to ride from Des Moines to approximately Unionville, MO – actually a tiny town called Livonia – where Steve's folks live. It is a lovely ride mostly down Highway 5, and we know it well because we've done it so many times in the cage. So the landmarks seem to fly by pretty quickly – it's about 100 miles door-to-door, but we had to gas up and also took a lunch break along the way so it took us about 3 hours to do what's normally a 2-hour car trip. It was a nice ride down, but we were hot and tired when we got there; we visited a bit with the folks and they encouraged us to take a short nap, which we did, so we felt a whole lot better after that!
My MIL gave me the garden tour of their little converted one-room schoolhouse home, then they took us for a late-afternoon snack up the road at an antique-and-general-store place. After that we headed home and rode it straight through – just as we pulled off the interstate, with about 3 miles to go to home, the wind picked up and the temp dropped about 15 degrees. It was gonna rain, and raid HARD!! We pushed through to home with nary a drop, BUT with 40- and 50-mph wind gusts!! Boy my poor little Sporty was drifting all over the road – even Steve said his Heritage Softail was getting whipped around!! Made it home in the nick of time.
Tuesday was a bust for riding because Steve wanted me to go to the auto auction with him (he's a car dealer), so we did that – it was an eye-opener, that's for sure, but man is it tiring! (Who'd think that standing on concrete for four hours, with FIVE auctioneers blaring across five lanes of cars rolling through the sale… would tucker me out! LOL)
On Wednesday I had planned for us to visit either the Wilton Candy Kitchen in Wilton, Iowa (original 1920's soda fountain and candy store) or the Boone and Scenic Valley Railroad in Boone, Iowa. We chose Boone because it's closer, and Steve was still a little sunburned from Monday. (Everyone at the auction commented on his WHITE forehead and RED face… we explained to everyone that his do-rag was the cause of the mid-forehead "split.") Had a nice but hot ride to Boone about 45 miles north of here… hung around the Railroad museum and took a ride on the "Fraser Line" – a daily passenger/sight-seeing excursion that travels along the Des Moines River and goes over a 150-foot-high trestle bridge… it was beautiful and we decided that we'd have to come back at some point to take Stef on the train, and then come back yet again to ride the Dinner or Dessert train in the evening. It was an uneventful and easy ride home. <p>
I was glad for the opportunity to take a couple of "destination" rides (as opposed to the generic "riding around" I normally do on weekends), and I'm all the more determined now to do some sort of longer bike trip yet this season… I need saddlebags and a backrest though for sure! <p>
Boy, the weather here has been strange! It had really been pretty chilly up til the last couple of weeks; we had a late-season frost/freeze in mid-May and because it had been damp and cold prior to that, I am way behind on my garden for the year. Trying to balance gardening with riding the bike… neither one getting much attention! It has finally warmed up in the past couple weeks; we went on a large-group memorial ride on May 21; about 400 bikes took a short jaunt across town to the memorial gardens at our state capitol. Very nice event, perfect weather, no bad luck to report (yay – I'm keeping the shiny side up!)… Very much like the Toy Run last fall, and a nice memorial program. One of the "visiting dignitaries" was the guy who paints an annual memorial mural on a large rock situated on one of our Iowa highways, Ray "Bubba" Sorensen. I work for our Chamber of Commerce so I'd actually researched this a little before, but heard lots of comments from the bikers that somehow they thought Ray was an older guy – he's actually a young adult just out of college. Here's his website and a preview of the rock: http://bubbazartwork.com/.  
Took another nice ride on Memorial Day itself – the DH, DD and I set out with no particular destination in mind except "lunch," and we ended up in the town of Boone about 50 miles from here. Took a scenic way up, had lunch there, and took a scenic route home through a lovely state park called The Ledges. Whoever said Iowa is flat hasn't seen this place.
Been buzzing around a little, mostly down to visit Garry and Shirley… Garry's been converting his HD Night Train into a Heritage Softail, and he's building a Yamaha chopper; and, Shirley is learning to ride and just bought a used Yamaha 250 Virago – it's a great-looking bike and lightweight; she hasn't ridden her own for maybe 40 years, so she's starting from scratch to learn to ride. Another short hop is over to Porky's BBQ for Thursday "bike night" and Saturday or Sunday morning breakfast. No big adventures on the bike yet this year, although I did have a flat tire in the garage the other day (grrr – $$)… I think we need to plan a day- or weekend-trip. As far as mods, I tried an easy-clutch-type product and it didn't fit very well on my bike, have decided I don't need it anyway as I've gotten used to the clutch tension already. Buckhorn bars arrived andgot installed a few weeks ago – they are AWESOME! This was an HD kit that came with the cables and all… changed the look of the bike and boy do they fit me a lot better!
March 6 – First Ride of 2005!
What a gift of a day! FINALLY able to ride, we took a ride down to visit friends about 10 miles south… minor incident for Steve trying to get on the interstate.
March 19-20
First rides on the Sportster! Parking lot practice on Saturday (temps in low 40's, only out half an hour)… and a short road ride on Sunday (temps in high 40's – only about 10 miles' worth). Awesome bike, DAMN it's neat to be a chick on a bike! 
March 27
Took another ten miler Saturday, very short but still pretty cold – only 45 degrees!! Much better on Sunday – in the 50's, we rode back to our friends' place just south of here (Carlisle, Iowa) to show off the Sporty and to do a "hole saw mod" on its exhaust. It's good and loud now, for 3 minutes' work and NO cost! WOOHOO, my first mod! Need some riding position adjustment as my windshield is cutting my line of sight in half… Clutch cable was lubed so it's easier to pull in now, but still needs an EZ-Clutch as it's really hard to hold it in at stoplights. Buckhorn bars have been ordered – more mods to come!
First ride of the year, March 6! It's been almost four months to the day since I last rode my bike, and even though it was windy, yesterday was too good to pass up. We took a short ride down to visit friends about 15 miles away, then took a long way home. Very nice ride, very nice to be back on the bike again!
We did have a slight adventure, which leads me to want to rant a little. WHAT IS IT with cars and trucks who will not take their foot off the freakin' gas pedal for even one second to allow you onto the interstate?? What exactly is that about? Is it so important to be FIRST that you would purposely risk another human being's life? I was leading as we entered the Interstate. My husband was a few seconds behind me. I had plenty of room to merge, but there was a complete me-first asshole coming up who a). would not change to the left lane or let up off the gas to give Steve room to merge and b). in fact accelerated so hard  behind Steve that you could see smoke billowing out behind the vehicle so he could… what? Force Steve off the road?
I'm curious – if this guy was so angry at the thought that a motorcycle might end up in front of him on the interstate, why didn't he just change lanes and zoom around us, even flip us off?  And – if he had in fact succeeded in forcing Steve off the road and into the ditch, would he have stopped to help? Or would he have happily continued on, knowing that he had successfully put himself first once again and believing that the guy deserved to die because he was on a motorcycle?
I know I am preaching to the choir here, but I'll say it anyway: SHARE THE ROAD. If you can safely change lanes to allow another vehicle to merge from the on-ramp into traffic, please do so. If you have to lift your foot off the gas for a second to give the merging vehicle a little breathing room, please do so. And DON'T gas up to prevent another vehicle from merging ahead of you. And, when you're on your bike, look outfor the jerks who don't practice common safety and courtesy. In your car or on your bike, it's more important that everyone make it home alive than it is to always be first.
I distinctly remember sitting in my car at an intersection about 10 years ago, trying to get to Sunday Dinner at my Grandma's house. We were held up because a column of motorcycles was being allowed, with Police escort, to proceed through a major stoplight intersection en masse. As the thunder rolled and the light changed from red to green many times over, I noticed that the column of bikes stretched quite a ways down the road – and I noticed that each of these big, burly, bearded "hardcore bikers" sported a brightly-colored box or large teddy bear strapped to their bike.
I didn't know the reason at that moment, but the image of those tough guys and their teddy bears made me smile – and made me wait a little more patiently than I might have, suspecting as I did that something I didn't fully understand was going on. When I got to my Grandma's I mentioned the bikes to my sister, who informed me that the motorcycle group was called ABATE (A Brotherhood Aimed Toward Education) and the ride was a benefit for the United States Marine Corps' Toys for Tots organization. I had just seen my first Toy Run.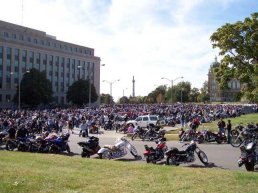 On October 10, I got to experience the Toy Run from inside the column – and not as a passenger, but as a rider. Although I've been riding my own bike for three seasons now, this was the first large-group ride I've been on. I can assure you that getting my first glimpse of the sheer strength of our column gave me chills – we were over two thousand bikes, and at one point our column stretched the entire 10.2-mile distance of the Toy Run route: the first wave was arriving at the destination as the last wave was leaving the State Capitol where we had gathered.
The biggest challenge as a rider was getting out of the big parking lot at the gathering point – it seemed like all 2,000 of us were trying to leave at once. I found that if you just staked out your spot and held your ground, everyone else was doing the same and so the whole group just kind of moved as one. Once we were out on the street, things spread out a little – we rode two bikes wide in a single lane of the four-lane street – but you still traveled closer than normal to the bikes around you, so paying full attention (and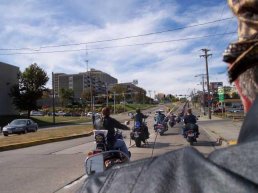 often riding in only 2nd or 3rd gear) was a must. The police escort was there to block every intersection so we could proceed as an uninterrupted group. I'm certain that some of the folks in those cars were ticked off, but hey – one hour out of one Sunday a year isn't asking too much, is it?
I've posted a few photos in my Webshots album, but believe me: they don't capture the thrill of being part of something so large, so loud and so big-hearted. If you have a chance to ride in a local Toy Run, please do – you'll be helping the Marines reach nearly 7 million needy children nationwide who don't always experience the magic of toys at Christmas. And, if you don't have a local Toy Run, consider contacting Toys for Tots to get one started. You'll find you've got a lot of soft-hearted bikers right in your own community!